….the season will be all but over.  Due to the strange fixture computer this season we have a staggered end to the season.  The Non Leagues wind down on the last day in April, the nPower League the following week, and then the Premier League does a solo turn for two weeks, as if it needed any further help in getting attention.  Indeed this could be my one and only chance of the season to actually see a Premier League game or two.
With no summer tournament this year we will have to wait until mid July before we can get our fix of domestic action again.  Can you last that long?  Can I last that long?  I doubt it so my eye has already started wandering over to Europe to see what games I could venture to during a long dry June.  So here are my games of the week should you decide, like me that you simply cannot wait any longer.
Thursday 2nd June – Head over to Denmark for the clash of the day when the 2nd Division Øst nears its climax and Lolland-Falster Allancen take on Herlev at 3pm in the Scandic Live Arena in Nykøbing.  As it is a national holiday the game kicks off at 3pm meaning there will be plenty of time afterwards to spend ridiculous money on beer in the bars of Falster.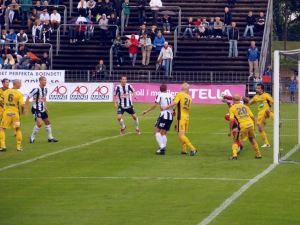 Monday 6th June – Fancy a bit of local derby spice, a real footballing legend and some UFO action?  Then head to Malmö, just on a train and go forty five minutes north where you will find the small town of Landskrona.  They will be taking on local neighbours Ängelholm, who hail from the town most noted for a "celebrated" UFO landing in May 1946.  But the main reason to come to this game is to cheer on Landskrona BoIS manager, Henrik Larsson.  Yes, that Henrik Larsson who is in his second season at managing the black and whites.  Don't expect too many fireworks, or even atmosphere, but the beer is nice and last time I went the girl on the turnstile let me in free as she was busy getting off with one of the substitutes in the turnstile booth.
Thursday 16th June – Been paid?  Taken out a new mortgage?  Then head north to Norway where Odd Grenland v Valerenga at 5pm will leave the ladies drooling in the Tippeligaen.  Located 100km south west of Oslo, and no more than a £100 taxi ride (aka about 10 minutes) from Oslo's Torp airport where Ryanair make themselves at home.  The ground was good enough for Elton John in 2009 so it should be good enough for you.
Wednesday 22nd June – Surely the only gig in town is the FC Honka v FC Haka at 4.30pm in the Finnish Veikkausliga.  Fly to Helsinki and then hop on a bus to Espoo, the second largest city in Finland and enjoy the oldest stone wall in Finland, dating back to 1777 whilst listening to some melodic death metal group, Children of Bodom who are the biggest name locally.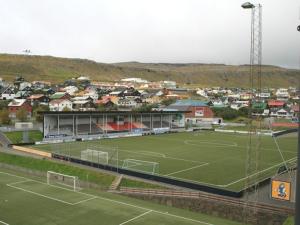 Monday 27th June – Had your fill of puffin recently?  No, nor me but is that enough to make you head north to the Faroe Islands for the local derby between HB and EB.  In fact every game is a local derby on the islands, and with the whole Vodafonedeildin being played across just two days you can take in more than one game.  Take your flight from Copenhagen, buckle up as you come into land at Vágar Airport, known as one of the most challenging in the world for pilots.
So there we are.  Five options for you.  Of course you could also head to Latvia, Lithuania or Estonia for some more European action, or west to the MLS in the USA.
There is one further option, but you will have to wait and see about that one. But trust me it is the best day out ever.