Tribschen Idyll
"As Zarathustra was climbing the mountain, he thought on the way of the many lonely wanderings he had undertaken since his youth, and how many mountains and ridges and summits he had already climbed…"
   Thus Spoke Zarathustra, III: The Wanderer
Soon after Nietzsche commenced his appointment as a Professor of Classics at Basel University in 1869, he took up an invitation from Wagner to visit him and Cosima in their villa, Tribschen, near Luzerne, "a perfectly charming country house on the Vierwaldstätter See". He made the first visit unannounced on 15 May 1869: "On the Saturday before Pentecost, I took the early train to Lucerne; because my lake steamer wouldn't be leaving for a while, I walked out to Tribschen, uncertain about whether I should go. I stood quietly for a long time in front of the house, listening to a chord that was being played repeatedly, a chord expressing pain" (letter to Elisabeth).
   Nietzsche then became a houseguest and made 23 visits to the Wagners in three years, years "full of hope and happiness". He later reminisced to von Gersdorff: "I believe that these were the happiest days I have had. There was something in the air that I have never experienced anywhere else, something quite inexpressible but full of hope."
   In early August of 1869, he climbed Mount Pilatus which overlooked the lake, "6,000 feet above sea level", exulting his Tribschen Idyll (letter to Gustav Krug, 4 August 1869). "Once more I have spent the last few days with revered friend Richard Wagner, who has most kindly given me unlimited rights to visit him and is angry with me if I fail to make use of these rights at least once every four weeks... On Sunday morning in my charming room, with its free outlook over the Vierwaldstätter See and Rigi, I looked through a quantity of manuscripts which Wagner had given me..."
   Mount Pilatus was the first high peak that Nietzsche climbed; it was probably also his first encounter with high mountains.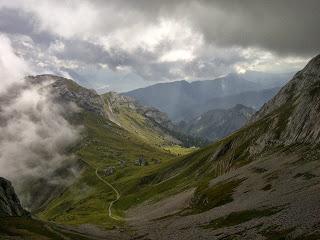 The similarity between this scenery and that of Sils-Maria, where the abysmal thought of Eternal Return came to Nietzsche in a moment of epiphany, is uncanny. As Dante once said: "there is no greater pain than to remember, in our present grief, past happiness" (Inferno, Canto V).
   On Christmas Day of 1870, on Cosima's birthday, Nietzsche witnessed the first performance of Siegfried Idyll on this staircase: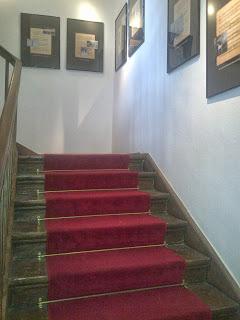 In Ecce Homo (II: 5), Nietzsche recalled the enchanted dream of Tribschen thus:
"That which has refreshed me by far the most profoundly and cordially [was] ... without a doubt my intimate association with Richard Wagner. I offer all my other human relationships cheap, but at no price would I relinquish from my life the Tribschen days, those days of mutual confidences, of cheerfulness, of sublime incidents  – of profound moments (der tiefen Augenblicke). I do not know what others may have experienced with Wagner: over our sky no cloud ever passed."
  It resembles the atmosphere of his idyllic childhood home, when as a young boy he loved to hover around in his father's study: "I can enter a world of higher and more delicate things without especially trying to. I merely have to wait" (cited by Hayman, p.17). The delight he felt when listening to his father's improvisations on the piano, and now listening to Wagner playing on the grand piano in Tribschen must have felt like a distant memory becoming reality again...
   Nietzsche was more than a mountain climber, he was also a fearless speleologist of the soul. As he was descending the wooded slope towards the lake Silvaplana in Sils-Maria in August of 1881 "in the middle of life and so surrounded by death", the memories of happier, yet irretrievably perished times must have returned to him with the force of an avalanche. It was Nietzsche's own 'down-going', Zarathustra style. The past and present become fused, and the distinction between imagination and reality was effaced. In the epiphanic moment, he transfigured his deeply felt pain into an idea which he christened Eternal Return of the Same. (For a more detailed discussion on this theme, see my article "Nietzsche's Eternal Return: Unriddling the Vision", left column)
   Whilst briefly revisiting Tribschen years later, Nietzsche wept on the ruins of his hope. A painful, sublime tune which he had heard on his virginal visit there must have returned to him, complete with Brünnhilde's lament: "he wounded me who awakened me" (Act III, Wagner's Siegfried). Paradise lost was briefly regained, only to be lost again. Could a silent prayer, a magical wish, for these moments to return be granted?
If any God were listening, he never answered.