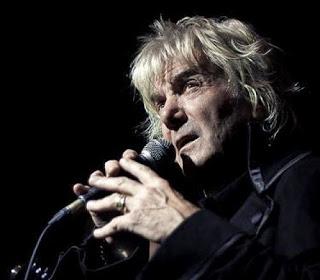 August 24 (sometime BC) - May 15, 2015
I have given myself the unenviable task of writing Terry Jones' eulogy.Terry wasn't just the singer for the doom metal/NWOBHM cult legend Pagan Altar - he WAS Pagan Altar.He was the "sorcerer" depicted in the band's album covers and merch.He was the spirit behind the songs, the mythology, the ominous stage sets and costumes.It was all him.It was like someone had taken a Terry Jones paint brush and just drubbed a little corner of the rock and roll universe.
And he was ours.The average knucklehead metal fan doesn't have a clue who Pagan Altar are and what they've done, and didn't give a shit. Even some of those who claim to be into the more esoteric bands didn't know the name when I waved my copies of Mythical And Magical and Judgement Of The Dead at them.But I will always remember that one day, almost 2 years ago this month - when a few thousand of us who knew and got it were filled with sheer elation and pride when Pagan Altar owned the MarylandDeathfest.Even Manilla Road and Sleep couldn't step on that stage after them without a bit of unease at having to follow that massive an act.
I came upon Pagan Altar's music organically - it was through the British Steel Festival.It was so long ago I was uploading MP3's to the festival's MySpace site.They were one of many bands I encountered that way who actually stuck with me.It took me awhile to acquire their catalog but it was a journey worth taking.
Then with the invention of Facebook there was Terry Jones himself and of course me being my brash pushy self I introduced myself to him on the site and we posted on each others pages occasionally.It wasn't until hurricane Sandy hit the East Coast US that Terry and I really formed a friendship.He seemed generally concerned about the "indigenous population" of the area and appreciated that I gave him a bird's eye view of the destruction, only a fraction of which was in the media in the UK.
Terry went above and beyond getting me and a friend into Maryland Deathfest in 2013.I could give a rats ass about the rest of the bands - I was only there to see Pagan Altar.I am so fortunate to have been given the opportunity to spend time with him and his wife Lynn as they sampled some basic American fare that must have seemed completely outrageous to them.And knowing Terry, he won't mind me saying how uncomfortable I felt watching him feed his wife a corn dog on a stick!! Terry personally handed me my 2 Pagan Altar patches and "sorcerer" necklace - all of which I wear with the greatest of pride.I will never forget walking around the festival with them, and being stopped by every other person who wanted to take a photo with him or just shake his hand to THANK HIM for his music and making the trip to America.He was a true gentleman and as tired and jet lagged as he was made time for every single fan, no matter what state of inebriation or coherency they were in!!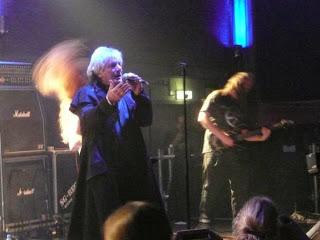 Later that same year, Terry helped me with a personal issue from my past I was dealing with. He gave me great advice how to rid myself and my surroundings of negative spirits and energy.He was the realdeal - it wasn't a gimmick.I can never express my gratitude to him for helping me though that rough time.
In 2014 he gave those of us on the Pagan Altar Templar's forum regular updates about his rapidly diminishing health.He was jumping through hoops from one doctor to another and despite all the positive energy we were sending him, we all knew there could only be one outcome.His updates became less and less frequent, until he stopped posting on all social media completely.According to his bass player's girlfriend, Claire, he just didn't have energy anymore.She gave me updates on his health when there was anything new to report, which was rare - and then it wasn't good news.
This morning, when things are starting to even out with the health issues my own family member is dealing with - Claire messaged me to deliver the news about Terry - he had put up a hell of a fight.
He left us with a legacy of music which at one point would have been lost to time if it wasn't for his diligent efforts to get his own body of work back from a piece of shit bootlegger who wanted to bleed him dry.Terry could be downright vicious and terribly cruel to anyone who hurt him or thosehe loved - he was a very passionate man which was also one of his most admirable traits.
He used to joke with me that all these rock stars I had crushes on (most famously Fast Eddie Clarke) were my "future ex-boyfriends" and he wondered if he could someday be on that list.But he was special.He was and always will be my Prince Charming.