Why historic? Because, while Cecile Guidote Alvarez's Philippine Educational Theater Association (PETA), also founded in 1967, became the foremost exponent of original Filipino and Filipino-language theater, Repertory Philippines covered the other end by becoming the country's leading English-language drama company.
Ideological opposites for much of their early lives, the two twains never did meet... until now, with PETA and Rep, both 45 years old this year, collaborating for the first time in a rerun of PETA's triumphant 2011 musical-comedy show, Care Divas, at Rep's Onstage home in Greenbelt 1, Makati City, this coming April 27-29, 2012.
It's still not a full-blown joint project, but a good start nevertheless. Rep is opening its doors and its territory, if you will, to a homegrown production worlds away from its usual template, and from the company that has been both main rival and comrade to it in the tiny Philippine theater scene through the decades. More significantly, a Rep mainstay herself, Joy Virata, is joining the well-oiled PETA cast in the role of Adara and Sara, formerly portrayed by PETA President Cecilia Garrucho. That should make this run of Care Divas even more a can't-miss affair.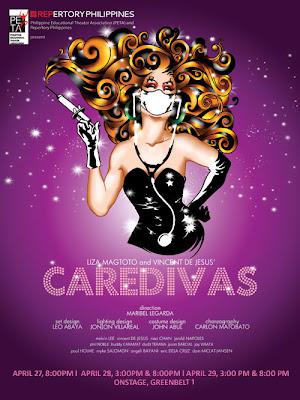 The rest of the announcement:
PETA's much-awaited encore performances of its hit musical dramedy "Care Divas" this coming April 2012 will be shown at Onstage, Greenbelt as a result of the first-ever partnership of PETA and Repertory Philippines since their founding 45 years ago.
"Care Divas", written by Liza Magtoto with music and lyrics by Vince de Jesus and directed by Maribel Legarda, has a powerhouse cast of theater actors: PETA artists Melvin Lee, Vincent De Jesus, Phil Noble, Buddy Caramat, Dudz Teraña, Jason Barcial and Eric dela Cruz.
Guest artists include Paul Holme, Ricci Chan, Jerald Napoles, Myke Salomon and Angeli Bayani, together with emerging actors Miguel Hidalgo and Dominic Miclat-Janssen. Veteran Repertory Philippines actress Joy Virata joins the cast in the role formerly portrayed by PETA President Cecilia Garrucho.
Catch the encore performances of "Care Divas" at Greenbelt Onstage this April 27-29, 2012. For inquiries and ticket reservations, please contact the following numbers:
April 27, 8 p.m. – 0917-5371681
April 28, 3 p.m. – 0917-8897400
April 28, 8 p.m. – 0915-6216512
April 29, 3 p.m. – 0917-5183654
April 29, 8 p.m. - 0917-8676016/ 0917-5027932/ 0917-5883496
Or email [email protected]