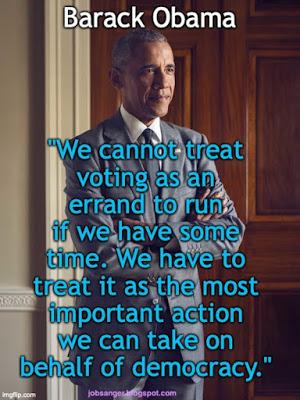 Barack Obama gave a powerful eulogy at the funeral of John Lewis. If you did not see it, I urge you to do so, or read the transcript. You can access it in The New York Times.
Obama gave a moving tribute to the heroism of Rep. John Lewis -- a heroism he exhibited throughout his life.
But Obama went further. He called on Congress and the American citizens to take action -- not only to honor Lewis, but to save the democracy that is now in danger.
Here is just the part of the speech where he calls for action:


Bull Connor may be gone. But today we witness with our own eyes police officers kneeling on the necks of Black Americans. George Wallace may be gone. But we can witness our federal government sending agents to use tear gas and batons against peaceful demonstrators. We may no longer have to guess the number of jelly beans in a jar in order to cast a ballot. But even as we sit here, there are those in power are doing their darnedest to discourage people from voting — by closing polling locations, and targeting minorities and students with restrictive ID laws, and attacking our voting rights with surgical precision, even undermining the Postal Service in the run-up to an election that is going to be dependent on mailed-in ballots so people don't get sick. . . .




Like John, we have got to keep getting into that good trouble. He knew that nonviolent protest is patriotic; a way to raise public awareness, put a spotlight on injustice, and make the powers that be uncomfortable.




Like John, we don't have to choose between protest and politics, it is not an either-or situation, it is a both-and situation. We have to engage in protests where that is effective but we also have to translate our passion and our causes into laws and institutional practices. . . .




Like John, we have got to fight even harder for the most powerful tool we have, which is the right to vote. . . .




You want to honor John? Let's honor him by revitalizing the law that he was willing to die for. And by the way, naming it the John Lewis Voting Rights Act, that is a fine tribute. But John wouldn't want us to stop there, trying to get back to where we already were. Once we pass the John Lewis Voting Rights Act, we should keep marching to make it even better.




By making sure every American is automatically registered to vote, including former inmates who've earned their second chance.




By adding polling places, and expanding early voting, and making Election Day a national holiday, so if you are someone who is working in a factory, or you are a single mom who has got to go to her job and doesn't get time off, you can still cast your ballot.




By guaranteeing that every American citizen has equal representation in our government, including the American citizens who live in Washington, D.C. and in Puerto Rico. They are Americans.




By ending some of the partisan gerrymandering — so that all voters have the power to choose their politicians, not the other way around.




And if all this takes eliminating the filibuster — another Jim Crow relic — in order to secure the God-given rights of every American, then that's what we should do.




And yet, even if we do all this — even if every bogus voter suppression law was struck off the books today — we have got to be honest with ourselves that too many of us choose not to exercise the franchise; that too many of our citizens believe their vote won't make a difference, or they buy into the cynicism that, by the way, is the central strategy of voter suppression, to make you discouraged, to stop believing in your own power.




So we are also going to have to remember what John said: "If you don't do everything you can to change things, then they will remain the same. You only pass this way once. You have to give it all you have." As long as young people are protesting in the streets, hoping real change takes hold, I'm hopeful but we cannot casually abandon them at the ballot box. Not when few elections have been as urgent, on so many levels, as this one. We cannot treat voting as an errand to run if we have some time. We have to treat it as the most important action we can take on behalf of democracy.




Like John, we have to give it all we have.