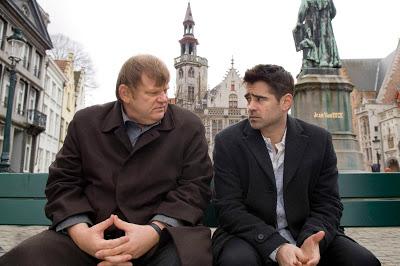 After accidently killing a kid during a hit gone awry, a hitman, Ray, and his partner, Ken, are forced to hide in Bruges under orders from their boss. Ray feels increasing guilt over shooting the young kid and loathes his time in Bruges. Ken, meanwhile, enjoys sightseeing in Bruges and soaking up the local culture. Things begin to clear up when Ray makes the acquaintance of a young woman working as an assistant on a film shoot. He also becomes obsessed with one of the actors, a dwarf. Just as things seem to get better, the two men find their new world crumbling around them as their past continues to pursue them and their present proves to be a lie.
  I can now add McDonagh to my list of directors to watch. I have so much love for his Seven Psychopaths. In Bruges is equally as good, if not better. I also have to commend a film that can make me respect Colin Farrell as an actor. It's not that I didn't like Farrell before. It's just that I've never been wowed by a performance of his. He did solid in Seven Psychopaths, but mostly as the straight man in a cast full of crazies. But in In Bruges, Farrell delivers a truly outstanding performance. His Ray is moving, socially awkward, self-loathing, endearing and very much complex. He definitely deserved his Golden Globe and should have been nominated for an Oscar as well.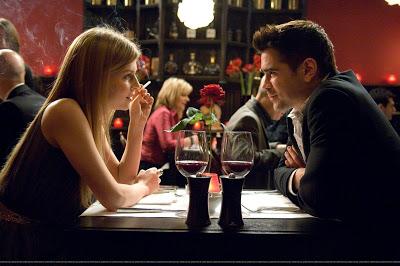 The other actors in the film are also strong. Matter fact, I'm now enamored with Clemence Poesy. She has such strong screen presence. She stood out to me in 127 Hours for that scene where she turns back from the passenger seat of a car to whisper 'I love you' at James Franco and into the camera. Despite very minimal screentime in 127 Hours, she remained one of my favorite things about the film. She accomplishes the same thing in In Bruges but on a much grander scale as she is given more screen time to showcase her acting chops. Brendan Gleeson gives a heartfelt performance, making his final sacrifice that much more heart-wrenching. Jordan Prentice as the dwarf actor and Ralph Fiennes as the crime lord also help embellish the film.
   The film's cinematography is quite interesting. It lingers on the beauty contained in Bruges' monuments, canals and cathedral, yet still possesses a morose feel. Perhaps, it is because Bruges is being represented onscreen through Ray's eyes. The film's script is simply brilliant. There are some scenes that overall do not contribute in moving the plot, but they succeed in building the correct atmosphere for the film. I never knew where the story was going and I am still unclear as to how it continues past the credits.
    In Bruges is a fantastic film deserving of much more praise, of which it has already received plenty. It's charming, eclectic and oh so worthwhile.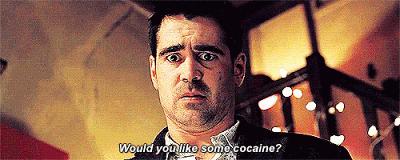 Ludovico Rating