Welcome to 'In A Vase On Monday' when I am linking up with Cathy at Rambling In The Garden to share a vase of flowers picked from my garden every Monday.
Christmas has officially started in our house now – our American family are with us, I have been to see The Messiah at the Cathedral, The Snowman at the Peacock Theatre in London and hosted afternoon tea for a large family gathering. The tree is up, the wood burner is on and I am preparing to start wrapping presents this week. Today I wanted to make a few seasonal posies from the garden to add to the festive decorations.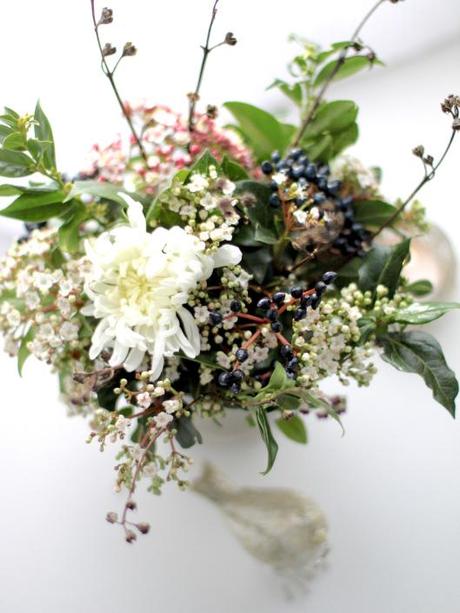 This time last year I had Christmas roses (helleborus niger) in flower, but I am still waiting for these lovely white flowers, which you can see in my new seasonal header taken from a photo from year, to arrive. There are plenty of buds but no flowers – perhaps the warm late autumn has confused them. Fortunately I have a white spray chrysanthemum still flowering in the greenhouse, which filled the gap beautifully.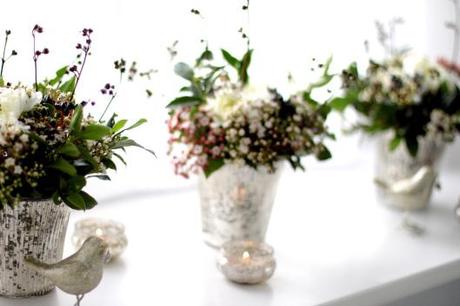 I have used three small vintage style antiqued silver vases, with matching tea lights and my favorite Christmas birds as a windowsill display.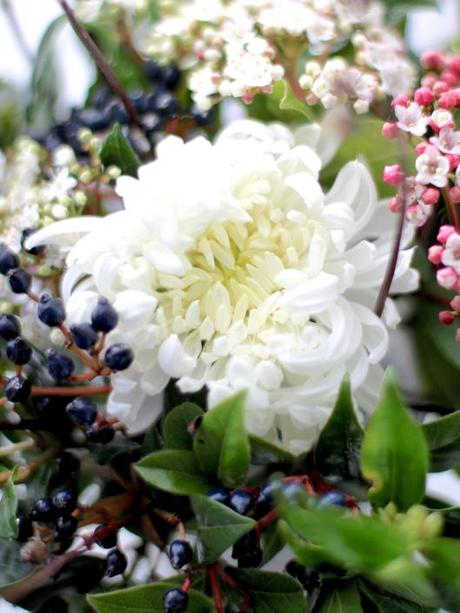 I need to check the name of this chrysanthemum for you (as I write it is too dark to venture out to the greenhouse), as it is certainly one I would recommend for late flowering – it only came into flower at the start of December.
Having grown greenhouse chrysanthemums for the second year now I am ready to refine my ordering for next season. I loved the burnt oranges and deep pinks in the autumn (around October time), but as December approached I started to crave more white flowers to go with the winter palette of greens.
Next year I am going to order only white varieties for the late chrysanthemums that flower in mid November and December and keep the autumnal colours to mid flowering varieties, so that I can have these colours a little earlier in October. This year I ordered all late flowering varieties of which only two were white.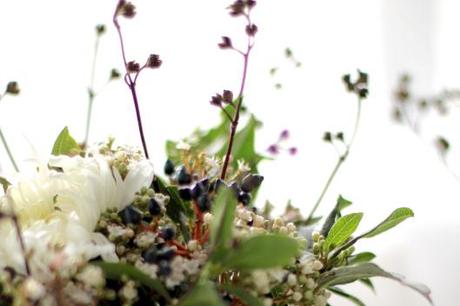 Readers who have been with me since last year will know how much I love to use twigs in my winter arrangements. Today I have used twigs cut from a philadelphus bush, which still have their seed heads attached.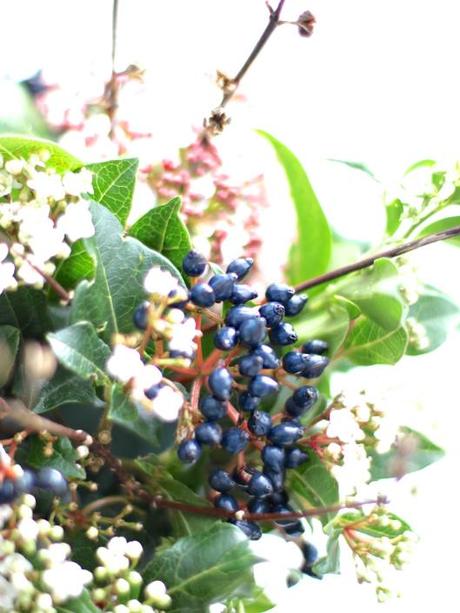 I also have my first viburnum tinus berries – I planted a couple of bushes of viburnum  tinus 'Eve Price' a few years ago and this is the first time the beautiful berries that I have admired in florists shops have appeared in my garden.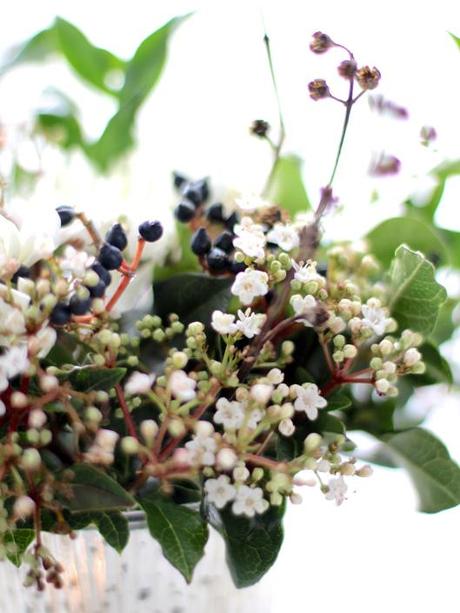 The small pink and white flowers and green leaves are from viburnum tinus 'Gwenillian' and 'French White'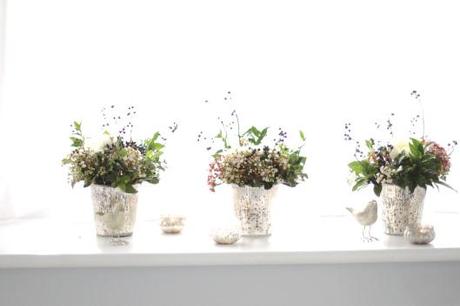 I hope you have enjoyed this weeks 'In A Vase On Monday' and I apologize for failing to produce anything last week – I was full of good intentions but the days just slipped through my fingers. Next week is the week of Christmas and we have a pantomime booked, carol services to attend and a rather large turkey to eat. Then it is on to hastily packing our bags for our annual post Christmas trip to the Alps  – where there is rather worryingly little snow at the moment. I am keeping my fingers crossed for a cold snap as I do love to be there when it is snowing.
Time permitting I will be back with another festive vase from the garden next Monday. In the meantime I hope you will pop over to Cathy's blog to see what she and the others have made this week.