Welcome to this weeks 'In A Vase On Monday' when I am linking up with Cathy at Rambling In The Garden to join in with her challenge to find something from the garden to bring into the house every week.
I am glad to say that I am feeling much more myself this week and I am getting back into the swing of things – the sun has been shining, I have caught up with most of my outstanding jobs and August is looking like a lovely month for kicking back and enjoying all that the garden has to offer at this bountiful time of year.
I think many of you will know what I mean when I say my Monday vase usually picks itself! I rarely have to search for an idea – rather a flower will make itself known over the weekend and I just go with the flow and pop it in a vase. This week I was watering my hydrangeas and noticed that a few of the blooms on a beautiful pink one that I have in a pot by the back door were lying very close to the ground. As this is a re-blooming hydrangea – by which I mean it flowers on new shoots as well as on old wood, I decided to cut these flowers off for todays vase and let the plant produce a few more flowers for later in the year.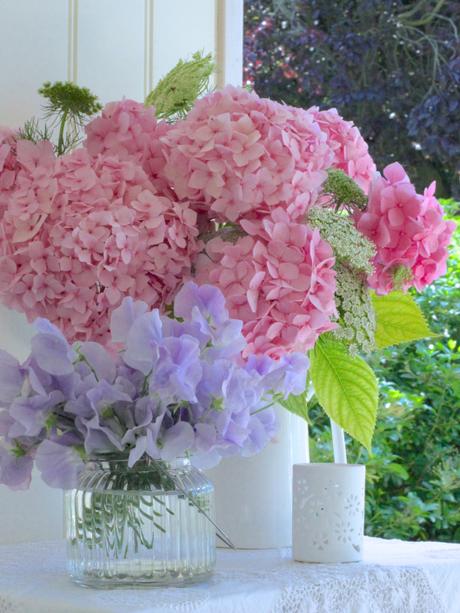 This week I have not just one, but two vases. The sweet peas in my greenhouse have been blooming since April and are still producing plenty of flowers, but on very short stems now. Today I decided to have one last pick of the flowers and then I will clear the plants out from the greenhouse, which I am preparing for its August spring clean.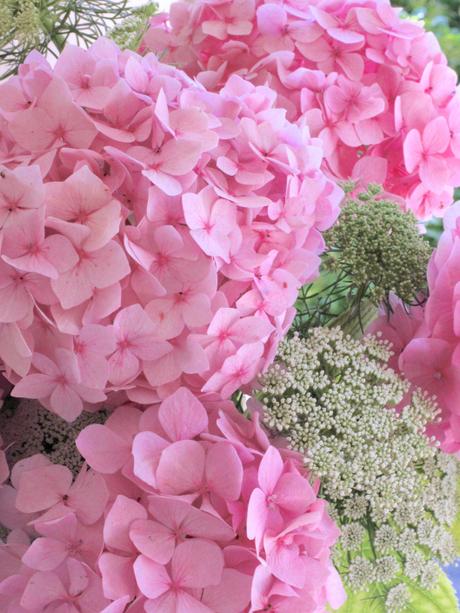 I mentioned last week that all of my ammi majus has gone over, but in its place I now have ammi visnaga just coming into bloom. With annuals like this it is important to cut them regularly to keep the plants blooming, so it was off with their heads today and into my jug to break up the pink of the hydrangeas.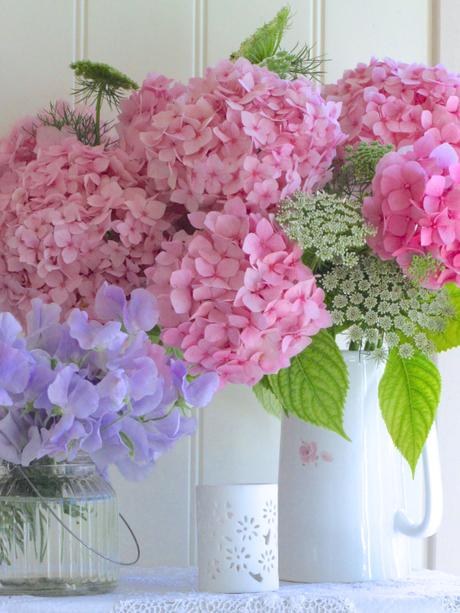 I like to make the most of my summerhouse during the summer holidays, so try and at least have an afternoon cup of tea there everyday. If I can find some time to spend an hour with my book so much the better.  A few flowers will make the experience all the more pleasurable, so I decided to bring my vases into the summerhouse for their photo shoot today.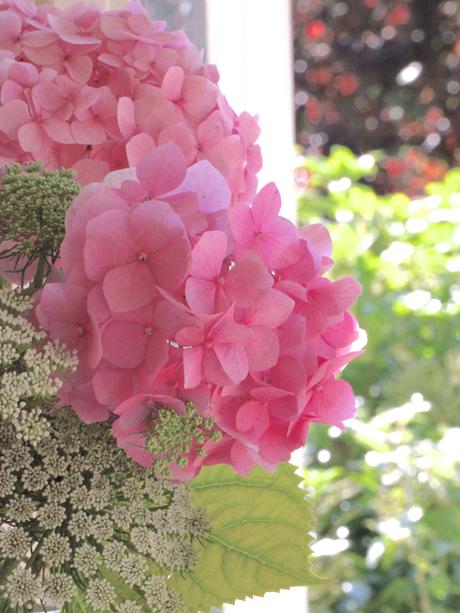 The window was open, so you can just see the choisya hedge outside the summerhouse.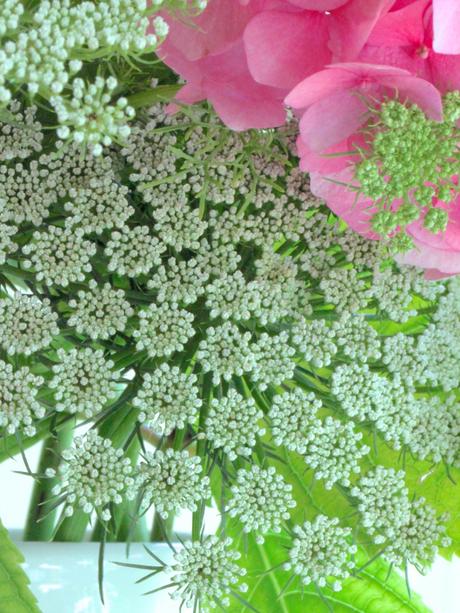 In close up the ammi visnaga is very similar to ammi majus and cow parsley, although the head is more compact and the plants seem more sturdy.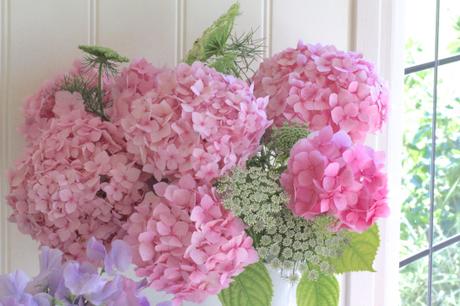 The more I involved I get in growing flowers, the more I wonder if I have any real favourites or if I just flit between blooms depending on what is available. This year I have to admit to being totally in love with hydrangeas. I have been building my collection slowly since we moved here and for the first time have plenty of flowers – blue ones, white ones, ones in pots and ones in beds and these lovely pink ones which sum up to me the meaning of 'vintage' in the flowery world.
The older varieties of hydrangeas are hard to use as cut flowers because when you cut the blooms that is it for the year. The newer varieties produce fresh flowers throughout the season and are easier to keep in shape as you can prune them hard in the spring. The added bonus of course is that if I leave these blooms to dry they will look lovely in the house throughout the autumn and into Christmas.
I have to mention here that I have a very special friend who has the most beautiful blue hydrangea growing by her front door. Every year she lets me cut her blooms in September -they dry to a beautiful faded blue ready to be used in arrangements at Christmas.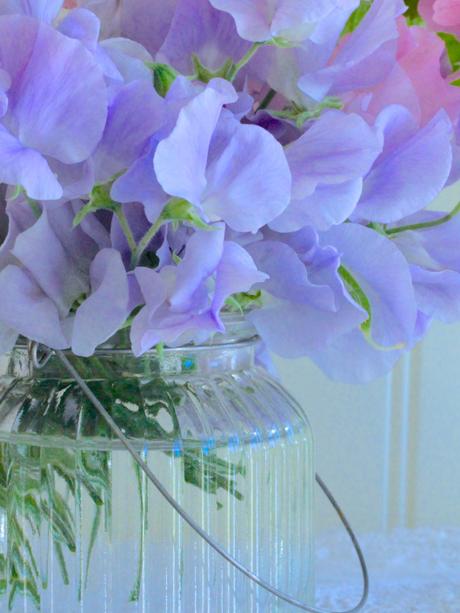 Finally for today a close up of this beautiful lavender coloured sweet pea that has been flowering in my greenhouse since April. Even on very short stems this is a lovely flower to have in the house. I will be ordering my seed for next year's sweet peas this month and sowing them in September, so they will be ready to plant into my greenhouse bed in November. If you have a greenhouse and would like to try something new for next year do think about ordering some winter variety sweet peas and growing them inside.
I hope you have enjoyed my flowers this week and that you will pop over to Cathy's blog to see what she and the others have made. I will be back on Wednesday with another catch up post from June – this week it is photos from our trip to Royal Ascot and on Friday I will be sharing the jobs that I like to get done in August.
In the meantime I hope that you have a happy week ahead!