Welcome to this weeks 'In A Vase On Monday' when I am linking up with Cathy at Rambling In The Garden to join in her challenge to find something from the garden to put in a vase in the house every Monday.
This weeks vase is a complete contrast to last weeks pretty pastel pink tulips! Forsythia is loudly announcing its presence in the garden and surrounding areas –  shouting out that spring has arrived. Forsythia is one of those 'love it or hate it' shrubs that always gets a strong reaction when it is in flower.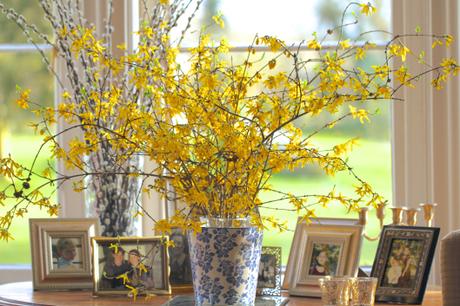 I first came across its brash yellow blooms when we moved to Suffolk – I do not remember it flowering on the streets of London where I lived, or in any of my childhood gardens. My initial reaction to forsythia was not good – it was too brash, too gaudy, just too yellow for my new city orientated gardening tastes.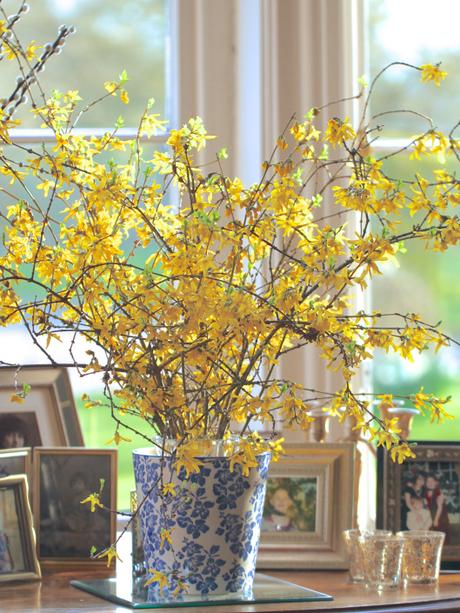 As time has passed my attitude to forsythia has mellowed and now I welcome its brief presence in my spring garden. This years early easter meant I was able to gather armfuls to make an easter display for the house. After last weeks proliferation of blue and white in the vases of other contributors, I was determined to use the combination for easter and found this lovely pot at the back of a cupboard. I used a narrow glass vase inside this blue and white pot to help the twigs stand upright.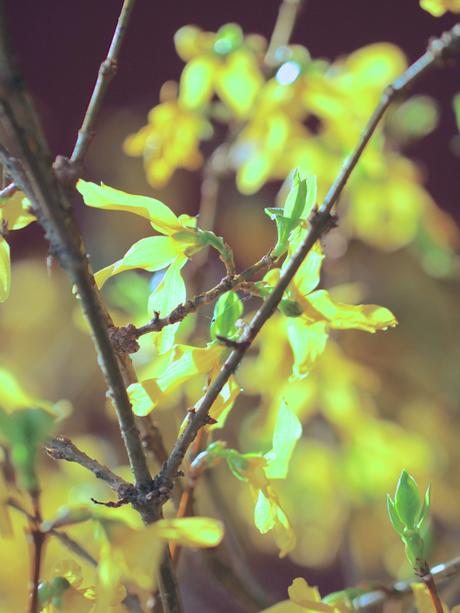 Forsythia flowers on old wood, so do not make the mistake of hard pruning this shrub during the winter – you will be pruning away your precious flowers.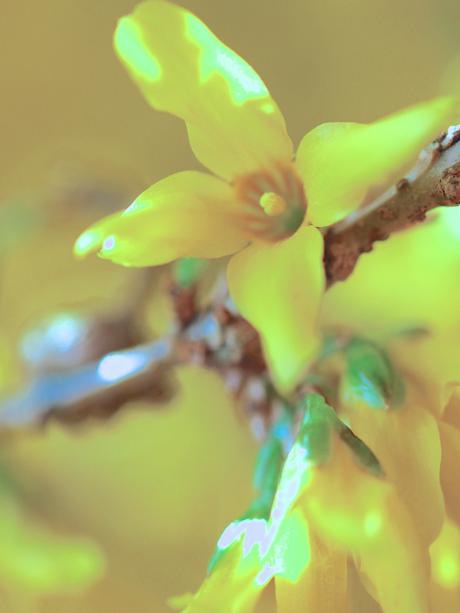 I have two large forsythia shrubs in the garden and every year around June time my gardener prunes all the new growth back to a permanent framework with a hedge trimmer, which keeps the shrubs at a constant size and maximises the old flowering wood. Sometimes in late autumn I will take off any additional stray summer growth with my secateurs – just to maintain the shape that I like.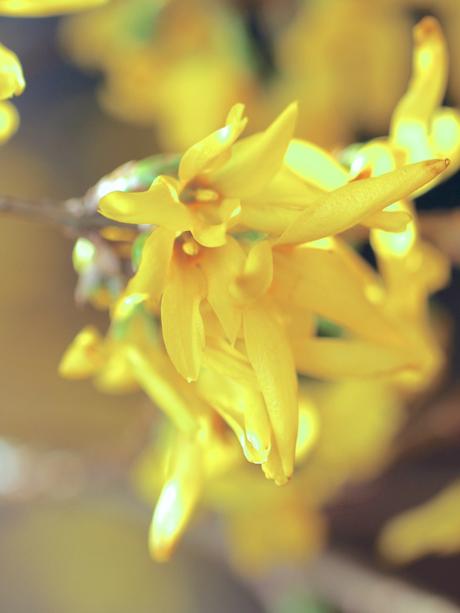 If you need to control the size of this shrub, cut 1 in every three stems of the old wood to the ground in the winter. The remaining stems will flower in the spring and can be trimmed back in height later in the summer.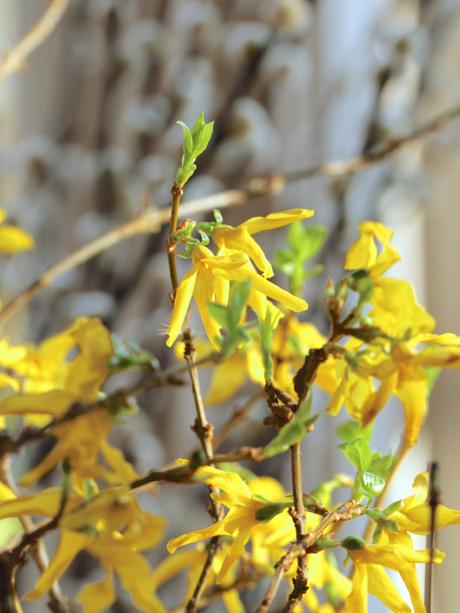 As I was taking the photos this evening (how lovely to have enough light at 6pm to take photographs inside!), I was reminded that I had shown you this pussy willow display back in February. The display is still looking good and worked well with the forsythia branches.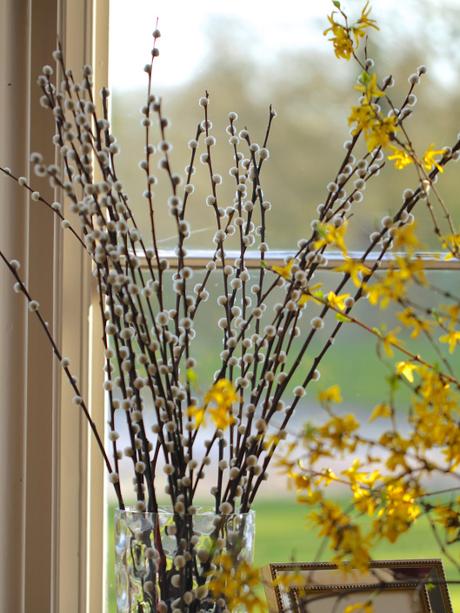 Whilst writing I thought I would show you a few of my easter decorations that were displayed on the easter tree this weekend. These are decorations that I have been collecting for many years and enjoy unpacking every year – each one has a memory attached to it.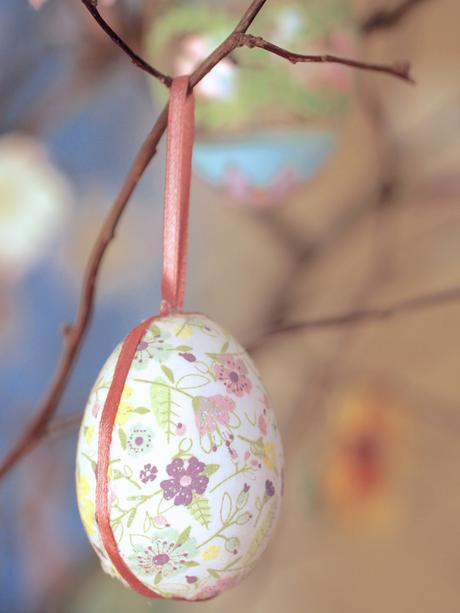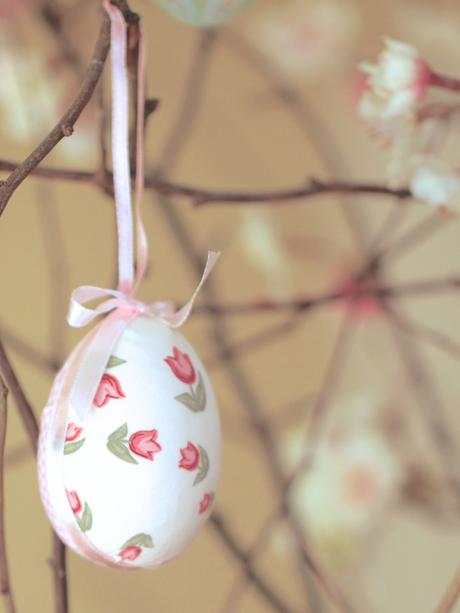 The hand painted egg below was bought in Austria.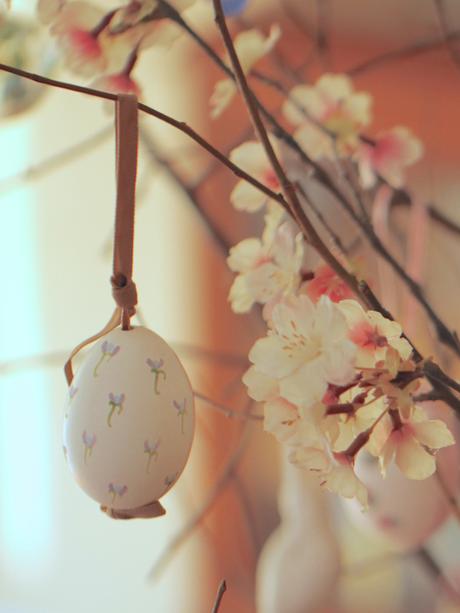 My daughters made a series of these flower fairies when they were little girls and they still look pretty hanging amongst the branches of the easter tree. I wrap them up with great care each year to ensure they do not get squashed.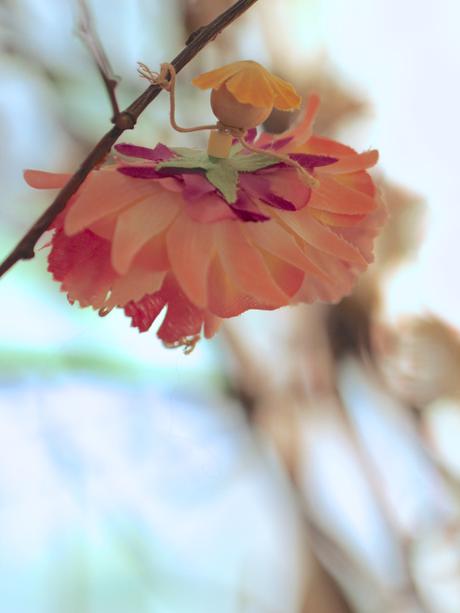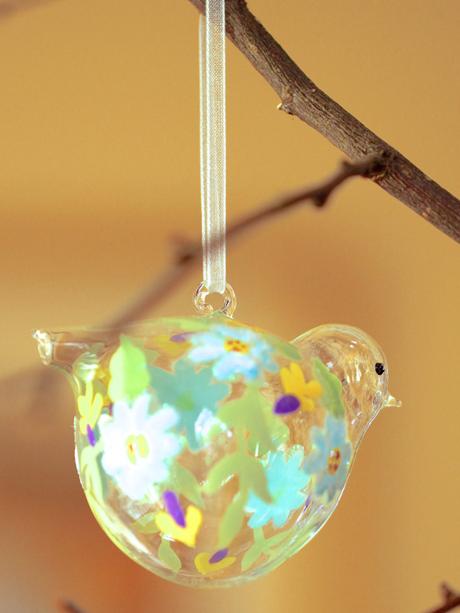 I struggled to get a clear photo of the whole tree – perhaps I will try again in the morning.
I will be back on Wednesday with my Greenhouse Review for April – please do join in if you have a greenhouse – we all enjoy looking at what is growing in each others greenhouses!
Thank you to Cathy for hosting this lovely meme and I hope you will pop over to her blog to see what she and the others have made. I have had a quick peek myself and Cathy has a treat for you today!