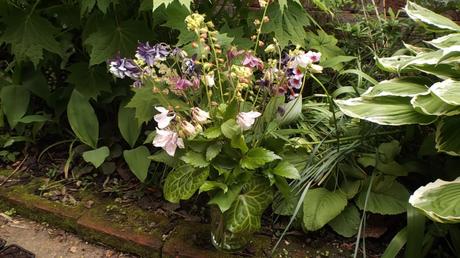 For this week's vase I decided to feature aquilegias which as I said in my last post are a real favorite.  The aquilegias in the vase are the real Granny's Bonnets, as in one of the common names for Aquilegia, as opposed to the long spurred aquilegias I showed in the GBBD post which I believe hail from the US.
But what foliage to use to show the flowers off?  I decided to go for some woodland plant foliage as after all aquilegias are woodland plants.  So in the vase with the Aquilegia is Bessia, Astible and Maianthemum. Finally to add a little height I added some sprigs of Tellima grandiflora; not a particularly interesting plant but the tiny pink tinged flowers work well with the pastels of the aquilegias.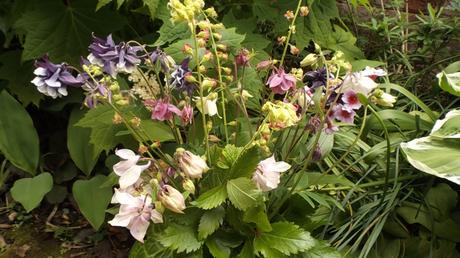 And the vase is the simple cheap glass one I have used before but I want to show case the delicate flowers.
For other Monday vases ramble over to Cathys at Rambling in the Garden