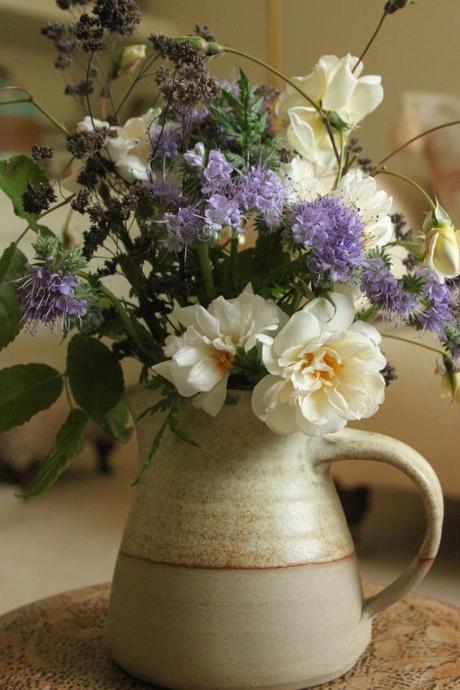 In a Vase on Monday – Fragrant Wild marjoram, Phacelia tanacetifolia and Rosa Goldfinch
Just like black gold, green manure in the form of Phacelia tanacetifolia is invaluable. I would not normally pick any to bring indoors and can happily idle away time watching beneficial insects bring my garden to life enjoying the generous scented Phacelia blooms. Bees are the main customer, Ladybirds and Lacewings are also attracted.
In my vase today I have used Goldfinch roses as the mild weather has encouraged a few extra blooms, a little bashed by rain but the fragrance is still beautiful. I have added some Wild marjoram seed heads too, although I have them stored for drying to save the seed, they are also still faintly scented. Wild marjoram is another excellent plant for beneficial insects especially Butterflies and Bees. Its very pretty and lovely in salads too!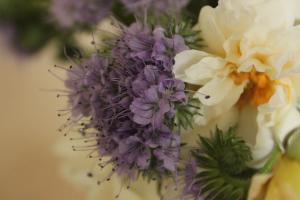 Phacelia tanacetifolia and Rosa Goldfinch
Phacelia tanacetifolia is one of my favorite plants, I grow it in my vegetable garden as a green manure in the autumn and in borders throughout the spring and summer as its so beautiful – ferny, feathery foliage and lavender blue flowers, brought to life by the insects it attracts. Seed is incredibly easy to collect and save for resowing.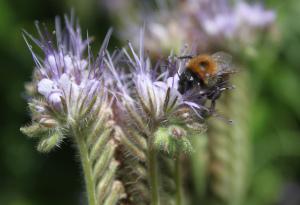 Phacelia tanacetifolia in action
I am joining in again with Cathy's weekly meme at Rambling in your Garden to collect plants from your garden and share, this is such a rewarding project and great fun to be involved with and my grateful thanks to Cathy for hosting, please take a look at other blogs from all over sharing their lovely vases.