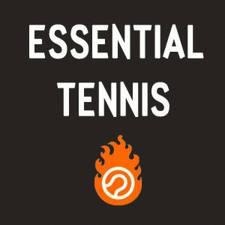 First things first, this post is going to sound like a commercial for a tennis instruction product. But I want you to know, I'm telling you about this because I think its very helpful and I'm not getting anything at all out of recommending this. And it's free and I just wouldn't recommend anything to you that I didn't trust, hadn't tried out myself and didn't think was worthwhile.
So - I am always on the look-out for great on-line tennis instruction sources. And if I can find something telling me how to improve my doubles game - that is a bonus! So I was extremely excited to get an e-mail from one of my favorite tennis instruction sites - Essential Tennis - giving me a chance to (hopefully) take my doubles game to the next level.
I have told you about the Essential Tennis podcasts before (just click on this post -
Get Your Tennis Fix With Podcasts
). Not only is the ET podcast one of my fav things to listen to while working out, it happens to be the No. 1 rated tennis podcast on iTunes.
Anyway, I got this e-mail from Ian Westermann, the pro behind Essential Tennis, offering three free online video lessons aimed at improving my doubles game. The name of this video course is "3 Causes of Weak, Passive Doubles - Dominated Forever!" To sign up for these videos, you have to give your e-mail address, which I had no problem doing since I am already on the Essential Tennis e-mail list.
The 3 videos will focus on:
Poor transition game skills (serve and volley or return and volley)
Fear of the LOB!
How to improve your doubles game if you play mostly singles
To overcome these problems, Ian promises to teach these skills:
How to correctly use a split step
Deep volley and half volley practice methods
Judging how close to get to the net
Reading opponents to anticipate the lob
The "Doubles Directionals"
Lob coverage footwork
I have viewed most of the first video and love it. Ian is easy to understand, his advice makes a lot of sense, and he is not the least bit condescending to the doubles player (which I occasionally seem to detect in some on-line instructional videos) (but maybe that's just me).
I'm going through all of this explanation because I think that you, my fabulous Tennis Fixation followers, would get a lot out of this course and, since it's free, the only thing you're risking is giving your e-mail address to Essential Tennis. Which I don't think is a bad thing at all.
Just be aware - this course is only available this week. It will be taken down next Monday, February 21, at which time Essential Tennis will roll out a much more comprehensive doubles course (which I plan to get in on and so I will be telling you about that too).
So - if you're interested in trying out the free Essential Tennis doubles video course, you can sign up by clicking here: 3 Causes of Weak, Passive Doubles - Dominated Forever!.
If you go through this course, please let me know what you think.
Again - I'm not getting anything out of recommending this to you. In fact, I'm sure Essential Tennis will be thrilled and a bit mystified to get this free commercial pitch from me - totally unsolicited. I just want you to take advantage of as much free tennis instruction as I am.
Happy Doubles!

© Kim Selzman 2011 All Rights Reserved