I was so excited when I received my package from Imperfect J's Cupcake Soaps. The whole package smelled delicious and it was a great excuse to take a nice relaxing bath with a book!!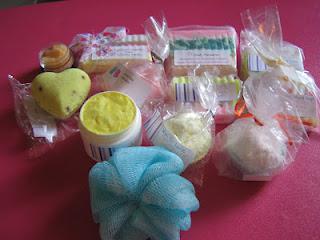 all my goodies from Imperfect J's!!

Body Butter, Cupcake Soaps, Heart-Shaped Bath Bomb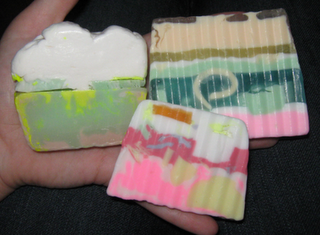 Lemon Lime Cake, Private Island Soap, Pink Paradise
They don't just smell amazing, they look awesome too!
Everything is handmade with the ingredients listed on the back of the package. The soaps are made with a goat milk base and each one has a unique, delicious smell, my personal favorite was the Lemon Lime Cake, although Monkey Fruits is a close second... Just for the name!!! The body butter is very moisturising and rubs in quickly and easily and doesn't leave any residue behind. I also received the peach sugar scrub and it smells amazing, and is a great scrub!!
The lotions and scrubs are all made to order, and the cupcakes can be customized with any fragrance Imperfect J's has to offer! So the items are fresh when you get them, and just for you! 
Everything is under $10 and Imperfect J's offers a wide range of products and everyone loves pampering themselves so they make great gifts too!
Imperfect J's Cupcake Soaps will be having a giveaway at 150 likes so make you you LIKE THEIR PAGE!!!