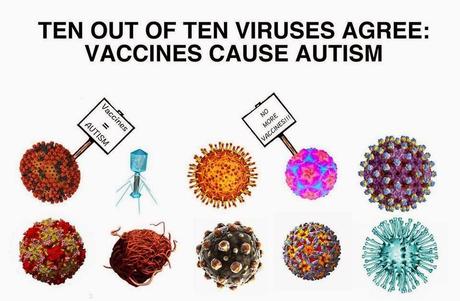 There are still some people that refuse to abandon the notion that vaccinations cause autism. That was only shown in one study -- a study that has since been discredited many times. We still don't know what does cause autism, but there is absolutely no evidence that it has anything to do with vaccinations.
But as I pointed out a few days ago, there are more people against requiring the vaccination of all children that there are people who believe it causes autism. That means some people oppose vaccinations for a reason not tied to the pseudoscience saying it causes autism. These people consider it to be an issue of freedom of choice.
I believe in freedom of choice myself. I think every American should be free to live his/her life as they please -- as long as the choice he/she makes doesn't hurt others. For instance, shooting a firearm into a crowd would be a bad choice that should not be allowed -- because to puts the lives and health of others in danger. Vaccinations are much the same because refusing to vaccinate your children puts not only those children in danger of getting sick and possibly dying, but it also extends that danger to others.
To be blunt -- immunizations are NOT a freedom of choice issue. They are a public health issue. And I believe they should be required of all citizens to protect all Americans. There is no constitutional right to cause the illness or death of another person when it could easily have been prevented by vaccinations.
Most Americans agree with that. About 68% of the public says the government should require parents to vaccinate their children (while 18% believe it should be a matter of parental choice). And 55% would be in favor of banning children who have not been vaccinated from attending public schools. I wish those percentages were higher, and the fact that they aren't shows we need some laws requiring vaccinations. And that should be possible (since 81% of Democrats, 59% of Independents, and 67% of Republicans agree with that).
The only question now is whether the politicians, on both the state or federal level, will act to protect the public.
The charts below were made from information contained in a new YouGov Poll -- done between January 31st and February 2nd of a random national sample of 1,000 adults, with a margin of error of about 4 points.