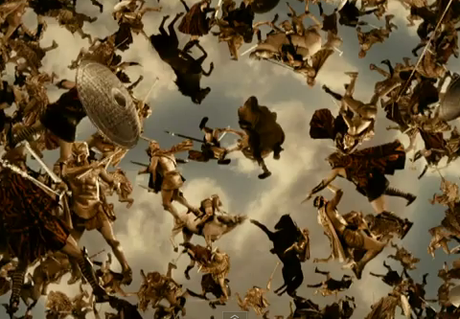 Scene from Immortals.
Informed by The Cell and The Fall director Tarsem Singh's visually stunning, but often vapid direction, Immortals is cool to look at – and that's about it.
Greek mythology is always a good place to start when looking for fantastic action-adventure. In Immortals, the brutal King Hyperion (played by the bizarre visage of Mickey Rouke) and his merry band of evil warriors are raping and pillaging their way around the Greek countryside in search of the lost Bow of Epirus, a mythical weapon that will make Hyperion virtually unstoppable, not even by the gods. Only one man, a super-cut stonemason called Theseus (Henry Cavill, the next Superman), dares stop him.
Or something like that: Some reviewers appeared to be so distracted by the film's stunning visuals that the plot largely went by unnoticed.
At least it looks good. It's "a semi-coherent concoction that looks and feels as if it's been adapted from a comic book even though it hasn't" and "really makes very little sense at all", Andrew Pulver at The Guardian judged, but it's entertaining and "every frame watchable, however foolish and stilted the utterances emerging from people's mouths."
'Bonkers'. Of director Singh, wrote The Telegraph's Time Robey, "there aren't many directors who mount 3D spectacle this strikingly bizarre." Immortals is straight-up "bonkers", but "there's a high grandeur to it and a strange, redemptive sort of reverence." It's a misfit, but a charming one, Robey concluded.
'Best-looking awful movie you will ever see'. Veteran film critic Roger Evert of the Chicago Sun-Times proclaimed the film stunning, but, "Alas, the movie makes next to no sense."
It works. And not just the amazing visuals, said the New York Daily News's Elizabeth Weitzman: Singh's previous outings, The Cell and The Fall were adventurously, sumptuously filmed, but ultimately shallow; Immortals, however, marries that visual language to a "compelling (enough)" plot. "It must be said that Immortals is pulpy fun that feels utterly ludicrous whenever it hints at more solemn aspirations. But that's okay. A popcorn movie has one goal, and that's to entertain. Immortals meets this criteria handily, and serves as a splendid spectacle besides."
Immortals vs. 300: Which is better? The impossible abs and fantastic violence of the sepia-toned production is already garnering comparisons to 300, that improbably successful film that spawned a whole genre of spectacle films finding new ways to be gruesome and awesome (Sin City, Sucker Punch). Josh Wigler atMTV.com examined the two on their most important elements – story, hero, villain, and violence – and pronounced Immortals the victor. "Story is not the selling point in either film's case, at least not for me. For my money, it's all about the action, and both movies have that in spades… but the way it's rendered inImmortals is just so unlike anything I've ever seen before that it's nearly impossible to vote against it when compared to 300."