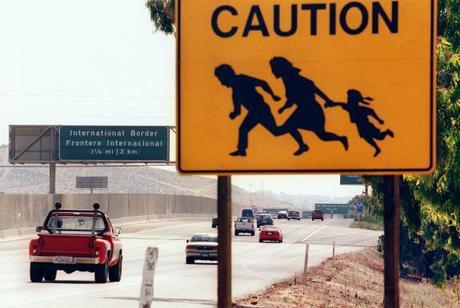 Obviously I spent quite a bit of time on Gawker today debating Gun Restriction and all that jazz. Why not add to the heat by throwing a little immigration reform in?
From Gawker;
A pickup truck—not a van, or a semi truck, or a panel truck, but a pickup truck—ran off the road and crashed into roadside trees in Goliad County, Texas Sunday night. The death toll from this single wreck: 14 people. Fourteen dead people, in one crash.

The truck was reportedly carrying 23 people when it crashed. They were immigrants from Mexico, Guatemala, and Honduras, who may have crossed the border illegally. Multiple children were among the victims.

These 14 deaths will fail to cause the nation's flags to be lowered to half-mast and will also fail to spark a public outcry for immigration reform.
Let me preface the debate by saying that this horrific incident had nothing to do with immigration. People were trying to make it into immigration because there happened to be a boat load of immigrants in the car. I'm not saying that it wasn't sad, and I'm not saying that there shouldn't be some sort of reform. What I am saying is that anyone – regardless of ethnicity – who tries to pack 23 people into one truck is risking the lives of everyone involved. If something like this happened and it was a truck full of Farmers or Fat Boys or fucking clowns for that matter, NO ONE would be up in arms about it other than to say they were being idiots. And so ensues the debate: