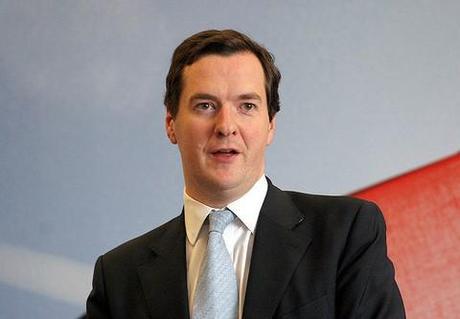 Chancellor of the Exchequer George Osborne. Photo credit: M. Holland

In yet more grim economic news for the UK, the International Monetary Fund has slashed its UK growth forecast, and said there is a one-in-six chance the country is already back in recession. The growth forecast for 2011 has been cut from a previously predicted 1.5 percent to just 1.1 percent and for 2012 to 1.6 percent from 2.3 percent.
The growth forecasts were included in the IMF's World Economic Outlook report, which warned that Europe needs to "get its act together" and deal with its worsening sovereign debt crisis warning of the risk of severe global repercussions. The IMF said both Europe's debt woes and a painfully slow recovery in the United States could undermine global growth, and it warned that without action those economies could tip back into recession, reported Reuters. Keeping pressure on European leaders, Standard & Poor's on Monday downgraded its ratings on Italy by one notch and kept its outlook on negative.
The grim UK forecast follows hot on the heels of Business Secretary Vince Cable using his Liberal Democrats conference speech to stress that "we now face a crisis that is the economic equivalent of war" and to expect "grey skies."
"There is a wide perception that policymakers are one step behind markets," IMF chief economist Olivier Blanchard told reporters. "Europe must get its act together", he added.
No turning back. The government was quick to repeat its commitment to the deficit reduction programme. "We have discipline and the determination to putting right the huge deficit and debts we were left by the last government – and we will go on with absolute determination doing that, and no wavering in that whatsoever", Foreign Secretary William Hague told the BBC in an interview when asked about IMF report. "But pressure on the government to boost growth is increasing as the economy falters, and the IMF's comments are likely to lead to renewed calls from political opponents and business lobby groups to ease the spending cuts", interpreted Reuters UK.
Osborne's extreme austerity called into question. George Eaton of The New Statesman's Staggers blog said the IMF bombshell is a big blow to Chancellor of the Exchequer George Osborne. Eaton noted that the IMF was "hitherto a strong supporter of the Chancellor's economic strategy" but now is suggesting that "Osborne might well need a 'plan B.'" "Just a month ago, the IMF said that the UK should only consider slowing its deficit reduction plan if it looked as though the economy was heading for a 'prolonged period of weak growth, high unemployment and subdued inflation.' But now it suggests that weaker-than-expected growth would be justification enough. The consensus, however slowly, is beginning to turn against Osborne and against extreme austerity." The IMF has now cut its 2011 UK growth forecast four times in the last year (from 2 percent, to 1.7 percent, to 1.5 percent, to 1.1 percent), noted Eaton who suggested that "there is every likelihood that it will do so again. The 'grey skies' that Vince Cable spoke of yesterday are looking even greyer today."
Keep calm and carry on. Stephanie Flanders, BBC economics editor said the message coming from the IMF's latest survey of the global economy is "for goodness sake, don't panic." "Why? Because policymakers do, just, have it in their power to prevent the situation from becoming even worse. Also, we need to sound cheerful because – surprise surprise – confidence among businesses and consumers is a problem as well", argued Flanders. Flanders' advice for governments was to "keep their chin up and talk about the decent recovery waiting just round the corner, if only they could grapple with the major challenges they face right now." Despite her relatively upbeat reaction, Flanders did concede that "the picture the report paints of the future – short and long term – is not exactly an inspiring one."