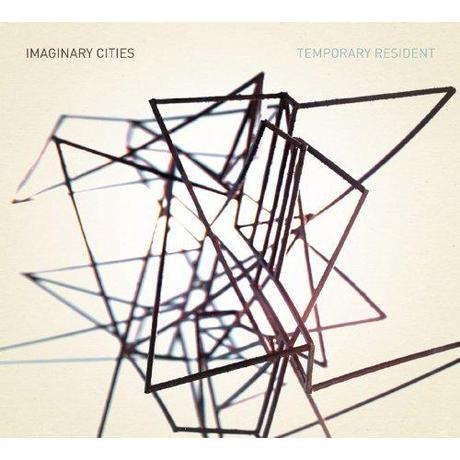 Gotta admit, I approached this one with a fair amount of trepidation.
Electro-indy pop ain't really my thing.  That's usually the playground of our valiant Koala and just about every bone in my not-wanting-to-be-turned-into-fey-mush body aimed to get this disc down to Australia and into her arms.
But it didn't happen.  I'd already sent her a ton of music, and since she's still a new scribe with us here at the Ripple, I didn't want to inundate her more music than necessary and frighten her running and screaming away from the Ripple office.  Yes, that's right; I can be merciful with our writers . . . at least at first.  Just call me Racer the merciful.
So, seeing that Koala's docket was full,
Temporary Resident
fell to my pile.  Trepidation grew.  Antipathy followed closely behind.  I didn't want something precious or cute.  I didn't want a bunch of processed beats, lap-top music.  Just wasn't in the mood.  Not my thing.  Seeing that
Imaginary Cities
was composed of only two musicians – multi-instrumentalist Rusty Matyas and singer Marti Sarbit – and my trepidation turned to full-on consternation.  I'd been flooded recently with a swarm of one-dimensional, near-anonymous, always grating, two-member indy rock.  I was looking forward to this about as eagerly as an annual enema.  And a sandpaper prep. 
Then I quit my mental bitching and put the disc in. 
Temporary Resident
is an amazing album and
Imaginary Cities
are an amazing band.
Hailing from Winnipeg, signed at NXNW after only being together for a year, and already locking in the support slot for the 2011
Pixies
tour, there's just no doubt about it;
Imaginary Cities
are a band on the rise.  And from what magic unfolded before me on
Temporary Resident
, the sky just ain't high enough for them to ride.
Unlike a lot of indy bands of this ilk,
Imaginary Cities
aren't afraid to mix things up.  Jazzy textures, downtempo beats, heavier guitars, faded urban blues, even some bossa nova latin flirting, it's all here and it's all done with more passion than I'd ever expect from a two-piece.  And soul.  Tons of soul.
After all that hesitation, it actually only took
Imaginary Cities
1 second of the opening song "Say You," to capture my attention and hold it fast in their accomplished four-handed grip.  Like Bigfoot finally locked in a snare, they had me.  Riding the mother of all downtempo grooves, "Say You," is so far up my alley that you can find my home and office sharing their zip code.  A killer organic bass locks in tight with that after-hours beat and makes my head soar off in a sea of groove.  Rusty knows how to compose a song, laying down just the instruments necessary to give the beat flesh and bone.  Never overwhelming the vocals or doing handstands for the sake of showing off.  Spartan and bass thick, my head is still bobbing just thinking about it.  Like some of the best of
Babyfox
or similar to one of my favorites
Si*Se
.  Pulsing and sexy and just flat out groovy.  I can never, and will never get tired of this one.
Which brings us to Marti's vocals.  When I said I was captured after 1 second of this song, it wasn't from the bass.  It was Marti.  With a natural languid flow to her delivery and a breathy innocence to her coy voice, Marti is a revelation.  She's about as organic and unforced a singer as I'd ever heard in ages and her coquettish tone reminds me distinctly of one of the most brilliant singers of all time;
Billie Holiday
.  Imagine that demure voice, full of breath and pause, gracing some truly beautiful indy rock compositions instead of the old jazz standards and you'll get Marti Sarbit.   Her tone and phrasing are simply engaging.  A touch of
Edie Brickell
.  A smattering of
Erykah Badu
.  Childish and unfalteringly sexy.  Captivating. A voice to fall in love with.
Then, just when I'd fallen for the easy downtempo of "Say You,"
Imaginary Cities
went ahead and mixed things up on me.  "Hummingbird" is pure accelerated, strummed indy pop. At first, I hesitated again.  I wanted more of "Say You."  I wanted a whole album of that.  But
Imaginary Cities
are far too full of wanderlust to stick to one vibe.  I suppose the long Winnipeg winters make the heart amble, the imagination take off (hence the band name) and the soul stir, and Rusty and Marti take off to follow their muse.  Fortunately, the results make it all worthwhile, and once I let go of my wants and jumped aboard the
Imaginary Cities
train, it all just came together for me.   "Hummingbird" is immediate indy pop, hooky and melodic, and even with the increased instrumentation, the song still has a comfortable, organic feel.  As if Rusty and Marti invited me into their living room during the dead of winter to hang with them.  Light a candle.  Play some music.  Wait for the winter to pass.
And in many ways, that's the biggest compliment I can give the album.  Whether on the wary "Calm Before the Storm," the pulsating electropop bopping of " Don't Cry,"  the languid blues-inflected acoustic ditty "Ride this Out" or the angelic "Where'd All the Living Go,"
Temporary Resident
is always intimate. Comfortable.  Never forced.  Simply as organic, melodic, and as engaging as any album I'd heard this year.
Snob Music has hailed
Temporary Resident
as "the first great debut album of 2011."  I'm not one to argue.
--Racer
Buy here mp3: Temporary resident
Buy here:
Temporary Resident