If you're new here, you may want to subscribe to my RSS feed. Thanks for visiting!
Image Comic June 2013 Releases!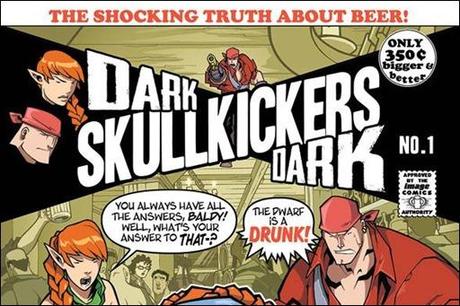 Here are the complete Image Comics June 2013 solicitations.

LAZARUS #1 – GEM OF THE MONTH
story GREG RUCKA
art/cover MICHAEL LARK
JUNE 26
32 PAGES / FC / M
$2.99
"FAMILY," Part One
In a dystopian near-future, government is a quaint concept, resources are coveted, and possession is 100% of the law. A handful of Families rule, jealously guarding what they have and exploiting the Waste who struggle to survive in their domains. Forever Carlyle defends her family's holdings through deception and force as their protector, their Lazarus. Shot dead defending the family home, Forever's day goes downhill from there…

FATALE #15
story ED BRUBAKER
art SEAN PHILLIPS & BETTIE BREITWEISER
cover SEAN PHILLIPS
JUNE 5
32 PAGES / FC / M
$3.50
A NEW ARC BEGINS!
FATALE finally arrives in modern times, as Nicolas Lash's research from his prison cell draws out old enemies. And him with nowhere left to run.
And remember each issue of FATALE contains extra content, articles and artwork that are not available anywhere but the printed single issues.

FATALE, VOL. 3: WEST OF HELL TP
story ED BRUBAKER
art / cover SEAN PHILLIPS, BETTIE BREITWEISER & DAVE STEWART
cover SEAN PHILLIPS
JUNE 5
120 PAGES / FC / M
$14.99
The third arc of the hit series hits stands the same day as the next one begins!  From the dark days of the depression, to the middle ages and the old west, these tales of horror and myth and the mystery of the Femme Fatale reveal secrets even our heroine doesn't know about yet.  Bold and experimental, this is pulp noir horror at it's finest.
Collects FATALE #11-14

AGE OF BRONZE #33
story ERIC SHANOWER
art / cover ERIC SHANOWER
JUNE 19
24 PAGES / BW / M
$3.50
BETRAYAL Part 14
Diomedes wants to get into Cressida's pants. Cressida's father is doing everything he can to make that happen. Meanwhile on the Trojan city walls Troilus waits and waits . . . and waits . . . until his final battle with Diomedes.

GREAT PACIFIC #7
story JOE HARRIS
art / cover  MARTÍN MORAZZO
JUNE 5
32 PAGES / FC / M
$2.99
"NATION BUILDING," Part One
New arc! Great jumping on point! Over a year has passed since "The Battle of New Texas" and the settlement has opened a plastic frontier rife with opportunity. But when eco-terrorists threaten plans for expansion, a growing cast of patriots, plunderers, monsters and thieves conspire to tear it all down.

HOAX HUNTERS: CASE FILES #1
story MICHAEL MORECI & STEVE SEELEY & MORE
art RON SALAS, NICK PITARRA & MORE
cover MIKE NORTON
JUNE 26
32 PAGES / FC / T
$2.99
"CASE FILES"
In this Annual issue, the Hoax Hunters dust off some of their lost cases from the archives. Featuring some of the industry's top creators, like TIM SEELEY, NICK PITARRA, ERIK BURNHAM, RON SALAS, and more! Even Fact or Fact's Ben Hansen makes an appearance!

PETER PANZERFAUST #11
story KURTIS J. WIEBE
art / cover TYLER JENKINS
incentive cover ROB GUILLORY
JUNE 12
32 PAGES / FC / T
$3.50
"CRY OF THE WOLF"
Having faced the wrath of The Hook, Peter and the Lost Boys join forces with the Braves in guerilla warfare from their secret hideout in the Sticks. This time, Felix is the man with the memories, and as Mr. Parsons soon learns, he's not eager to revisit that life.
A NEW STORY ARC BEGINS HERE! PERFECT JUMP ON POINT!

APHRODITE IX #2
story MATT HAWKINS
art / cover STJEPAN SEJIC
variant cover MARC SILVESTRI
JUNE 12
32 PAGES / FC / M
$2.99
TOP COW'S HOTTEST CYBORG ASSASSIN RETURNS IN HER OWN SERIES!
Straight out of her Free Comic Book Day first issue debut, the saga of the cyborg assassin Aphrodite IX continues in her first original series in over a decade! Writer MATT HAWKINS (THINK TANK) and artist STJEPAN SEJIC (RAVINE, ARTIFACTS) take you to a dystopian future where technology and evolution have merged and a cyborg killer searching for meaning is the most human individual left!


DARK SKULLKICKERS DARK #1
story JIM ZUB
art EDWIN HUANG & JIM ZUB
cover A  EDWIN HUANG & JIM ZUB
cover B  SAEJIN OH
JUNE 26
32 PAGES / FC / T
$3.50
Yup, we're beating this re-re-re-re-boot dead horse one… more… time.
DARK SKULLKICKERS DARK – it's the comic the industry needs, it just doesn't know it yet! Our fourth story arc ends and darkness begins! Secrets are revealed, continuity is poked and, of course, violence is unleashed.
For die-hard collectors keeping up with our old sequential numbering, no problem! Our B cover legacy variant is a classic issue twenty-three.
P.S. RETAILERS: Rack this comic beside every 'Dark' comic you've got. Titles with the word 'Dark' in it and dark subject matter. Tell customers this one has twice the darkness of the other ones.

SAGA, VOL. 2 TP – GEM OF THE MONTH
story BRIAN K. VAUGHAN
art / cover  FIONA STAPLES
JUNE 19
144 PAGES / FC / M
$14.99
Collecting the epic second storyline of the smash hit series Entertainment Weekly called "the kind of comic you get when truly talented superstar creators are given the freedom to produce their dream comic."  Thanks to her star-crossed parents Marko and Alana, newborn baby Hazel has already survived lethal assassins, rampaging armies, and alien monstrosities, but in the cold vastness of outer space, the little girl encounters her family's greatest challenge yet: the grandparents.
Collects SAGA #7-12

APHRODITE IX: RELOADED, VOL 1 HC
story MATT HAWKINS, DAVID WOHL, & DAVID FINCH
art / cover DAVID FINCH
JUNE 12
160 PAGES / FC / T+
$99.99
THE ORIGINAL SERIES AS YOU NEVER READ IT BEFORE!
Re-imagining and re-collecting the complete, original APHRODITE IX series drawn by superstar artist DAVID FINCH (Batman: The Dark Knight), this trade has been completely rescripted, rebooted, and updated in celebration to for her new APHRODITE IX ongoing series. Only 500 copies of this glorious, oversized hardcover will be produced!
A beautiful female assassin's memory is purged after every hit to protect her and her masters. As she becomes self-aware, Aphrodite begins to surpass her programming to rebel against those who use her.

CHANGE TP
story ALES KOT
art/cover MORGAN JESKE, SLOANE LEONG & JORDIE BELLAIRE
JUNE 26
128 PAGES / FC / M
$14.99
Dear Los Angeles: meet apocalypse. You have one day left. Unless, of course, someone decides to save you.
Possible saviors include: a foul-mouthed struggling screenwriter who moonlights as a car thief, an obscenely wealthy rapper, a dying cosmonaut on his way back to Earth and one very deranged little boy.
Good luck.

A DISTANT SOIL, VOL. 1: THE GATHERING TP
story / art / cover COLLEEN DORAN
JUNE 5
240 PAGES / BW / T
$16.99
The first new edition of the out of print A DISTANT SOIL, VOL. 1 collection returns in a spectacular, digitally re-mastered volume! This beautiful and critically acclaimed series has not had a new edition in seventeen years. Now, digital technology allows us to bring you a more beautiful presentation than ever before.
Every single page has been completely restored, and re-lettered, with a new and stunning die cut cover! This is THE DEFINITIVE VERSION fans have been waiting for!
Features an introduction by New York Times best-selling author, NEIL GAIMAN!

HACK/SLASH, VOL. 13: FINAL TP
story TIM SEELEY
art ELENA CASAGRANDE
cover  JENNY FRISON
JUNE 26
160 PAGES / FC / T+
$18.99
The acclaimed series comes to an end as the machinations of the slasher-breeding Black Lamp Society drag Cassie and Vlad into an ultimate bloody confrontation!
Collects HACK/SLASH, VOL. 2 #20-25

INFINITE VACATION HC
story NICK SPENCER
art / cover CHRISTIAN WARD
JUNE 19
192 PAGES / FC / M
$24.99
DELUXE OVERSIZED HARDCOVER
Welcome to the INFINITE VACATION, where alternate realities are up for sale, and buying and trading your way through unlimited variations of yourself is as commonplace as checking your e-mail.
At long last the brilliant and beautiful series that turned alternate realities on its ear, collected together for the first time in a beautiful, lavish, oversized hardcover.
All five issues, plus extras – and a five-page fold-out suitable for framing.
Collects INFINITE VACATION #1-5

MORIARTY: DELUXE HC
story DANIEL COREY
art / cover ANTHONY DIECIDUE
JUNE 5
272 PAGES / FC / T
$29.99
It is the dawn of World War I, and Sherlock Holmes has been dead for 20 years. Professor James Moriarty is a lost man, but he's called back into the fray when MI5 blackmails him into finding Holmes' long-lost brother, Mycroft. What at first appears to be a routine case leads to a web of intrigue that involves a psychic box and its creator, a woman from Moriarty's past, and a new villain that threatens to be greater than Moriarty ever was.
This deluxe, hardcover edition collects issues #1-9, the first and second story arcs of the acclaimed series, THE DARK CHAMBER and THE LAZARUS TREE.

OUTLAW TERRITORY, VOL. 3 TP
STORY: Joshua Hale Fialkov, Rob Williams, Chris Ryall, Matz, Corinna Bechko, Joshua Ortega, Michael Woods, and more.
ART: Tradd Moore, Greg Scott, Amilcar Pinna, Jonathan Way$hack, Rey Macutay, Kyle Latino, and more.
Cover: Ryan Sook
JUNE 19
296 PAGES / FC / M
$24.99
Join us one last time as the critically acclaimed anthology Outlaw Territory returns with it's largest volume ever! Thirty-five tales of the Old West from some of the biggest and brightest talent in the industry today. A wonderful addition to any comic lover or Western enthusiast's bookshelf. Overlooking such an extraordinary collection of graphic storytelling would be downright criminal!

PROGENY, VOL 1 TP
story RON MARZ, TIM SEELEY & DAVID HINE
art TOP COW'S FINEST
cover JOHN TYLER CHRISTOPHER
JUNE 26
160 PAGES / FC / M
$16.99
CAN A MOTHER'S LOVE SAVE THE UNIVERSE?
In the aftermath of ARTIFACTS, Darkness bearer Jackie Estacado reconstructed the fabric of the universe to save his daughter Hope and resurrect his previously murdered lover, Jenny Romano. What seemed like an innocent transgression to set things right for himself has created cracks that have allowed older, greater evils to enter our world. Rapture bearer and defrocked priest Tom Judge knows what Jackie has done and is assembling an army of Artifacts bearers to stop him and set things right… but will the Witchblade bearer Sara Pezzini be willing to help him?
Collects ARTIFACTS #25-26, WITCHBLADE #164-165, and THE DARKNESS #111

PROPHET, VOL. 2: BROTHERS TP
story BRANDON GRAHAM & SIMON ROY
art SIMON ROY, FAREL DALRYMPLE, GIANNIS MILONOGIANNIS & BRANDON GRAHAM
cover GIANNIS MILONOGIANNIS
JUNE 12
172 PAGES / FC / T+
$14.99
The distant future war continues, Old man Prophet is awake now and searching across the universe for old allies that have survived the centuries since the last war.
Collects PROPHET #27-32

SPAWN: THE DARK AGES COMPLETE COLLECTION HC
story BRIAN HOLGUIN & STEVE NILES
art LIAM MCCORMACK-SHARP, NAT JONES, KEVIN CONRAD, CHANCE WOLF & JONATHAN GLAPION
JUNE 26
700 PAGES / FC /T+
$59.99
SPAWN: THE DARK AGES COMPLETE COLLECTION reprints the journey of Lord Covenant, a 12th Century knight killed in a holy crusade far from his homeland, who returns to Earth as a HellSpawn. As a plague of violence and turmoil cover the English countryside, the Dark Knight must choose whether to align himself with the innocent inhabitants of the once-thriving kingdom or with the malevolent forces of evil and corruption. Featuring behind-the-scenes bonus art and cover gallery, Spawn: The Dark Ages Complete Collection is the first time the series will be collected in hardcover, oversized format.
Collects SPAWN: THE DARK AGES #1-28

THINK TANK, VOL 2 TP
story MATT HAWKINS
art / cover RAHSAN EKEDAL
JUNE 26
160 PAGES / BW / T+
$14.99
"GENETICS"
Two months after the flashy and brilliant escape from the DARPA funded military think he used to call his home, slacker/genius Dr. David Loren has willingly returned to his lab to continue his work that he not long ago wished to be no part of. When a weapons designer loses his moral compass, who are the true victims of his creations?
Collects THINK TANK #4-8 and THINK TANK MILITARY DOSSIER #1

THE WALKING DEAD VOL. 18: WHAT COMES AFTER TP
story ROBERT KIRKMAN
art / cover CHARLIE ADLARD & CLIFF RATHBURN
JUNE 5
136 PAGES / BW / M
$14.99
Following the events of SOMETHING TO FEAR, Rick and the other survivors accept a new way of life under Negan's rule, but not everyone agrees.
Collects THE WALKING DEAD #103-108

WHERE IS JAKE ELLIS? TP
story NATHAN EDMONDSON
art / cover TONCI ZONJIC
JUNE 26
136 PAGES / FC / T+
$16.99
Jon Moore and Jake Ellis are back.  The sequel to the Eisner-nominated WHO IS JAKE ELLIS? finds the American spy now without his invisible guide, but their enemies are still after them.  Where is Jake, and will Jon find him in time to stop The Facility from furthering their designs?
Collects WHERE IS JAKE ELLIS? #1-5.
"…a triumphant return." – Comic Book Resources
"Perfectly realized – fast-paced, viscerally exciting…every page is a deft accomplishment in visual storytelling." – Bleeding Cool
"If you're looking for a comic that thinks hard, hits harder, and will keep you guessing until he end, then it's time for you to ask, 'Where is Jake Ellis?'" –IGN

WITCH DOCTOR, VOL. 2: MAL PRACTICE TP
Story BRANDON SEIFERT
Art & cover LUKAS KETNER
JUNE 19
176 PAGES/FC/T+
$14.99
Dr. Vincent Morrow, specialist in supernatural diseases, is back — but this time, he's the patient! In the second collection of the hit medical horror series, Doc Morrow himself is targeted by shadowy supernatural forces. With his body betraying him, Morrow races against the clock to diagnose the threats he faces — and to punish those responsible!
Collects WITCH DOCTOR: THE RESUSCITATION one-shot and WITCH DOCTOR: MAL PRACTICE # 1-6.
"A dizzyingly imaginative romp… reads a bit like a mash-up of Doctor Who with Lovecraft" — Publishers Weekly
IMAGE FIRSTS



AGE OF BRONZE #1
CHEW #1
FATALE #1



INVINCIBLE #1
THE MANHATTAN PROJECTS #1
PHONOGRAM #1



REVIVAL #1
SAGA #1
SAVAGE DRAGON #1


SPAWN #1
THIEF OF THIEVES #1
THE WALKING DEAD #1


'68 JUNGLE JIM #3 (of 4)
story MARK KIDWELL
art / cover A JEFF ZORNOW & JAY FOTOS
cover B NAT JONES & JAY FOTOS
JUNE 5
32 PAGES / FC / M
$3.99
In a tangled jungle known as the Hell Hole, fang and machete join forces as two relentless predators massacre the living dead. At Salut Glen mission, the Viet Cong teach a monstrous lesson in depravity and torture. And deep in the scalding shadows of war torn Laos, the children are weeping…
But the reaper is coming… and there'll be hell to pay.

ARTIFACTS #30
story RON MARZ
art MARCO TURINI
cover STJEPAN SEJIC
JUNE 26
32 PAGES / FC / T+
$3.99
THE ANGELUS & TOM JUDGE REUNITED!
When Tom Judge failed in his efforts to assemble a team of Artifacts bearers and battle Jackie Estacado, Angelus host Finch was left eagerly preparing for her next confrontation with the Darkness bearer. Will her bullheaded obsession to destroy the Darkness distract her from the dangerous task at hand when Tom Judge returns to Finch for a favor?

BEDLAM #8
story NICK SPENCER
art RYAN BROWNE
cover FRAZER IRVING
JUNE 19
32 PAGES / FC / M
$3.50
"Tell The Truth."

BLACKACRE #7
story DUFFY BOUDREAU
art WENDELL CAVALCANTI & ANTONIO FABELA
cover BRIAN CHURILLA
JUNE 5
32 PAGES / FC / M
$2.99
A disgraced leader braces for the fight of his life, a pariah comes to grips with a confounding new world, and a lethal duo sets out to track down an old ghost. Arc two begins here!

THE BOUNCE #2
story JOE CASEY
art / cover DAVID MESSINA
JUNE 26
32 PAGES/FC/M
$2.99
IT'S ON, MUTHAFUGGA!
The good vibes and good times continue in this full-color superhero mega-epic! The big question is asked: How many licks does it take to get to the Tootsie Roll center of the world outside your window? Only the Fog knows! Also, beginning this issue: the mysterious ORIGIN of the Bounce!

CHIN MUSIC #3
story STEVE NILES
art / cover  TONY HARRIS
JUNE 19
22 PAGES / FC / M
$2.99
"INTO THE LAND OF THE DEAD"
Shaw must conjure all his powers and remember long forgotten incantations to undo the murder he wrongly committed. Shaw knows his enemies will be alerted to his presence but it time for him to right his wrongs. Horror Noir has never been so strange.

CLONE #8
story DAVID SCHULNER, AARON GINSBURG & WADE MCINTYRE
art / cover JUAN JOSE RYP & FELIX SERRANO
JUNE 19
32 PAGE / FC / T+
$2.99
Death comes for every clone. For Luke Taylor, it's just arrived sooner.

THE DARKNESS #115
story DAVID HINE
art / cover JEREMY HAUN & JOHN RAUCH
JUNE 26
32 PAGES / FC / M
$3.99
"THE AGE OF REASON," Part Two
Hope Estacado is very much her father's daughter. But Jackie Estacado was raised to be a hired killer for a crime family before he inherited the curse of the Darkness. As she matures to take care of her mentally unstable mother, what terrible rites of passage await Hope?

THE DREAM MERCHANT #2
story NATHAN EDMONDSON
art / cover KONSTANTIN NOVOSADOV
JUNE 12
32 PAGES / FC / T
$3.50
"CHAPTER TWO."
While hiding with The Dream Merchant, Winslow and Anne learn the truth about Winslow's dream and about what is coming – a shocking revelation they have to see, or dream, to believe.

EAST OF WEST #4
story JONATHAN HICKMAN
art NICK DRAGOTTA
JUNE 26
32 PAGES / FC / T+
$3.50
"THE PROMISE"
Flashback to the fallout of the Four Horsemen of the Apocalypse. Learn what shocking event tore them apart and the secret that has been hidden ever since.
The most exciting new books of the year, EAST OF WEST continues in: THE PROMISE.

ELEPHANTMEN #49
story RICHARD STARKINGS
art AXEL MEDELLIN
wraparound cover BOO COOK
JUNE 19
40 PAGES / FC / M
$3.99
"SLEEPING PARTNERS," Conclusion
The Finale of SLEEPING PARTNERS: the Elephantmen Attack MARS!

FIVE GHOSTS: THE HAUNTING OF FABIAN GRAY #4 (of 5)
story FRANK J. BARBIERE
art / cover CHRIS MOONEYHAM
JUNE 26
32 PAGES / FC / T+
$2.99
"THE FIVE TRIALS OF FABIAN GRAY"
Fabian's ghostly affliction takes a turn for the worse while Iago terrorizes the Forgotten City!

FIVE WEAPONS #5 (of 5)
story, art & cover JIMMIE ROBINSON
JUNE 26
32 PAGES / FC / T
$3.50
Tyler's life hangs in the balance between a master assassin, saving his parents, and the wrath of the school principal. This could be the biggest caper ever pulled off, or the end of the world at the School of Five Weapons.

INVINCIBLE #104
story ROBERT KIRKMAN
art / cover RYAN OTTLEY & JOHN RAUCH
JUNE 19
32 PAGES/FC/T+
$2.99
The wrath of Angstrom Levy takes its toll.

INVINCIBLE UNIVERSE #3
story PHIL HESTER
art/ cover TODD NAUCK & JOHN RAUCH
JUNE 5
32 PAGES / FC / T+
$2.99
Chupacabra is a recovering alcoholic with a lot to atone for. But will he find redemption in Siberia, at the hands of his dead teammate's family, or climb back into the bottle?

IT GIRL & THE ATOMICS #11
story JAMIE S. RICH
art NATALIE NOURIGAT
cover MICHAEL & LAURA ALLRED
JUNE 19
32 PAGES / FC / E
$2.99
"TWEENAGE FBI" Part Two
The conclusion of a special two-parter brings It Girl face-to-face with an ancient evil, one now wielding unlimited power thanks to the technological secret stolen from Atomics HQ. It Girl's got the Kid Commandoes on her side, but will they be enough? Featuring art by BETWEEN GEARS creator NATALIE NOURIGAT!

JUPITER'S LEGACY #2
story MARK MILLAR
art / cover A  FRANK QUITELY
cover B BRYAN HITCH
cover C JOCK
JUNE 26
32 PAGES / FC / M
$2.99
The comic book event of 2013 continues as the schism between the superheroes widens and a plot to unseat the greatest hero of them all emerges. Celebrate the 75th anniversary of Superman this month by buying this frankly much-more interesting book by superstar creators MARK MILLAR and FRANK QUITELY.

LOST VEGAS #4 (of 4)
story JIM McCANN
art / cover A JANET LEE
cover B RON SALAS
1:10 incentive cover FRANCESCO FRANCAVILLA
JUNE 12
32 PAGES / FC / T+
$3.50
One hand can make or break you. That has never been more true than now, and not just for Roland, but for the entire galaxy. After the sacrifice he made, the house of cards that is LOST VEGAS and all it stands for, begins to crumble. As the saying goes, you have to know when to run.
The EISNER AWARD-WINNING team of JIM McCANN & JANET LEE wrap up their acclaimed series filled with intrigue and a compelling, unique universe.

THE MANHATTAN PROJECTS #15
story JONATHAN HICKMAN
art NICK PITARRA
JUNE 26
32 PAGES / FC / T+
$3.50
"FINITE OPPENHEIMERS," Part Two
An in-depth look at the second decade of the ongoing war inside Oppenheimer's brain. It's endless brothers versus brothers: It's the Oppenheimer Civil War!


MICE TEMPLAR IV: LEGEND #3
story BRYAN J.L. GLASS & MICHAEL AVON OEMING
art VICTOR SANTOS
cover a MICHAEL AVON OEMING
cover b VICTOR SANTOS & CHANDRA FREE
JUNE 5
32 PAGES / FC / T
$2.99
"THE STORYTELLERS"
Karic returns to where his saga began, within the cavern of the Fish gods, where the young hero of prophecy and destiny demands an answer regarding his fate. Meanwhile, his old friend Leito, who believes Karic died as a youth, discovers unexpected love in the town of Bluth. Yet the insidious manipulator Pilot the Tall weaves tales of deception that may doom the one-armed storyteller forever. And the growing "Legend of Karic" reveals an insidious darkness within those who follow his cause!

MIND THE GAP #12
story JIM McCANN
art SAMI BASRI
cover A RODIN ESQUEJO
cover B MICHAEL GAYDOS
JUNE 12
32 PAGES / FC / T+
$2.99
"OUT OF BODIES," Part Two
Elle's shattered mind stitches back together with an unexpected twist- the FULL memory of  her attack! Meanwhile, someone realizes they have played a far more integral role in Elle's situation than they knew. Plus "The Fifth" is revealed! The two-part arc wraps up, setting the stage for the most unexpected twist yet!

MINIATURE JESUS #3 (of 5)
story / art / cover TED McKEEVER
JUNE 19
24 PAGES / BW / M
$3.99
GOLDEN-AGE FORMAT
Chomsky, our recovering alcoholic, is about to find out that the constant barrage of screaming voices in his head are not ALL imaginary. Meanwhile, Jesus is facing an array of obstacles the average person walks over, but to him, being eight inches tall, they're monoliths!

MORNING GLORIES #28
story NICK SPENCER
art JOE EISMA
covers RODIN ESQUEJO, MEHDI CHEGGOUR, JOE EISMA, SCOTT FORBES, FRAZER IRVING, RILEY ROSSMO & CHARLES PAUL WILSON III
JUNE 26
48 PAGES / FC / T+
$3.99
"… And There Is No End."
The double-sized conclusion to the Season 2 Premiere!



PERHAPANAUTS: DANGER DOWN UNDER! #5  (of 5)
story TODD DEZAGO
art CRAIG ROUSSEAU & ERIC HENSON
cover A CRAIG ROUSSEAU
cover B WALTER SIMONSON
cover C MICHAEL GOLDEN
JUNE 5
32 PAGES / FC / E
$3.50
"THE AUSTRALIAN ADVENTURE" Conclusion
The Incredible Finale!! It all comes Crashing together here! The stunning Conclusion that just wrecks the place! We've been building to this climax for 5 issues and you WON'T be disappointed! Also, look at those freakin' variant covers!!! Plus, a startling epilogue that you won't be forgetting anytime soon!  Be there!

PROPHET #38
story BRANDON GRAHAM & SIMON ROY
art SIMON ROY & GIANNIS MILONOGIANNIS
cover  JIM RUGG
JUNE 26
32 PAGES / FC / T+
$3.99
It's a race for power, with Prophets seeking to enslave the children of Badrock to use them as living weapons against a new mysterious foe.

REVIVAL #11
story TIM SEELEY
art MIKE NORTON
cover by JENNY FRISON
JUNE 19
32 PAGES / FC / T+ TEEN PLUS
$2.99
Dana and her father are in a race to save Ibrahaim from trigger happy retired militiaman. Em gets her hands dirty. Poor Tommy the Torso.

SAVAGE DRAGON #189
story / art / cover ERIK LARSEN
JUNE 26
32 PAGES / FC / T
$3.99
THE COUNTDOWN TO THE SINGLE BIGGEST CHANGE IN SAVAGE DRAGON HISTORY STARTS HERE!
The Dragon is in jail. But is he locked up with his greatest enemies or are they locked up with him? Find out in "The Cage!"

SEX #4
story JOE CASEY
art / cover PIOTR KOWALSKI
JUNE 26
32 PAGES/FC/M
$2.99
Simon Cooke might be having a tough time adjusting to civilian life, but Saturn City is having just as much trouble adjusting to life without its hero! Meanwhile, the infamous Prank Addict is making romantic overtures! There's plenty of dramatic angst to go around, and the tension is rising. Remember: SEX is worth every penny you spend on it!

SON OF MERLIN #5
story ROBERT NAPTON
art / cover ZID
JUNE 5
32 PAGES / FC / T+
$2.99
CONCLUSION!
Dr. Simon Ambrose, MIT professor and heir to Merlin's magic legacy, has fled from the vengeful Morgana long enough. Now it is time to stand his ground and fight. But will inherited talent and his cursory understanding of Merlin's diaries be enough to conquer a mage of Morgana's level and might?

SPAWN #232
story TODD MCFARLANE
art SZYMON KUDRANSKI
cover TODD MCFARLANE
JUNE 5
32 PAGES / FC /T+
$2.99
"COMPLEX MESSIAH," Part Four
A Massacre!
An Awakening!
And The True Face of Evil!
Featuring another classic TODD McFARLANE cover!!!
As the world eagerly awaits the gifts of their newest savior, Jim Downing's struggle for control over the darkness within him threatens to jeopardize everything he has worked to build. Violence erupts in the deserts of Mexico as the K7 goes on a feeding frenzy, and for the first time Jim awakens to the realities of the monster that lives within him. Can a man live with so much blood on his hands, or will the weight of the world's sins crush any hope of salvation?  While Jim wrestles with his new reality, an old adversary explores the true power behind Jim's"miracles," as THE CURSE makes his deadly return!
Also Featured: The K7-Leetha is a weapon of mass destruction birthed in the pits of Hell, a living creation built for one purpose — death. But what happens when a tool of unending violence has its own ambitions? A dark future awaits and the path forward begins here.

TEN GRAND #2
story J. MICHAEL STRACZYNSKI
art / cover BEN TEMPLESMITH
variant cover BILL SIENKIEWICZ
JUNE 5
32 PAGES / FC / M
$2.99
"ANGELS NEVER LIE"
FDA (Federal Demon Association) Advisory.  Contents contain: one cult church where incantations are encoded into the playlist; one flesh-dwelling, food-obsessed demon; one seer capable of perceiving the spirit world but blinded to this one; one missing woman; one murder; one angel with an agenda of his own;  and one rendezvous between supernatural investigator Joe Fitzgerald and the woman he loves, now deceased, in what may or may not be heaven.  Warning: do not operate heavy equipment while reading.

THIEF OF THIEVES #15
story ANDY DIGGLE & ROBERT KIRKMAN
art & cover SHAWN MARTINBROUGH & FELIX SERRANO
JUNE 26
32 PAGES/ FC/ T+
$2.99
It's go time for Conrad's Italian heist!

THE WALKING DEAD #111
story ROBERT KIRKMAN
art / cover CHARLIE ADLARD & CLIFF RATHBURN
JUNE 12
32 PAGES / BW / M
$2.99
Lucille is going to be so jealous.

WITCHBLADE #167
story TIM SEELEY
art DIEGO BERNARD
cover A JOHN TYLER CHRISTOPHER
cover B DIEGO BERNARD
JUNE 5
32 PAGES / FC / T+
$2.99
"ABSOLUTE CORRUPTION," Part One
The bitter, former Witchblade bearer Katarina has transcended the Faerie realm, traveling to Chicago to intercept the fugitive murderer Toio Mulranny. And she's going to get the Witchblade's help to catch him, whether Sara Pezinni wants to or not.
- The Comic Book Critic