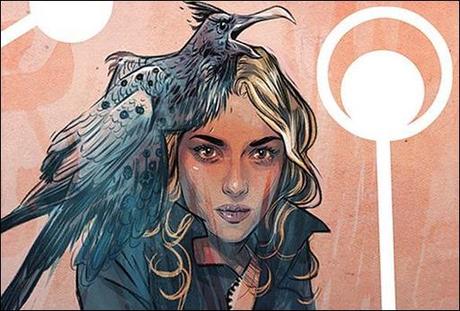 Here are the complete Image Comics solicitations for the month of July 2014. Let us know what you think in the comments section below.

LOW #1
story: RICK REMENDER
art / cover: GREG TOCCHINI
JULY 30 / 36 PAGES / FC / M / $3.99
In the far distant future, the sun's premature expansion has irradiated Earth, sending humanity to the lowest depths of the seas, hidden within radiation-shielded cities, while probes scour the universe for inhabitable worlds to relocate to. After tens of thousands of years, a single probe returns, crashing on Earth's surface, a now-alien place no human has seen for many millennia.
Frequent collaborators RICK REMENDER (BLACK SCIENCE, Uncanny Avengers) and GREG TOCCHINI (Last Days of American Crime, Uncanny X-Force) dive into an aquatic sci-fi/fantasy tale following two teams from the last remaining cities undersea as they race to the most unexpected alien world of all—the surface of Earth.
Special introductory issue features 30 full pages of painted art!

SUPREME: BLUE ROSE #1
story: WARREN ELLIS
art / cover: TULA LOTAY
JULY 23 / 32 PAGES / FC / M / $2.99
You are not dreaming. We are trying to communicate with you. Local reality has been reinstalled. Things have gone wrong. The revision has corrupted. Finding Ethan Crane is your supreme priority. We are speaking to you from the ultimate bunker within the structure of multiversal time. Do not trust Darius Dax. We are all going to die. SUPREME: BLUE ROSE. Re-introducing the central Image Comics character, with WARREN ELLIS and TULA LOTAY.

DARK ENGINE #1
story: RYAN BURTON
art / cover: JOHN BIVENS
JULY 16 / 32 PAGES / FC / M / $3.50
With ribsword in hand, with gore in her curling locks, Sym has been sent to the distant past to murder her creators' enemies. But the twisted alchemists who made Sym do not know that the engine that powers her is sentient, that it is the seed of their destruction. By blood and by fury, Sym will carve out her destiny in this new ongoing series.

DEATH VIGIL #1 (of 8)
story / art / cover: STJEPAN SEJIC
JULY 9 / 48 PAGES / FC / T+ / $3.99
Forty pages of story and art in this contemporary fantasy adventure series written and painted by STJEPAN SEJIC. Gifted? Join the Death Vigil in their ongoing war against the ever-growing power of the Primordial Enemy! The only catch is you have to die first. Become a corporeal immortal Death Knight and obtain reality-altering weaponry in the never-ending battle between good and evil.

HACK/SLASH: SON OF SAMHAIN #1
story: MICHAEL MORECI & STEVE SEELEY
art: EMILIO LAISO
cover: STEFANO CASELLI
incentive cover: CAMERON STEWART
JULY 2 / 32 PAGES / FC / M / $3.50
Your favorite slasher hunter is BACK! When a mysterious cult of monsters arises, Cassie is forced to return to the life she thought she'd left behind. Coupled with a new partner and faced with enemies unlike any she has battled before, Cassie must confront the darkness in the world—and in her own life—in new ways. The agents of evil never rest; unfortunately for them, neither does Cassie Hack.

SPREAD #1
story: JUSTIN JORDAN
art / cover: KYLE STRAHM
JULY 9 / 32 PAGES / FC / M / $3.50
Ten years ago, we dug too deep. We unleashed something ancient that couldn't be controlled. Something that couldn't be stopped, twisting everything it touched into more of itself.
The Spread. Humanity was nearly destroyed before we found a way to slow the Spread to a crawl. Now, deep inside the quarantined zone, one man has found the key to stopping it forever: a baby girl. And if he can save her, he might save the world.

TECH JACKET #1
story: JOE KEATINGE
art: KHARY RANDOLPH & DAVE MCCAIG
cover: KHARY RANDOLPH & EMILIO LOPEZ
JULY 2 / 32 PAGES / FC / T+ / $2.99
A new ongoing series from the creative team who brought you the hit TECH JACKET DIGITAL mini!
Zack Thompson: community college drop out, lives with his parents… This is who protects us from what lies beyond our world?! But he's also Tech Jacket, the self-styled "Galactic Guardian of Earth," and when a big-ass space ship enters Earth's orbit, Zack will face the greatest challenge of his life!

APHRODITE IX/CYBER FORCE #1
story: MATT HAWKINS
art / cover A / cover B: STJEPAN SEJIC
cover C: MARC SILVESTRI
JULY 2 / 48 PAGES / FC / T+ / $5.99
A double-sized crossover event unlike any before! Two teams, seven centuries apart, united by one woman's diabolical plan. The Chairwoman from CYBER FORCE and APHRODITE IX had a plan to recreate the world in her children's image. Things didn't go as planned. Featuring the present day team of Cyber Force and the 28th century Aphrodite IX, this story lays the foundation for the new comic series IXth GENERATION, launching in 2015.

BLACK KISS 2: XXXMAS IN JULY SPECIAL (ONE-SHOT)
story / art / cover: HOWARD CHAYKIN
JULY 2 / 48 PAGES / FC / M / $5.99
The BLACK KISS 2: XXXMAS IN JULY SPECIAL—because nothing says holiday fun like an endless stream of incredibly nasty revenge sex.

CAP'N DINOSAUR (ONE-SHOT)
story: KEK-W
art / cover: SHAKY KANE
JULY 16 / 32 PAGES / FC / T / $3.99
COMPLETE, ALL NEW CAP'N DINOSAUR TALE IN THIS ISSUE!
When a mysterious drowned man falls out of the clear blue sky, The Cap'n and Honey Moon follow a trail which leads them to a deserted Amusement park. Writer KEK-W (2000 AD, Ruddy Rucker's FLURB) and THE BULLETPROOF COFFIN's SHAKY KANE take the law into their own hands in this two-fisted tale of Murder, Muscle Marys, and Mail-order Mystery. WARNING: Contains Pop Culture references and Impact wounds.

CHEW: WARRIOR CHICKEN POYO #1
story: JOHN LAYMAN
art / cover: ROB GUILLORY
JULY 9 / 36 PAGES / FC / M / $3.50
Comics' most beloved homicidal cybernetic kung fu rooster returns for what we humbly anticipate as the most important literary achievement of the 21st Century. All other comics will be made irrelevant. The best thing that's ever happened to comics, and possibly the best thing that's ever happened…EVER!
Plus: an all-star pin-up gallery from some of the most staggeringly talented artists in the industry! DO. NOT. MISS.

ALEX + ADA, VOL. 1 TP
story: JONATHAN LUNA & SARAH VAUGHN
art / cover: JONATHAN LUNA
JULY 16 / 128 PAGES / FC / T+ / $12.99
Collects ALEX + ADA #1-5
From JONATHAN LUNA (GIRLS, THE SWORD, ULTRA Spider-Woman: Origin) and SARAH VAUGHN (Sparkshooter) comes ALEX + ADA, a sci-fi drama set in the near future. The last thing in the world Alex wanted was an X5, the latest in realistic androids. But after Ada is dropped into his life, he discovers she is more than just a robot.

BAD DOG, VOL. 1: IN THE LAND OF MILK AND MONEY TP
story: JOE KELLY
art / cover: DIEGO GRECO
JULY 9 / 184 PAGES / FC / M / $19.99
Collects BAD DOG #1-6
Two bounty hunters, an angst-ridden werewolf and his deviant partner, stumble through the southwest in search of cash, booze, and the meaning of life. Mostly, they find booze.

CHEW OMNIVORE EDITION, VOL. 4 HC
story: JOHN LAYMAN
art / cover: ROB GUILLORY
JULY 16 / 272 PAGES / FC / M / $34.99
Collects CHEW #31-40
Anthony and Antonelle Chu are fraternal twins. Tony and Toni. Each with their an extraordinary, albeit diametrically opposed, ability. Tony is Cibopathic, able to get psychic sensations of the past of anything he bites into or ingests. Toni is Cibovoyant, able to flash onto a vision of the future of any living thing she bit into or ingested. Tony is alive. Toni is dead. Toni has been murdered. Tony has vowed to catch her killer. Toni is going to help.

DEADLY CLASS, VOL. 1: REAGAN YOUTH TP
story: RICK REMENDER
art / cover: WESLEY CRAIG & LEE LOUGHRIDGE
JULY 16 / 160 PAGES / FC / M / $9.99
Collects DEADLY CLASS #1-6
SPECIAL LOW INTRODUCTORY PRICE!
It's 1987. Marcus Lopez hates school. His grades suck. The jocks are hassling his friends. He can't focus in class. But the jocks are the children of Joseph Stalin's top assassin, the teachers are members of an ancient league of assassins, the class he's failing is "Dismemberment 101," and his crush has a double-digit body count. Welcome to the most brutal high school on earth, where the world's top crime families send the next generation of assassins to be trained. Murder is an art. Killing is a craft. At Kings Dominion School for the Deadly Arts, the dagger in your back isn't always metaphorical. Collecting the first arc of the most critically acclaimed new series of 2014, by writer RICK REMENDER (BLACK SCIENCE, Fear Agent) and rising star artist WESLEY CRAIG (Batman). Experience the 1980s underground through the eyes of the world's most damaged and dangerous teenagers.

ELEPHANTMEN MAMMOTH VOLUME 1 TP
story: RICHARD STARKINGS & JOE KELLY
art: MORITAT, CHRIS BACHALO, CHRIS BURNHAM, BOO COOK, & MARLEY ZARCONE
cover: ROB GUILLORY
JULY 9 / 488 PAGES / FC / M / $29.99
Collects ELEPHANTMEN: WAR TOYS #1-3, ELEPHANTMEN: YVETTE, ELEPHANTMEN #1-11, 34, 35, 57
Collecting 18 issues of ELEPHANTMEN back-to-back in one big volume! Includes the WAR TOYS miniseries and one-shots!

FIVE WEAPONS, VOL. 2: TYLER'S REVENGE TP
story / art / cover: JIMMIE ROBINSON
JULY 16 / 128 PAGES / FC / T / $12.99
Collects FIVE WEAPONS #6-10
Enrique returns to the School of Five Weapons, but things have changed. The Nurse has been poisoned. The teachers hate him. There's a new principal in charge, and the real Tyler Shainline is in school. Enrique will have to use his sharp mind to unravel these mysteries and come out on top. Join artist and writer JIMMIE ROBINSON as he rings the school bell on an adventure that'll keep you guessing to the very end.

HOW TOONS: TOOLS OF MASS CONSTRUCTION TP
story: NICK DRAGOTTA, SAUL GRIFFITH, JOOST BONSEN, & INGRID DRAGOTTA
art / cover: NICK DRAGOTTA
JULY 23 / 200 PAGES / FC / E / $14.99
Lurking in the corners of your garage, on the dusty shelves of hardware stores, and in your own trashcan are the tools and ingredients for creating your own adventures.
Follow Celine and Tucker as they learn through play! Challenged to make something "other than trouble," this brother-and-sister pair use everyday objects to invent toys that readers can build. Combining comics and real life science and engineering principles, Howtoons are designed to encourage kids to become active participants in the world around them. Celebrating its 10th anniversary, this remastered collection will contain the "best of" HOWTOONS over those years, along with new material by the creators of the series!

MURDER ME DEAD TP
story / art / cover: DAVID LAPHAM
JULY 16 / 264 PAGES / BW / M / $19.99
Collects MURDER ME DEAD #1-9
After a decade out of print, another great El Capitán graphic novel returns! David Lapham's love letter to classic noir takes you down the long, dark road of obsession, sex, betrayal, and murder. Peeling back the carefully constructed facades of each character, he exposes the true nature of their humanity and propels you toward a final, horrifying revelation.

ROCKET GIRL, VOL. 1: TIMES SQUARED TP
story: BRANDON MONTCLARE
art / cover: AMY REEDER
JULY 9 / 120 PAGES / FC / T / $9.99
Collects ROCKET GIRL #1-5
RIGHT PRICED AT A SPECIAL LOW INTRODUCTORY $9.99!
A teenage cop from a high-tech future is sent back in time to 1986 New York City. Dayoung Johansson is investigating the Quintum Mechanics megacorporation for crimes against time. As she pieces together the clues, she discovers the "future" she calls home—an alternate reality version of 2014—shouldn't exist at all! Rocket Girl returns this fall with #6 and a new arc!

SEX, VOL. 2: SUPERCOOL TP
story: JOE CASEY
art: PIOTR KOWALSKI, with MORGAN JESKE & CHRIS PETERSON
cover: SONIA HARRIS
JULY 23 / 128 PAGES / FC / M / $14.99
Collects SEX #9-14
IT'S THE SECOND ROUND OF SEX IN BOOK FORM, BABY!
Now that the full-blown ten-year superhero orgy is over, life in Saturn City is getting even more complicated. And not only for the newly-"normalized" Simon Cooke; everyone seems to have their own kink to deal with. Just remember: morality may be subjective, but SEX is still great!

SHELTERED, VOL. 2 TP
story: ED BRISSON
art / cover: JOHNNIE CHRISTMAS
JULY 16 / 128 PAGES / FC / M / $14.99
Collects SHELTERED #6-10
Violence erupts within Safe Haven when a crew of outsiders arrive. Victoria struggles to take control of the compound, but Lucas and his followers have other plans.

TECH JACKET, VOL. 2 TP
story: ROBERT KIRKMAN, AUBREY SITTERSON, & JOE KEATINGE
art: EJ SU & KHARY RANDOLPH
cover: HARY RANDOLPH & EMILIO LOPEZ
JULY 2 / 128 PAGES / FC / T+ / $14.99
Collects TECH JACKET #7 & 8, TECH JACKET DIGITAL #1-3.
Get ready for the new TECH JACKET ongoing series with this brand new collection—featuring the previously digital-exclusive TECH JACKET DIGITAL miniseries!An intergalactic bounty hunter comes to Earth to claim the ultimate prize: Tech Jacket!

THINK TANK, VOL. 1 HC
story: MATT HAWKINS
art / cover: RAHSAN EKEDAL
JULY 2 / 120 PAGES / FC / T+ / $24.99
Collects Think Tank #1-4, Think Tank: Military Dossier #1
Limited to 1,000 copies, this hardcover collects the first volume.

THE WALKING DEAD, VOL. 21: ALL OUT WAR – PART TWO TP
story: ROBERT KIRKMAN
art: CHARLIE ADLARD, STEFANO GAUDIANO, & CLIFF RATHBURN
cover: CHARLIE ADLARD & DAVE STEWART
JULY 23 / 136 PAGES / BW / M / $14.99
Collects THE WALKING DEAD #121-126
Alexandria has been destroyed. Can Rick rally the other communities against Negan's army?

INVINCIBLE PROFILE T-SHIRT
Unisex Style
S – XL $19.99
XXL $21.99
Invincible in his iconic flight pose. Ryan Ottley's artwork really pops off the black t-shirt.

SEX CRIMINALS: SEXUAL GARY T-SHIRT
Men's Sizes: S – XL $19.99, XXL $21.99
Women's Sizes: S – XL $19.99, XXL $21.99
Looking for a way to say you love SEX CRIMINALS on a shirt without wearing a shirt that literally says "I LOVE SEX CRIMINALS?" Say hello to everybody's favorite Mr. First Time, SEXUAL GARY! The background gag that won over literally dozens of fans is HERE! In shirt form! You've already got a "Lying Cat" shirt—so say hello to the shirt you wear on Tuesday. YOU ARE WELCOME, AMERICA.

THE WALKING DEAD GRAVEDIGGER HOODIE
Unisex style
S – XL – $44.99
XXL – $46.99
A black zip hoodie featuring iconic artwork by CHARLIE ADLARD from THE WALKING DEAD #48 of survivor leader Rick Grimes against a backdrop of death and the undead!


'68: RULE OF WAR #4 (of 4)
story: MARK KIDWELL
art: JEFF ZORNOW & JAY FOTOS
cover A: NAT JONES
cover B: RILE ROSSMO
JULY 2 / 32 PAGES / FC / M / $3.99
MINISERIES CONCLUSION!
After a month imprisoned in a tiger pit, Agent Declan Rule faces his last torture session with the mad doctor Than Morneau. On Pitt Island NJ, the Kuens begin to get curious in the shadow of a serial killer, and in Vietnam, a psychotic madman named War-Face leads a rotting army of the dead toward Heaven. The only thing standing in his way…is a man they call JUNGLE JIM!

ALEX + ADA #8
story: JONATHAN LUNA & SARAH VAUGHN
art / cover: JONATHAN LUNA
JULY 30 / 32 PAGES / FC / T+ / $2.99
As restrictions tighten on androids, Ada feels unsure about her place in Alex's life and the world.

BLACK SCIENCE #7
story: RICK REMENDER
art / cover: MATTEO SCALERA & DEAN WHITE
JULY 30 / 32 PAGES / FC / M / $3.50
THE SECOND ARC OF THE SMASH SCI-FI HIT BEGINS HERE!
The mystery of the onion's truth unfolds the deeper one travels. The mythology of the Eververse unveils new truths and new dangers. The team is hurled to a seemingly alien world that holds the key to their true purpose. For what is magic but science that we don't yet understand?

BURN THE ORPHANAGE: REIGN OF TERROR #3 (OF 5)
story: DANIEL FREEDMAN & SINA GRACE
art / cover A: SINA GRACE & S. STEVEN STRUBLEY
cover B: MALACHI WARD & MATT SHEEAN
JULY 2 / 32 PAGES / FC / M / $3.50
When in doubt: call topless stripper ninjas for back-up.

CLONE #18
story: DAVID SCHULNER, AARON GINSBURG, & WADE MCINTYRE
art / cover: JUAN JOSE RYP & ANDY TROY
JULY 2 / 32 PAGES / FC / M / $2.99
How far would you go to protect your family?
C.O.W.L. #3
story: KYLE HIGGINS & ALEC SIEGEL


art: ROD REIS
cover: TREVOR MCCARTHY
JULY 23 / 32 PAGES / FC / M / $3.50
Who is Radia? And why does Chicago fear her? Meanwhile, Geoffrey discovers that C.O.W.L.'s future is anything but guaranteed, and investigation into the union takes an unexpected turn.

DREAM POLICE #4
story: J. MICHAEL STRACZYNSKI
art / cover: SID KOTIAN & BILL FARMER
JULY 9 / 32 PAGES / FC / T / $2.99
The recurring phantom of someone Detective Joe Thursday suspects may have been his former partner—despite the fact that no one else remembers him—leads Joe to start asking questions nobody should ask about the history of the Dream Police, and how they really came into existence. The deeper he goes, the more isolated he becomes, and the more dangerous his world becomes. How far will Joe go to find the truth? And will his partner Katie Black go with him…or turn against him?

DRUMHELLAR #7
story: RILEY ROSSMO & ALEX LINK
art / cover: RILEY ROSSMO
JULY 30 / 32 PAGES / FC / M / $3.50
Drum learns it's hard to lay low when you're a magnet for paranormal phenomena. A trio of strange killers stalks the Whitlock woods nearby, and when Harold discovers them, the results are shocking!

EAST OF WEST #14
story: JONATHAN HICKMAN
art / cover: NICK DRAGOTTA
JULY 23 / 32 PAGES / FC / T+ / $3.50
"WARBOUND"
The Endless Nation makes the first cut in the carcass once called America. The Apocalypse marches on in EAST OF WEST #14.

THE FIELD #4 (of 4)
story: ED BRISSON
art / cover: SIMON ROY
JULY 16 / 32 PAGES / FC / M / $3.50
The final issue! Secrets will be revealed! Lives will be destroyed!
THE FUSE #6
story: ANTONY JOHNSTON


art / cover: JUSTIN GREENWOOD
JULY 30 / 32 PAGES / FC / M / $3.50
"THE
RUSSIA
SHIFT," Conclusion
THEIR FIRST CASE: SOLVED! Klem's got it all figured out. But will she live to tell anyone? Can Ralph get to her in time? Who's gonna get shot? And can someone, anyone, please explain why it's called the "Russia shift"? Well, if you insist…

GHOSTED #11
story: JOSHUA WILLIAMSON
art: GORAN SUDZUKA & MIROSLAV MRVA
cover: DAN PANOSIAN
JULY 9 / 32 PAGES / FC / M /$2.99
In death Anderson continues to haunt Jackson Winters, but in life she was far more terrifying! GORAN SUDZUKA returns to document this fan favorite's secret history!

GREAT PACIFIC #18
story: JOE HARRIS
art / cover: MARTÍN MORAZZO
JULY 23 / 32 PAGES / FC / M / $2.99
"BIG GAME HUNTERS," Part Four
The trash-trouncing finale! All nations have growing pains, and many have known the horrors of civil war. But if this is to be the final battle for Chas Worthington's New Texas, who will survive, what will be left and, most importantly…who shall rule?

INVINCIBLE #114
story: ROBERT KIRKMAN
art / cover: RYAN OTTLEY, CLIFF RATHBURN, & JOHN RAUCH
JULY 23 / 32 PAGES / FC / T+ / $2.99
The death toll finally reaches its end. Who will rise from the ashes?
LAZARUS #10


story: GREG RUCKA
art / cover: MICHAEL LARK
JULY 2 / 32 PAGES / FC / M / $3.50
"EXTRACTION"
A stand-alone in the critically-acclaimed and New York Times bestselling series, this issue sets the stage for the third arc of LAZARUS, "Conclave." In the wake of his failed attempt to seize control of his Family, Jonah Carlyle ran for his life and straight into the arms of the enemy. But in the embrace of the Bittner and Hock Families, there is no shelter, aid, or comfort to be found.

MADAME FRANKENSTEIN #3 (of 7)
story: JAMIE S. RICH
art: MEGAN LEVENS
cover: JOELLE JONES & NICK FILARDI
JULY 2 / 32 PAGES / BW / T+ / $2.99
The secret history of the mad scientist and his monster is revealed. Find out what Courtney did to inspire Vincent to steal her dead body and give her new life. Also, we uncover the childhood transgressions that have made Henry so determined to expose his former friend.

THE MANHATTAN PROJECTS #22
story / cover: JONATHAN HICKMAN
art: NICK PITARRA
JULY 30 / 32 PAGES / FC / T+ / $3.50
"VECTORS"
From the smoking ruins of Los Alamos, a new day begins for the revamped Manhattan Projects. Who stays, who goes…who goes away forever? The thrilling FEEL GOOD, BAD SCIENCE series continues in THE MANHATTAN PROJECTS #22: VECTORS.

MANIFEST DESTINY #8
story: CHRIS DINGESS
art / cover: MATTHEW ROBERTS & OWEN GIENI
JULY 16 / 32 PAGES / FC / T+ / $2.99
Neither land nor water is safe from this new breed of river monster…
THE MERCENARY SEA #6
story: KEL SYMONS


art / cover: MATHEW REYNOLDS
JULY 23 / 32 PAGES / FC / T+ / $2.99
"TOP HAT, WHITE LIE, AND TALES"
Jack and Evelyn, a.k.a. "Top Hat," are captured by Tono, locking the outclassed Venture into combat with a top-of-the-line Japanese destroyer.
MICE TEMPLAR IV: LEGEND #12



story: BRYAN J.L. GLASS & MICHAEL AVON OEMING
art: VICTOR SANTOS & SERENA GUERRA
cover A: MICHAEL AVON OEMING
cover B: VICTOR SANTOS & CHANDRA FREE
JULY 30 / 32 PAGES / FC / T / $3.50
"THE CHARGE!"
The restored Templar face their greatest challenge: to put aside a generation of enmity and distrust and take on the might of the rat army in one desperate charge against their enemies, their insidious allies, and the coming of dawn itself. But is the "Legend of Karic" enough to dispel the tensions that simmer within the Templar ranks and to defy the Death Magic of the druids before all are lost?

MPH #3 (of 5)
story: MARK MILLAR
art / cover A: DUNCAN FEGREDO
cover B: PAUL POPE
JULY 16 / 32 PAGES / FC / T+ / $2.99
Roscoe, his girl Rosa, and pals Chevy and Baseball mount a super-speed-fueled crime spree that even the Feds can't stop…unless they accept the help of a detainee so dangerous they've had him in lock-up for thirty years. The all-new Millarworld Universe zooms ahead with Millar and Fegredo's high-octane adventure tale.

NAILBITER #3
story: JOSHUA WILLIAMSON
art / cover: MIKE HENDERSON
JULY 2 / 32 PAGES / FC / M / 2.99
As the morgue continues to fill with new dead bodies, the citizens of Buckaroo violently demand that Sheriff Crane and Officer Finch arrest the Nailbiter. But in a town full of killers…anyone could be a suspect.

OUTCAST BY KIRKMAN & AZACETA #2
story: ROBERT KIRKMAN
art / cover: PAUL AZACETA & ELIZABETH BREITWEISER
JULY 30 / 32 PAGES / FC / M / $2.99
"IT WATCHES FROM THE DARKNESS"
In the second issue of KIRKMAN & AZACETA's horror epic, Kyle Barnes is still reeling from the revelations about demonic possession last issue and what they may mean about the time his mother was possessed.


PROTECTORS INC. #7
story: J. MICHAEL STRACZYNSKI
art / cover A: GORDON PURCELL & MIKE ATIYEH
cover B: RENAE DELIZ & RAY DILLON
JULY 2 / 32 PAGES / FC / M / $2.99
The Angel and Detective Riley have joined forces to determine who killed the Huntsman, and why. With each new discovery, the suspicion grows that it was one of the Protectors who did the job…and that there may be other, unsolved murders that could only have been committed by one of their own. In a world without super-powered bad guys, has someone finally crossed over to the other side? And if they have, how can they be stopped? And what secret is Protectors Inc. hiding about all this? Tune in for another thrilling adventure…

RED CITY #2
story: DANIEL COREY
art / cover: MARK DOS SANTOS
JULY 9 / 32 PAGES / FC / T+ / $2.99
The case gets complicated, and Cal comes under heavy scrutiny from Red City PD and the Mayor's office. He teams up with Angel, a woman from his past, and the fight spills out onto the streets in a high-octane hail of bullets.

REVIVAL #22
story: TIM SEELEY
art: MIKE NORTON
cover: JENNY FRISON
JULY 16 / 32 PAGES / FC / M / $2.99
Dana gets dangerously close to the killer stalking black market organ thieves in NYC. Ibrahaim gets even closer to the terrible origins of the scarred hitman.

RISE OF THE MAGI #3
story: MARC SILVESTRI
art / cover A: SUMEYYE KESGIN
cover B: STJEPAN SEJIC
JULY 23 / 32 PAGES / FC / T+ / $3.50
The wall between the world of man and the world of magic has cracked. Two realities never meant to coexist are bleeding into each other with terrifying results. Unimaginable horrors that belong there have come here. But as Asa and his gang of thieves and murderers have discovered, horrors from the world of men have entered the realm of magic. And that may prove to be far, far worse.

SAGA #21
story: BRIAN K. VAUGHAN
art / cover: FIONA STAPLES
JULY 23 / 32 PAGES / FC / M / $2.99
Not every robot is lucky enough to be born a royal.
SAVAGE DRAGON #198


story / art / cover: ERIK LARSEN
JULY 23 / 32 PAGES / FC / T+ / $3.99
Malcolm Dragon faces the Uncanny Ant-Menaces! The Ant Queen and her deadly Ant Men invade the surface world and one man stands in their way! A deadly new threat for the son of the Savage Dragon!

SEX CRIMINALS #7
story: MATT FRACTION
art / cover: CHIPPARD ZDWARRGGKY
JULY 16 / 32 PAGES / FC / M / $3.50
Jon breaks into Kegelface's house and oh my golly what on EARTH do you think he finds there. Not only are our beloved Sex Criminals not alone…they're not unwatched, either. And Suzie learns once and for all the fate of her precious library.

SHUTTER #4
story: JOE KEATINGE
art / cover: LEILA DEL DUCA & OWEN GIENI
JULY 9 / 32 PAGES / FC / M / $3.50
Kate Kristopher has left the life she built to confront the life she left behind—and here there be monsters.

SKULLKICKERS #29
story: JIM ZUB
art: EDWIN HUANG & MISTY COATS
cover: JAMES GHIO
JULY 23 / 32 PAGES / FC / T / $3.50
"A DOZEN COUSINS AND A CRUMPLED CROWN," Conclusion
The fifth SKULLKICKERS story arc ends, but the greatest battle of all is just beginning…"It's quirky, witty and so easy to get into." -Page and Panel

SOUTHERN BASTARDS #4
story: JASON AARON
art / cover: JASON LATOUR
JULY 23 / 32 PAGES / FC / M / $3.50
THE EXPLOSIVE ENDING TO OUR FIRST ARC!
Earl Tubb and his big stick finally come face to face with Coach Boss. This will not be pretty.

SOVEREIGN #5
story: CHRIS ROBERSON
art / cover: PAUL MAYBURY
JULY 30 / 32 PAGES / FC / M / $2.99
Matters of state and unearthly threats occupy the men and women of power and influence in the capital. But what of those who are not powerful, who have no influence? And when one powerless woman discovers incomparable power awakening within her, what will she do with it?

SPAWN #245
story: TODD MCFARLANE
art: SZYMON KUDRANSKI
cover: SZYMON KUDRANSKI & TODD MCFARLANE
JULY 2 / 32 PAGES / FC / T+ / $2.99
Marc begins putting the pieces together about Jim's past himself, and exposes more than Jim is comfortable with confronting. Meanwhile, Jim and Sara deal with the aftereffects of her kidnapping. They didn't just leave the nightmare behind…it followed them home.

STRAY BULLETS: KILLERS #5
story / art / cover: DAVID LAPHAM
JULY 16 / 32 PAGES / BW / M / $3.50
AMY RACECAR IS BACK!
The first kill is always the worst—the most traumatic, the most gut-wrenching. It's the one that sticks with you. Except if you're Amy Racecar. The most dangerous woman in the world doesn't even remember her first kill. The next 112 kills that came after were buckets of fun, but Amy's always felt that void of not remembering number one… All that's about to change, that sickening "first kill" horror is about to come with kill number 114. After she's been reborn into a new life of hope and love. After she's found her one true love. After she's changed her ways, renounced violence and put down her gun…lost it…then found it…then picked it up again…

THE SUPERANNUATED MAN #2
story / art / cover: TED McKEEVER
JULY 23 / 32 PAGES / BW / M / $ 3.99
GOLDEN-AGE FORMAT
A simple supply run into Blackwater, a seaside town overrun by mutated animals, is anything but routine for He, one of the few remaining humans.

TALES OF HONOR #5
story: MATT HAWKINS
art / cover A: SANG-IL JEONG
cover B: LINDA SEJIC
JULY 30 / 32 PAGES / FC / T+ / $2.99
THE HONORVERSE EXPANDS TO COMICS!
The FINALE of the first arc, "On Basilisk Station!" Based on the best-selling military science fiction novels by David Weber, this original comic book series continues the story of Honor Harrington as she investigates the threat to Basilisk Station by the Republic of Haven.

THIEF OF THIEVES #23
story: ANDY DIGGLE
art / cover: SHAWN MARTINBROUGH & ADRIANO LUCAS
JULY 23 / 32 PAGES / FC / M / $2.99
When shots are fired in the Cartel/Mob war, will Conrad steal something he never has before—a human life?
TREES #3


story: WARREN ELLIS
art / cover: JASON HOWARD
JULY 23 / 32 PAGES / FC / M / $2.99
Eligia, girlfriend and decoration to the local fascist gang leader, hunts the streets of Cefalu for the old man who pulled the knife on her. What she finds will either kill her dead or cure her heart…or both.

UMBRAL #7
story: ANTONY JOHNSTON
art / cover: CHRISTOPHER MITTEN
JULY 16 / 32 PAGES / FC / M / $3.50
"KILLING THE SUNRISE" BOOK TWO STARTS HERE!
Rascal has escaped the Umbral in the city (uh, spoilers?) and now she heads for the mountainous Sunrise homestead. But even here not everyone is who they seem, and before the dawn a blade will flash in the dark…

UNDERTOW #6 (of 6)
story: STEVE ORLANDO
art / cover A: ARTYOM TRAKHANOV
cover B: CHRISTOPHER MITTEN
JULY 23 / 32 PAGES / FC / M / $2.99
MINISERIES CONCLUSION!
Zikia beaten, Uruku tortured, citizens in chains… How high must the bodies pile before the occupation of the Deliverer comes to an end? The battle for freedom comes home as the Watertight Pulp Epic reaches an explosive finale!

VELVET #7
story: ED BRUBAKER
art / cover: STEVE EPTING
JULY 23 / 32 PAGES/ FC / M / $3.50
THE SECOND ARC CONTINUES!
While Velvet's been on the run, ARC-7′s top men have been hunting her…now they have her trail, and soon she'll be in Colt's sights.

THE WALKING DEAD #129
story: ROBERT KIRKMAN
art: CHARLIE ADLARD, STEFANO GAUDIANO, & CLIFF RATHBURN
cover: CHARLIE ADLARD & DAVE STEWART
JULY 9 / 32 PAGES / BW / M / $2.99
Even now, they still find new ways to dispose of the dead.
THE WICKED + THE DIVINE #2


story: KIERON GILLEN
art / cover: JAMIE MCKELVIE & MATT WILSON
JULY 18 / 32 PAGES / FC / M / $3.50
Diabolically divine pop-god Lucifer is in trouble. She offers superfan Laura an unprecedented deal if she helps. It's a bargain. A Faustian bargain, and they always turn out so well. Who knows who Laura will turn to fulfill it? We do. Clearly. It's our comic. You can know too if you buy this fine pictorial narrative with your human money coins.

WILDFIRE #2
story: MATT HAWKINS
art / cover A: LINDA SEJIC
cover B: STJEPAN SEJIC
JULY 16 / 32 PAGES / FC / T+ / $3.99
Fire sweeps through the west side of Los Angeles killing thousands, but the real disaster is about to begin! Dr. Dan Miller tries to stuff Pandora back in the box, but once genetically engineered plants are released in the wild, it has permanent, long-lasting effects with LA paying the price!

WITCHBLADE #177
story: RON MARZ
art / cover A: LAURA BRAGA
cover B: JOHN TYLER CHRISTOPHER
JULY 30 / 32 PAGES / FC / T+ / $3.99
Sara Pezzini has solved myriad mysteries as both a detective and the bearer of the Witchblade. But now to save her own life, and perhaps save the entire world, she must unravel the most starling mystery of all: who serves as the new host for the power of the Angelus?

ZERO #10
story: ALES KOT
art: MICHAEL GAYDOS & JORDIE BELLAIRE
cover: MICHAEL GAYDOS & TOM MULLER
JULY 23 / 32 PAGES / FC / M / $2.99
Iceland.
- The Comic Book Critic
Image Comics July 2014 Solicitations
was last modified:
April 23rd, 2014
by
Carlos Rodrigues