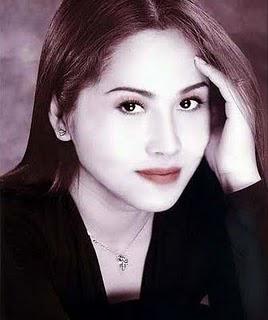 Ima Castro, Kim of the UK national tour of Miss Saigon, and also the succeeding Kim to Lea Salonga in the 2001 Manila production of the mega-musical, is back in town to begin rehearsing for the lead part of the Nubian princess Aida in Atlantis Productions' June 24-July 10 mounting of the Elton John-Tim Rice Broadway musical.
Ima has been based in London for the last 10 years, four of those as wife to the actor who played Chris to her Kim in the Miss Saigon-UK tour. Unfortunately, they are now divorced. Ima says she has kept herself busy as one of the featured performers in two touring revues highlighting Broadway and West End musicals. She's also part of an all-female quartet that performs "big diva songs," in her own words--from Whitney Houston hits to showstoppers from musical theater.
In Manila, not only is Ima starring in Aida, but she's also following that up by doing the role of Vanessa in Atlantis' next production, In the Heights, which runs September 2-18, also at the RCBC Theater, Makati City. For Aida, her co-stars include Myke Salomon as Radames, father-and daughter Hajji and Rachel Alejandro as father-and-daughter Zoser and Amneris, Alys Serdenia as Nehebka and pop singer Josh Santana, in his musical-theater debut, as Mereb. Directing the show is Chari Arespacochaga.
With Aida, says Ima, she's learning to adjust to a lower vocal register. The score is difficult to sing because of the range--there are high notes aplenty, which is her forte, but the role of the captive Nubian princess, especially as incarnated by Heather Headley, who sang and acted the part to a triumphant Best Actress Tony on Broadway, calls for a darker, more soulful sound, pitched to a lower timbre. Ima says she's been practicing the songs even before leaving London for Manila, but still needs to get into the thick of rehearsals to be able to grasp the score fully.
At the presscon introducing her as Aida, though, this internationally lauded singer-actress had more immediate concerns--like how to dodge questions from some show-biz writers that bordered on the highly personal and intrusive. After mentioning that she's now divorced, she got barraged with questions like: Why did you separate? What happened? There was no sex anymore heeheehee? Could he perhaps be gay hahaha? Ima could only fudge and laugh along nervously, all the while keeping her cool.
It reminded me of a similar scene: At the presscon for Atlantis' earlier Next to Normal, Menchu Lauchengco-Yulo, about to play one of the most challenging roles in her extraordinary 30-year career in musical theater, couldn't get to talk about the part of Diana Goodman, or her craft, or anything about theater--not before the show-biz reporters present (not all, but a few) could first ask her something like: Would you consider playing a cougar role opposite somebody like Markki Stroem (Next to Normal's newbie actor)?
Argh.
No teaser performance was scheduled, but Ima was nevertheless obliged to sing for the TV cameras when the request came. She sang some lines from Sun and Moon, a bit from Aida, and--the "power song" TV needed to hear--the refrain from the pop hit Shine. You might have seen the seconds-long exposure on TV. This is how it went, unedited:

Atlantis Productions' "Aida" runs June 24-July 10, 2011 at the Carlos P. Romulo Auditorium, RCBC Plaza, Makati City. A limited number of shows are now available for show-buying and fund-raising opportunities. Call Atlantis 8927078 or 8401187.