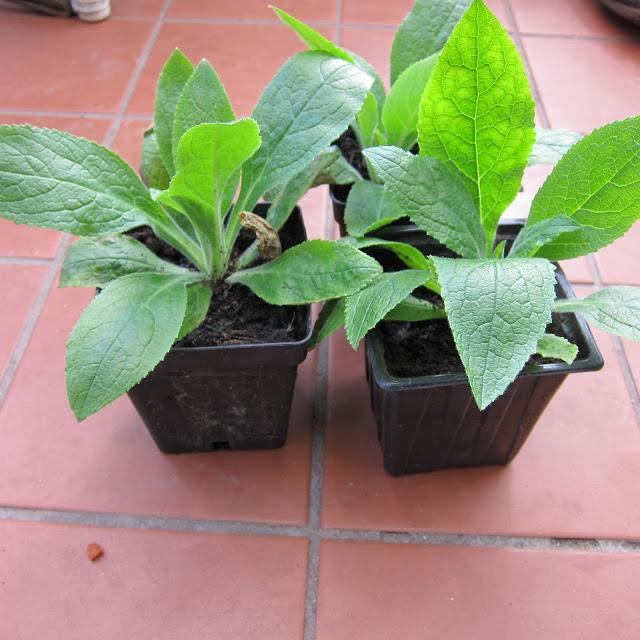 Whilst these 3 young plants might not look very exciting at the moment, they are the all- singing, all - dancing new Foxgloves which took Chelsea by storm last year.They are 'Illumination Pink' and my friend and I have been waiting for them for a l-o-n-g  time. We ordered them from Thompson & Morgan very soon after Chelsea and of course, everyone wanted them, so we had to wait in line. Although they were delivered about 6 weeks ago, I have only just taken delivery as my friend has been growing them on in her conservatory, her greenhouse being deemed too cold for such special (and expensive) charges.
'Illumination Pink' was the 'Plant of the year' at Chelsea 2012 and it is a perennial, rather than a biennial, meaning that it will give, hopefully, years of enjoyment. It is said to be hardy and to have an amazing flowering period of 6 months - yes, 6 months, from June to November. Because it is totally sterile it does not set seed and so the flowering period is prolonged. It is a hybridisation of Isoplexis (Canary Island Foxglove) which is what gives it its exotic flower colouring. The flowers are supposedly packed around the stem and it is very spectacular. It is semi-evergreen and should reach about 90cm x 45cm.
I will wait until it is warmer before planting it out, even though it is hardy, and will harden it off a bit, as it has been in a heated environment.
Although I have read about this plant I have not spoken to anyone who is actually growing it, so I don't know if the claims for it are wildly exaggerated or not. Is anyone out there nurturing one as we speak ? I would love to know how it is doing !