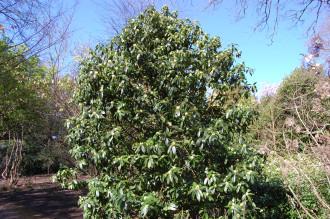 Illicium simonsii (16/04/2014, Kew Gardens, London)
Position: Full sun to dappled shade
Flowering period: Spring
Soil: Moist, well drained
Eventual Height: 2.5m
Eventual Spread: 2m
Hardiness: 8b, 9a, 9b, 10a, 10b
Family: Illiciaceae
Illicium simonsii is a slow growing evergreen shrub with a pyramidal bushy habit. Its dark green leathery leaves are lanceolate to elliptic with entire margins, up to 10cm long and 35mm broad. When crushed its leaves are fragrant. Its fragrant pale yellow flowers are up to 4cm across.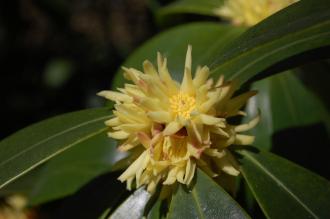 Illicium simonsii Flower (16/04/2014, Kew Gardens, London)
Illicium simonsii, commonly know as Illicium,is native to south China. In its native habitat it grows in thickets and forests. All parts of this plant are poisonous.
The etymological root of the binomial name Illicium is derived from the Latin illicio meaning 'to entice'. Simonsii is named after Simonson, reader feedback as to which Simonson would be welcome.

The landscape architect may find Illicium simonsii useful as a free flowering fragrant shrub suitable for acidic soils in dappled shade locations. It prefers a sheltered position.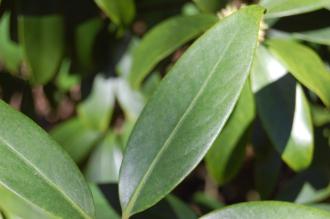 Illicium simonsii Leaf (16/04/2014, Kew Gardens, London)
Ecologically, Illicium simonsii flowers are attractive to pollinating insects.
Illicium simonsii prefers moist, fertile, well-drained soils. It prefers a neutral to acidic pH of soil.
Illicium simonsii requires little maintenance.