Ben loves planets and learning about the solar system so when I came across iLearn Solar System HD : Making Science Fun By Sprite Labs I knew I had to download it for him. It is a very well designed app with fantastic graphics which lets children explore the solar system through it's interactive features and learn about each planet as they do. There is also a quiz which tests your child's knowledge (and yours) to help reinforce learning and rewards them with stickers.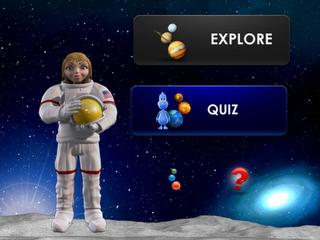 Options
When you load the app you can select between Explore or Quiz modes. If you select Explore, Astronaut Ashley helps you learn about the solar system and you can fully interact with all the planets. The interactive features are impressive and intuitive which will keep kids engaged while learning an incredible amount as they do. To rotate and spin the planets you simply swipe them, you pinch to scale and zoom in and out and tap to start and stop animation.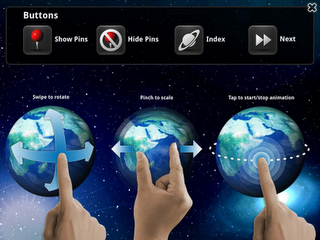 Interactive Features
While in Explore mode you will find four options on the right hand side of the screen, these include a pin which allows you to drop information pins on the planets to learn more about them; an alien which allows you to go to Quiz mode; a planet which lets you swipe and choose from all the different planets and elements in the solar system; and arrows which lets you move forward to the next planet.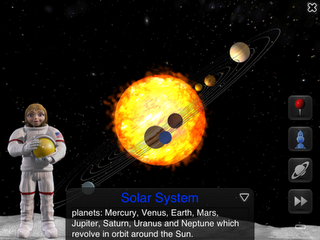 Explore Mode
You can also get to Quiz mode by selecting Quiz from the main menu. In Quiz mode, Ashley the astronaut asks you questions and you have to select from the answer options on screen, the little alien tells you if you are right or wrong, doing a cute little dance if you are right or shaking his head if you are wrong. If you get three answers correct you earn a sticker.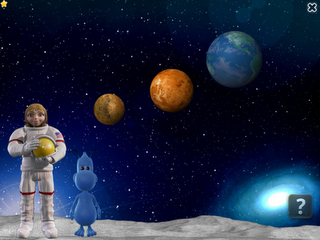 Quiz Mode
 Below is a video which shows the app in action.
Although Ben is not yet three years of age, he has a fascination with planets and really loves the iLearn Solar System HD app. Thanks to using this app he can recognize and name the different planets in the solar system and we both have learned a lot of new facts such as that volcanoes and lava flows dominate Venus' surface and that Maat Mons is one of Venus' biggest volcanoes (I bet you're impressed aren't you?). While Ben is still a little young to get the full value out of the app, it is definitely one app we will be using for a few years to come.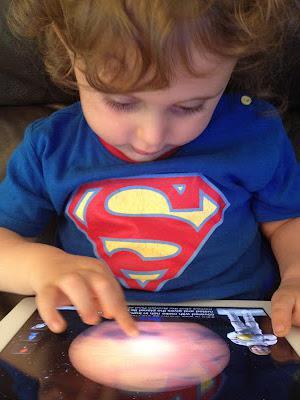 Ben exploring planets
iLearn Solar System HD : Making Science Fun is available to download from the AppStore for £1.99 and is compatible with iPad.