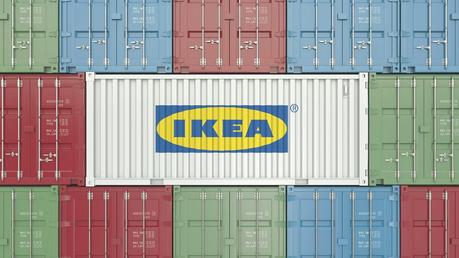 Retail giant IKEA is launching a new Buy Back scheme, encouraging its customers to focus on a more sustainable lifestyle in the approach to Black Friday.
The pilot second-hand store, in Eskilstuna, west of Stockholm, will sell items at below their initial price. Plus, IKEA Sweden's head of sustainability, Jonas Carlehed, has reassured customers that the used furniture will be repaired or brushed up in an adjacent repair shop.
In 2018, 774,000 metric tonnes of CO2 were emitted from the production of furniture in the UK alone. So, it's hopeful that this will challenge the interior industry, encouraging more initiatives like this to crack down on emissions.
How does the Buy Back scheme work?
To ensure the second-hand products are in tip-top condition, IKEA has outlined a few guidelines for customers using the Buy Back scheme .
Items must be either drawer units, tables, chairs, cabinets, desks, shelving, or cupboards. They must also be from IKEA, should not have been modified, and must also be assembled.
If people want to sell an item through the scheme, all they need to do is complete IKEAs online - which asks for contact details, and information about the furniture item you wish to sell.
Users will then receive an offer from IKEA and will be offered vouchers worth up to 50% of the original price, to be spent at its stores.
IKEA has also stated that customers don't need to have the original receipt with them to sell their product.
Why is this important?
The average piece of furniture generates approximately 47 kilogrammes of carbon dioxide equivalents, which is roughly the same amount of greenhouse gases produced by burning around 5.3 gallons of petrol.
In terms of environmental impact, sofas take the top spot, generating around 90 kilogrammes of carbon dioxide equivalents.
By introducing a recycling scheme at such a key furniture retailer, IKEA is not only reducing its own emissions, but encouraging other brands to do the same.
Peter Jelkeby, Country Retail Manager and Chief Sustainability Officer IKEA UK, Ireland, commented:
"Sustainability is the defining issue of our time and IKEA is committed to being part of the solution to promote sustainable consumption and combat climate change. With the launch of Buy Back we are giving a second life to many more IKEA products and creating more easy and affordable solutions to help people live more sustainably.
It is an exciting step forward in our journey towards becoming a fully circular and climate positive business by 2030."
IKEA will evaluate the project after six months and decide whether to roll it out to more markets.
This aim to reduce greenhouse gas emissions within the interior industry is something we're likely to see more of in the coming years. A circular economy is becoming more of a realistic ambition, thanks to initiatives like this one from IKEA.
Beth is keen to use her writing skills and passion for green living to help the environment. Whether you're after a new boiler, a new set of solar panels, or even if you want to catch up on the latest eco news, she's got your back.