Monday, April 28, 2014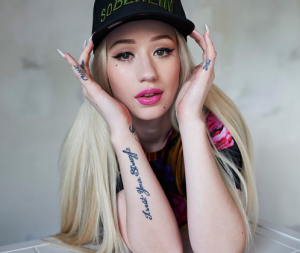 Australian Native Iggy Azalea Has Come Out Saying Shes Been Repeatedly Sexually Assaulted By Fans During Many Of Her Shows.
During An Interview With Hot 97 , Iggy Went Into Detail Saying  "It's funny because we were talking about on my tour, I'm only doing 2,000 cities but I have to have barriers even if it's only 200 people because people try to finger me," she said when asked about the sexual assault"
She Continues With "I will get lurk tweets a week before my show, 'I'm about to go to the Iggy Azalea show and I'm going to finger her,'" she said. "And I'm like please don't because that's a violation .I don't actually like that stuff. Like I've got a song called 'Pussy' and they'll be like, ' I know what she wants, she wants these two fingers.'
Iggy Goes On To Say She Wears Many Layers Of Clothes On Her Bottom 1/2 So She Wont Be Violated .
Although Iggys Music May Be Sexually Explicit Its Her Free Right To Speak About Any Topic Without Having To Worry About A Stranger Probing Her When She Tries To Intereact With Her Fans. Its Things Like This That Gives Artists A Complex About Getting Too Close During Shows And Can You Blame Them ? Seems Like Iggy Needs To Get Her A Julius …..