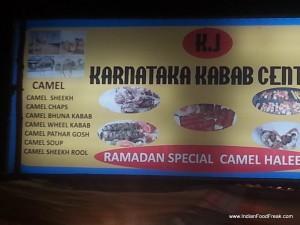 Hoarding
When I stepped out of hotel to visit the Mosque Square on M M Road in Bangalore, the foodie inside me was super excited. Reason was to be savouring camel meat once again after a very long time. The memory lane took me back to my school days when on Eid I got to taste meat of the sacrificed animal for the first time. The thoughts then shifts to my stay at Dubai where I tried various delicacies prepared of this large animal meat.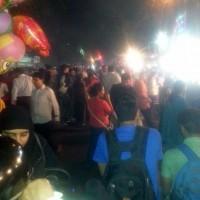 M M Steet
The massive traffic forced the impatient person inside me to get down and walk rather than wait in jam. That turned out to be a rather blessing in disguise since the food stalls actually started much ahead of the exact square where a beautiful mosque stands. Within minutes I found myself among a sea of human bodies, all of whom looked as excited as me to be there.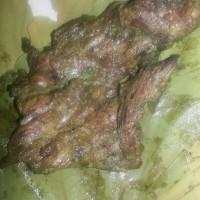 Camel Chop
The roadside stall serving camel meat had huge crowd and it seemed that I might not be able to get a portion for myself. Two individuals standing close the BBQs towards the roadside were collecting money from stretched arms and shouting the orders for kababis to prepare. I jostled my way to one of the collectors and handed over money requesting for a portion of kebabs and chops. Getting the kebabs immediately I was unable to decide if I should wait for the chops or step aside to have these first. Going against both the options I took a bite standing there itself . The kebabs were so succulent that they almost melted in my mouth. In no time I had wrapped up the two kebabs. On receiving the camel chop, I quickly moved out of crowd. The hot chop in my hand made me eager, but it turned out to be a disappointing preparation. The chop was not only half cooked but was also completely bland.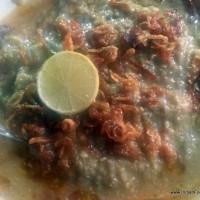 Mutton Haleem
Discarding the chop in heap of used paper plates without letting it further spoil my palate and mood, I moved on and decided to check what other food items were on offer. There was a huge variety and I decided to first check out the haleem. The mutton haleem was phenomenal. Thereafter I went for patthar gosht. This beef preparation was cooked over a thick hot stone that is warmed by charcoal. I wondered on how would have someone got the idea of cooking meat over a hot stone rather than a wok or better direct over the fire. However, it turned out to be the best dish of evening. The gosht just melted in mouth. The succulence could have easily given Haleem a ride. After having wrapped up two portions of patthar gosht, I was too full to be trying out anything else. But leaving the place without trying any sweet dish would have been a sin. The kiosks were serving over 100 varieties of sweets and after much deliberation I settled for shahi tukra which again was excellent.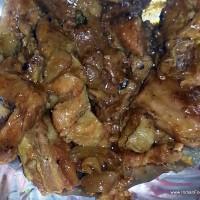 Patthar Gosht
It was indeed a memorable outing not only for the food but also for the environment at MM Square Bangalore. The place was thronged by people from all walks of life. Groups of all age, families or friends could be seen exploring the stalls with equal excitement. It was indeed heartening to see an old man in wheel chair being pushed by a youngster and accompanied by family (I suppose) having a great time. The faces of both young and not so young seemed to   basking in true spirit of Ramdan since joy and satisfaction reflected on every one's face. This was indeed one of the most enjoyed Iftaar for me.
Camel Chop
Camel Seekh
Hoarding
M M Steet
M M Street 1
Mutton Haleem
Mutton Parantha
Patthar Gosht
Preparing Camel Chop 1
Preparing Mutton Parantha
Preparing Patthar Gosht
Shahi Tukda