It certainly is not a given that this rally will hold, but the price action is bullish, so I continue to track the B wave low bullish scenario as I have posted.  Recent Bullish B Wave Update.
Something has bothered me a bit about this analog move off the August low.  It has been spot on with respect to timing having delivered both the September 4 high and the recent bounce low. What has bothered me is that it has been weaker in price movement than the prior analogs. Now, the bearish scenario in the intermediate chart has this as a terminal wave. Bearish Intermediate Scenario. 
I did some looking at this issue.  In the long term bearish scenario (the Wave 5 scenario), we have had a long term fib level at DOW 17391. Long Term Bear Scenario. In looking at the recent waves on far smaller time frames, we have Fibonacci confluence at that level: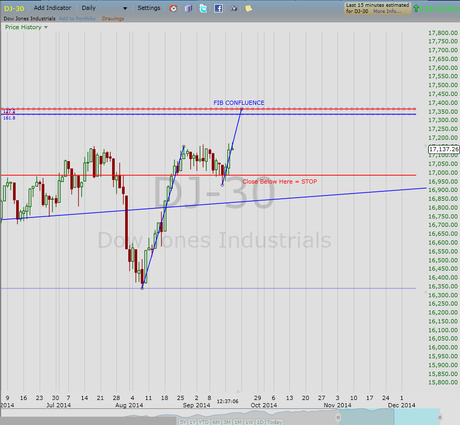 It stands to reason, therefore, that if this move up off the cycle low holds, that the level of serious interest from a short perspective would be that DOW 17390 area. That area has the potential to finally put a top to this terminal wave.
From a short term perspective, this could break down with the FED today, but until it does the market is bullish off the cycle low and has not reversed. Here is just the chart updates with the stop areas I am watching. They may or may not get spiked today, so I am watching for closes on the charts: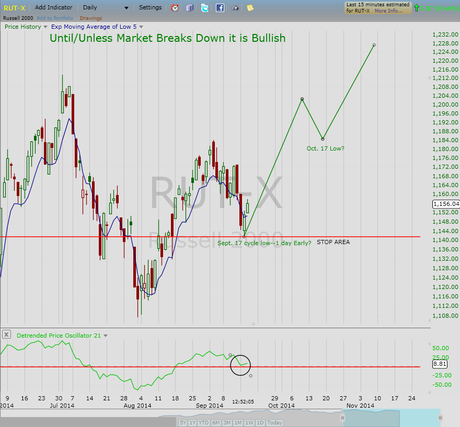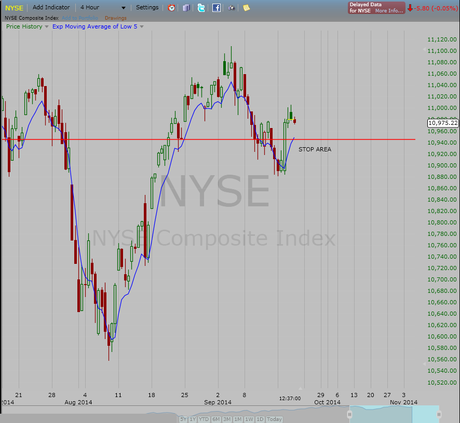 That DOW 17390 hit could come right at the September Equinox (Sept. 22/23). The next cycle low I have is November 25-27, 2014, so that would be the anticipated first low off that Equinox high.
There is always a bear path and a bull path. We cannot know which path our future will choose. As always, do your own due diligence, read the disclaimer, and make your own investment decisions.
Peace, Om,
SoulJester