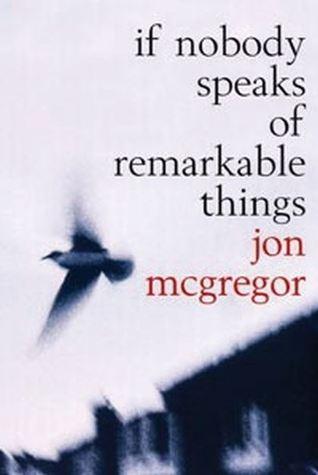 If Nobody Speaks Of Remarkable Things by Jon McGregor
Published by Bloomsbury
Ebook
Published 2 April 2012
304 pages
Digital library book
Author website
WHAT'S IT'S ABOUT
'This novel owes as much to poetry as it does to prose. Its opening, an invocation of the life of the city, is strongly reminiscent of Auden's Night Mail in its hypnotic portrait of industrialised society... An assured debut' Erica Wagner, The Times.
On a street in a town in the North of England, ordinary people are going through the motions of their everyday existence - street cricket, barbecues, painting windows... A young man is in love with a neighbour who does not even know his name. An old couple make their way up to the nearby bus stop. But then a terrible event shatters the quiet of the early summer evening. That this remarkable and horrific event is only poignant to those who saw it, not even meriting a mention on the local news, means that those who witness it will be altered for ever.
Jon McGregor's first novel brilliantly evokes the histories and lives of the people in the street to build up an unforgettable human panorama. Breathtakingly original, humane and moving, IF NOBODY SPEAKS OF REMARKABLE THINGS is an astonishing debut.
OPENING
If you listen, you can hear it.
WHAT I THOUGHT
I really enjoyed If Nobody Speaks of Remarkable Things. It could be argued that very little happens in this book until the last couple of chapters when tragedy changes the lives of all the characters forever. However, what leads up to this event is rather wonderful. McGregor shines a light of the everyday lives of ordinary people, illuminating their little nuances in ways you don't often see in fiction. There are many characters living in the street and we get to know them in intimate, often uncomfortable ways. Rarely in fiction are characters made so real. If Nobody Speaks of Remarkable Things reminds me a lot of The Road through the Wall by Shirley Jackson that I read recently. The narrative moves between lots of different characters but I found it easy to follow what was going on. I thought If Nobody Speaks of Remarkable Things was a delightful book. I'd recommend it.