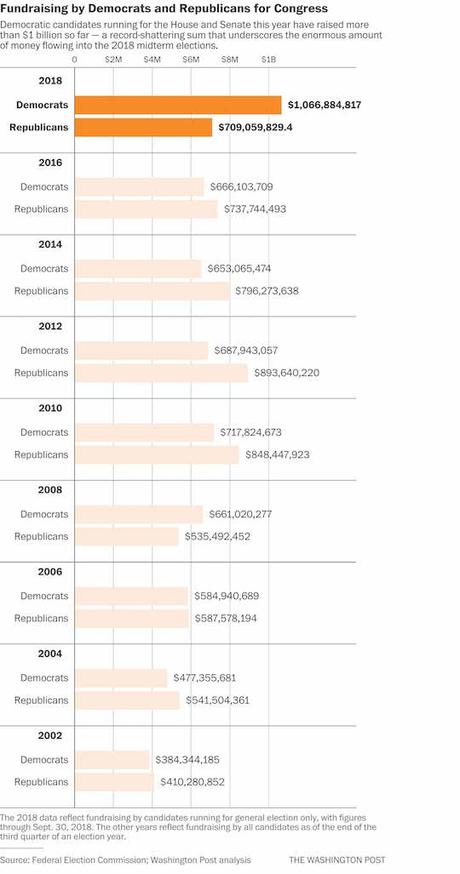 (This chart is from The Washington Post.)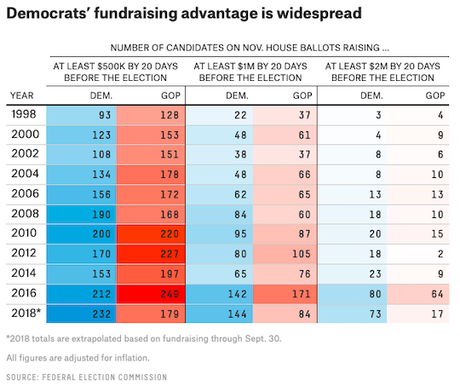 (This chart is from FiveThirtyEight.com.)
In this modern political era, it is said that money talks -- that the candidate that has the most money to spend has a much better chance of winning. If that is true, then the congressional Democratic candidates are looking very good.
As the first chart shows, in the nine previous elections the Democrats have raised more money than their Republican opponents in congressional races only once out of nine elections -- 2008, when they did very well. This year, congressional Democratic candidates have outraged their GOP opponents significantly. In fact, the Democrats set a new record for congressional fundraising. The raised over $1 billion ($1,066,884,817 for Democrats to $709,059,829 for Republicans).
And the good news is that money was spread around to benefit a lot of Democrats (instead of just a few). As the second chart shows, 232 Democrats have raised over $500,000, while only 179 Republicans raised that much. And 144 Democrats raised at least $1 million while only 84 Republicans did -- 73 Democrats raised at least $2 million while only 17 Republicans did.
If the adage about money talking in politics is true, then election day is going to be a very nice shade of blue!