We all have those celebrities that we absolutely love but are afraid to discuss our deep admiration for in a public setting. Let's be real…no one wants to be ostracized from their social group for liking a awkward/creepy/random famous person. At this point in my life, I can no longer contain my love for such celebrities and feel like now is the perfect time to share.
I was going to hold a press conference but I figured posting on my blog would be the best way to do this. At least when I read the comments that berated me for loving such celebrities I can cry alone in my room.
Derek Hough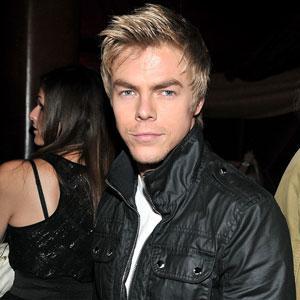 Photo Courtesy: eonline.com
I would like to first start out by saying…who doesn't love a man that enjoys dressing up in sparkly costumes, appreciates a good dance number and doesn't mind a fake tan?
Ladies, such men are getting few and far between!
At the beginning of every single season of "Dancing with the Stars," I get all aflutter. In my advanced research on the DWTS topic, I found that most people are also excited…just not about the same thing as I am.
On one hand, many are pumped for the somewhat famous people the show chooses to put through dancing hell. On the other hand, I am excited about seeing Derek Hough shake that ass.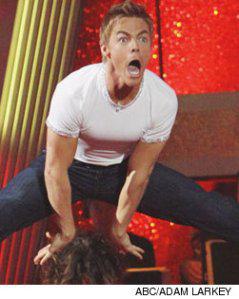 Photo Courtesy: toofab.com
Why I love Derek:
Watching Derek dance is like watching baby kittens and/or puppies prance around…it just makes me feel like sunshine.
He is a hard worker. In the words of Ice Cube, Derek not only puts his back into the choreography but he puts his femurs, wisdom teeth and even his coccyx into it.
I typically don't like blondes, but Derek has converted me.
He can twirl better than you and me…combined.
Fun Facts About Derek:
Derek has three Primetime Emmy Award nominations for Outstanding Choreography…and outstanding it is.
He is in a band, more specifically the Ballas Hough Band…need I say more?
Derek is also an accomplished actor…he starred as "Hogwarts schoolboy" in "Harry Potter and the Philosopher's Stone."
Mr. Hough dated former dancing parter Shannon Elizabeth for almost a year. They announced their breakup via Twitter. On the bright side, I announced to Derek that I'm single and ready to mingle…still waiting for a reply or at least a friggin retweet.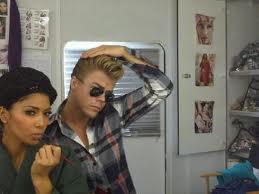 Photo Courtesy: popdirt.com
If Loving You is Wrong…I Don't Want to Be Right because:
Derek – Jesus blessed you with the gift to move your hips the way many men only dream of.
You can also take a woman who has zero dancing experience and turn her into a dancing queen…I'll give credit where credit is due.
I don't care if people ridicule me for loving you…they will be jealous when you choreograph our wedding dance…Latin style of course.
P.S. Tell your sister to drop Seacrest before it's too late!