'Titanic'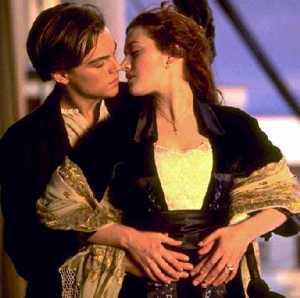 Photo Courtesy: socialitelife.com
As I mention in an earlier post, "Titanic" is the one and only movie that can stop me from pretty much anything I am doing. In the past, this film has halted many activities such as: walking, breathing, blinking and even hitting the town on a Saturday night. If you know me, you know that's a pretty big deal. I figured I would need a love story for the island and "Titanic" gives the love and so much more.
Debuting in 1999, this "epic romance and disaster film" caused a tsunami at the box office, grossing $1.8 billion worldwide. One of the pieces that makes this movie puzzle complete is the cast…mainly Leo DiCaprio and Kate Winslet.
DiCaprio played Jack Dawson – a poor young gentleman/artist who saves Rose and falls for her the moment he lays eyes on that ginger beauty (and/or when he sees Rose wearing her birthday suit). Winslet played Rose DeWitt Bukater – a 19-year-old who is en route to America in order to marry her fiancé, Cal. She meets Jack while trying to jump off the back of the boat. Obviously, the engagement to Cal wasn't going too well.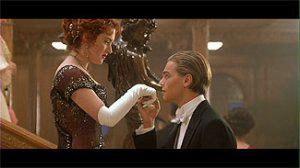 Photo Courtesy: dvdinmypants.com
The film follows the budding relationship of Rose and Jack. Then BAM! The ship hits a friggin' iceberg and shit gets real.
You may be wondering why I would choose this film out of all the other love stories out there. Here are my reasons:
Kate Winslet gave us ladies a new way to piss off your current boyfriend…by getting your new boyfriend to draw you naked and then give the drawing to the boyfriend you dislike.
Kate Winslet also gave us females a new way to seduce our new bf. Scene: Rose and Jack are in backseat of car and Rose states, "Put your hands on me, Jack." Now that's classy.
Celine Dion delivered an amazing song to bust out at karaoke night…"My Heart Will Go On." Yes, I have rolled all my Honda windows down and exclaimed every single lyric…don't pretend you haven't.
This film gave us a new activity to participate in. If you have ever been on a boat, you most likely have tried to climb up the bow of the ship and scream, "I'm the king of the world."
"Titanic" has made me permanently afraid to go on a booze cruise. Even if it is in the warmest of climates, I will not blink in case there is an iceberg just waiting to bring my ship down. I will also sleep/shower/drink with a life vest on at. all. times!
Below is a clip of my favises scene in the movie and before you assume…no, it's not the part when Rose thrusts her hand against the glass. That is in the top 3 of course. Favises quote: "You jump I jump, right?"
BTW – I will be sailing to the movie theatre on April 6, 2012 for the rerelease of "Titanic" in 3-D!!!! And Leo – This message is for you. Put a ring on Kate's finger…everyone knows you are soul mates.