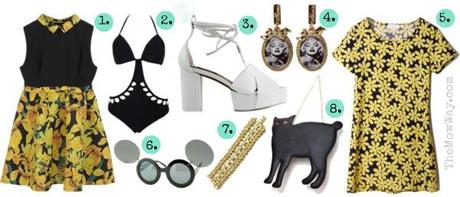 1

 

♥ 

 2  

♥

  3  

♥

  4  

♥

  5  

♥

  6  

♥

  7  

♥

  8
Did I invent the word "yellow-chrome"? It basically describes this wish-list! While shopping for the perfect wig, these are some of the items that caught my eye at Choies website. Yellow is one of my favorite colours, it brightens up any outfit instantly! When combined with monochrome accessories it gives the whole outfit a "classy" vibe, but as the items are so cool (look at that cat bag!) it's also so much fun!
Do you wear yellow often?
Tell us now you combine it!
Disclaimer: I have no affiliate relationship with Choies,I decided to shared these item because I really liked them.
Ps. Have you joined our June giveaway? C´mon over!
Bloglovin' 

♥

Twitter 

♥

Instagram  
♥ 
Facebook 

♥ 

Google+