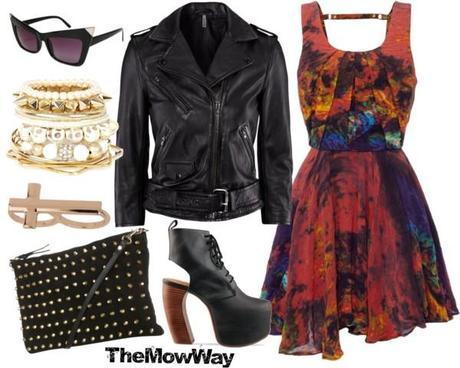 Dress * Jacket * Booties * Sunnies * Bracelets * Ring * Bag
When
I'm
in a good mood I like to look great. Even if I'm going to stay in all day eating popcorn and surfing the web,
I'll
wear nice clothes and even some lipstick. Go and treat yourself! ;)
What do you think of this 
amaaazing dress
? As soon as I saw it on 
Avenue 32
 I knew I was sold.
It's short and floaty, and the pattern is a mix between galaxy and tie-dye print, which makes it so versatile and easy to dress up or down!
It could totally be worn in a slightly more elegant way (see 
HERE
) with sheer tights, some 
cooler shoes
 and a more 
glamorous
jacket
How would YOU style this dress? 
Google Friend Connect
Bloglovin' ♥ Twitter ♥ Pinterest
♥
Instagram ♥ Facebook ♥ Hello Cotton ♥ Google+