If Grey Fox is announcing its lineup, can Summer be that far away?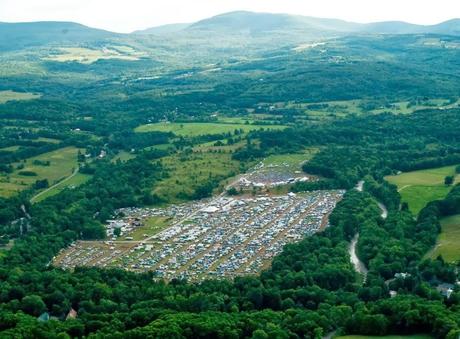 GREY FOX BLUEGRASS FESTIVAL
ANNOUNCES 2014 LINEUP
We've been busy assembling our latest and greatest all-star lineup for the
2014 Grey Fox Bluegrass Festival on July 17-20 in Oak Hill, NY.
We hope you're as excited as we are about this year's star-studded
roster of artists ranging in style from traditional bluegrass and old-time
to contemporary bluegrass, newgrass, and music that defies labling.
We love giving you a wide variety of music to make your heart sing,
your feet dance and your face smile till it almost hurts.
We love bringing back perennial favorites and also presenting hot new
discoveries that we know will become some of your favorites.
Don't forget: We still have more cats to let out of our bluegrass bag,
so stay tuned (soon) for even more great news!
So with a banjo roll that would make Earl proud, here you go!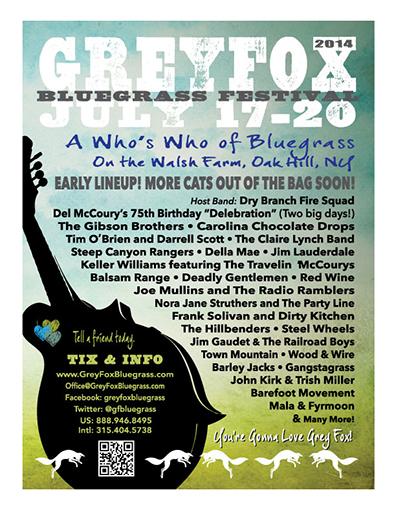 GREY FOX EARLY BIRD TICKET SPECIAL
Ends on March 15th
Firstly, thanks to everyone who has already purchased your tickets.
If you haven't nailed yours down yet, now is a great time to grab our
Early Bird Special at $165
Kids 12 and under are free with ticketed adult.

See you there!


GREY FOX BLUEGRASS FESTIVAL
Walsh Farm
1 Poultney Road, Oak Hill, NY 12460
More information:
www.GreyFoxBluegrass.com
www.facebook.com/greyfoxbluegrass.com
www.twitter.com/gfbluegrass
U.S. Toll Free: 888.946.8495
International: 315.404.5738