For my final wish, I have chosen to spend the day with…drumroll please…
John Krasinski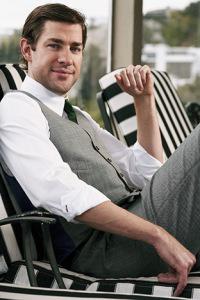 Photo Courtesy: parade.com
John plays the cute and loveable Jim Halpert on "The Office" and he seems to be just as cute and loveable in real life. Too bad Emily Blunt scooped him up and put a ring on John before I could.
On the bright side, John has two older brothers…Kevin and Paul…hopefully single and ready to mingle!
Born Oct. 20, 1979, John is from the classier part of the States…Newton, Massachusetts. I'm gonna hop into my time machine and jump ahead to John's adult life…he attended Brown University to study theater arts. I knew I should have weaseled my way into the Ivy Leagues…dammit.
After graduating with honors (he's so smart), John traveled to New York City and worked towards his dream of becoming an actor.
He appeared in commercials and guest spots on television shows while working as a waiter…you have to pay the bills somehow.
Side note: 11 years ago…John was also a script intern for "Late Night with Conan O'Brien" show.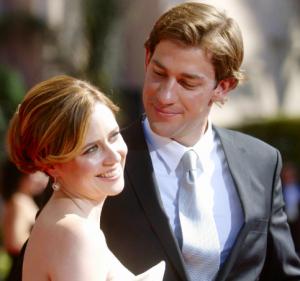 Photo Courtesy: givememyremote.com
We really got acquainted with John in March of 2005…when the first episode of "The Office" aired. John plays Jim Halpert and there are three real reasons to love both of these men:
Jim Halpert loves practical jokes
Jim Halpert loves Pam…a lot…sigh
John Krasinski traveled to SCRANTON, PA (where "The Office" is filmed and where I was birthed) to film Scranton landmarks and the clips of the fabulous city that are shown in the opening credits
Along with his thriving TV career, John is starting to make a name for himself outside "The Office." Mr. Krasinski has starred and/or made cameos in some pretty well known films…let's make a short list:
Dreamgirls
The Holiday
Leatherheads
It's Complicated
While this list isn't John's entire filmography, I have gather this much…he has come into contact with Beyoncé, Kate Winslet, George Clooney and Alec Baldwin <3 I'm such a jelly belly right now.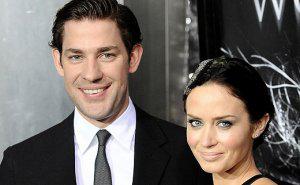 Photo Courtesy: blog.zap2it.com
Okay, I've put this off long enough…in 2008 John was set up with his future wife (Emily Blunt) by Anne Hathaway. I guess the first date went well because July 10, 2010 these two beauties got hitched. It's not like I can be mad at Emily for marrying this fine gentleman. I would have done the same damn thing.
Why would I wish to hang out with John?
This tall glass of water is cute, funny, smart and successful…why wouldn't a single lady like myself want to hang out with him?! On top of all those great things…he has been to SCRANTON! That's a man after my own heart.
John – if you are EVER in Scranton, PA again…my mom has a nice castle on the west side that we would be more than happy to have you slumber at. If it's absolutely necessary, I guess your wife can come too. Call me!