Before I reveal the next person I would wish to spend an entire day with, I want to make an announcement to my spiritual goddess and my favise actress.
Dear Britney Spears and Katie Holmes…Obviously if I was given a few wishes to spend the day with any celebrities I would certainly pick you fine ladies. Since I'm trying to expand my horizons on my blog, I have decided to branch out. Don't hate me. Truly yours…now and forever. -Kari
Now that I got that off my chest, let's get down to business.
Scott Disick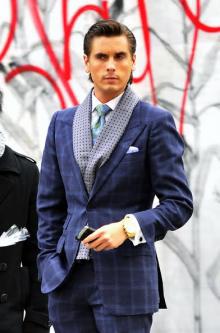 Photo Courtesy: forums.thefashionspot.com
I do have to admit that I wasn't a fan of Scott on the earlier seasons of "Keeping Up With the Kardashians." I always thought he was trying to freeload off Kourtney and ruin lives. It wasn't until this past season of the hit reality show that I really started enjoying Scott and his humor.
Scott has always been the one that Mama Kris and the rest of the K-Dash family picked on…no wonder he drank like a fish. Scott really had some epic moments that were caught on tape…remember the time he shoved the money in the waiters mouth in Vegas or when he punched the mirror in Miami? Those scenes are burned into my brain.
The Miami drunken black out was the last straw for Kourtney and the rest of the fam. Scott realized that he needed to get his shit together for two major reasons: Mason and his baby mama, Kourtney.
After sobering up and going to therapy, Scott has creeped his way back into the good graces of Kourtney…which means the rest of the Kardashians have to put up with him. In all honestly, I wouldn't mind having Scott around. He is the best. dresser. ever and says some pretty hil.ari.ous things.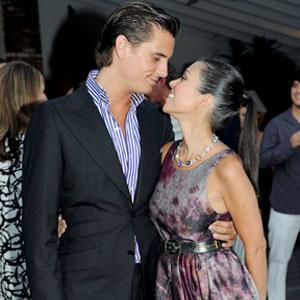 Photo Courtesy: eonline.com
Some of my favise Scott quotes:
Kourtney: And it says I might be pregnant. Scott: There's a might symbol?
Kris: Scott? It's Kris. Scott: Hi. I know. I have caller ID.
Scott: Now thats a gentleman's photo, i've got my son, a nice tan, birds, and my hairs flowing in the wind like flocks of capestrauna.
Scott: Hey Humpy.
My favorite Scott moment had to be when the gang travelled to Bora Bora. Bruce and Scott were discussing the tankers floating in the ocean and Kris replies, "Did you just call me a tanker?" Now that was great TV!
Why would I wish to hang out with Scott?
While Mason's baby daddy can be mean at times, I feel like he would be a blast in a glass to hang out with for a day. We could cruise around in a fancy car, talk about Kris Jenner and maybe meet up with Rob <3.All I can hope for is that Scott will get me my very own walking cane…"stick me."