The following email (text in red) was sent to the local neighborhood email lists...
*Bar Kol To Demolish RBS Shul To Make Room For Parking Spaces***
*NOTICE - Important Community Meeting*
*Your Attendance And Support Is Critical!*
Bar Kol is in the real estate business. Bar Kol is now working to add NIS 20,000,000+ to it's real estate portfolio on the backs of RBS residents - and a local shul! The Planning Board has tentatively approved plans (with the blessing of the Beit Shemesh Municipality!!) to add an additional two floors to Bar Kol?s Nachal Sorek store, that would bring the building height to 17 meters!
*The Jerusalem District Planning Board has agreed to accept the plans subject to a number of conditions that include:*
* *
? *Destruction of the shul across the street - next to Ezras Achim.*
? *Turning the parking spaces outside the shul into 19 vertical parking spaces to serve the commercial needs of Bar Kol. *
? *One side of Nachal Sorek will be turned into a bus lane. Private cars will be limited to one direction only:*
? If you live on Nachal Uriah, Micha, Lachish, Nachshon or Sorek you will be forced to drive all the way around to Ayalon to go down Nachal Sorek.
? Traffic on the already congested Nachal Sorek will be even more unbearable. Traffic on Ayalon will increase as private cars will need to find another access.
? *Trees in the surrounding area will be torn down*. Experience in RBS has shown that even when required to replant full grown trees, saplings are planted that wash away.
? *HERE'S WHAT YOU CAN DO TO STOP THIS:*
A group of residents are organizing a unified opposition led by an experienced lawyer to represent our interests. We believe we can defeat Bar Kol - *WITH YOUR HELP*.
**IMPORTANT MEETING**
*When: *Tuesday, March 12th, 2013 at 8:00pm
*Where:* Ohr HaMeir, Nachal Lachish 2.
*We also need your contributions to support the costs of the lawyer, traffic consultant and related expenses. Every person and every shekel helps!*
I want to know who is being paid off to have this ridiculous plan approved.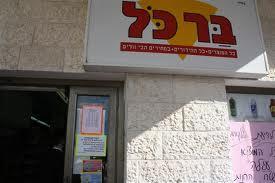 A major road of the neighborhood, Nahal Soreq, is going to be turned into a one directional road for cars, with the other direction left for buses only, forcing drivers to drive around via the other side of the neighborhood in order to get to the other end of the road.
And they are going to knock down a shul (perhaps it was placed there illegally and thats why it was approved) to do it.
All this for the expansion of a supermarket that is practically empty at all times. Walk into Bar Kol any time of day or night, and you won't find more than a few customers.
Menachem Carmel, the owner of Bar Kol, has major investments in RBS C, along with heavy duty political connections - he was #7 on the UTJ party list in the 18th Knesset. He did not make it in to the Knesset, and before electiosn he was one of the leaders of the near-split of UTJ, which eventually was resolved peacefully. I do not believe this idiocy would have been approved without he or his people paying off someone in City Hall and using heavy political pressure. Who knows - maybe he even promised political support for the upcoming mayoral race to whomever was responsible for approving it..
I don't know what can be done, but the residents of the immediate area should definitely participate in that meeting and find out.