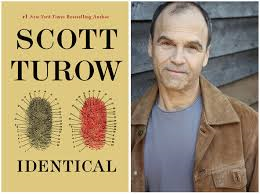 Identical by Scott Turow is an Oct.15, 2013 publication by Grand Central Publishing. I received a copy of this book from the publisher and Edelweiss in exchange for an honest review.
Hal, the heir to his father's vast fortune, lost his sister when she was in her early twenties, murdered in her bed.
Now, the man he believes is responsible for her death, Paul Gianis, is running for Mayor of Kindle County. Hal makes a very public accusation against Paul and his advisors recommends that he sue Hal.
Meanwhile, Paul's identical twin brother, Cass is sitting in prison for killing Hal's sister, Dita. Although, he is soon to be released. However, the lawsuit opens up the whole can of worms all over again. New DNA testing is examined that raises some rather startling questions.
The author takes us back in time to 1982 where Paul and Cass have been invited to Zeus Kronon, Dita's father, Greek New Year Celebration. This day is pivotal to Paul and Cass in many ways. Their mother will attend the event for the first time in years, Paul has words with Dita, a woman known for having a sharp tongue, and he also meets his future wife, Sofia.
Cass comes to the decision that he is going to ask Dita to marry him.
But, the day ends horribly when Dita found murdered.
Cass ends up being sent to prison for 25 years.
We then flash forward to the present and all the political wrangling, new allegations, reopening of old wounds, and a plot that only Scott Turow's diabolical mind could have dreamed up.
This book is the ninth is the Kindle county legal thriller series.
We catch up a little with some familiar characters, but their roles are small.
The Greek families depicted in this story have a sordid history together and some bad blood between them. The romance between Dita and Cass is frowned upon by both families. But, does any of that have anything to do with Dita's murder?
The tragic events of that day in 1982 have haunted both families for twenty-five years. The new DNA that speaks to blood, and finger print analysis, especially when it comes to twins, and Y chromosomes was especially interesting. The twin connection is also explored as Paul and Cass were especially close.
After all this time, some people will finally be able to move forward with their lives. Maybe not in the way they had imagined, but they will be finally have some peace. For others, the road to recovery will not be so easy.
This was a very interesting cast of characters, each with their own piece of information, or secrets, or bitterness. It all comes together in a most unusual way. In the end, as improbable has some things may be, I couldn't help but be impressed with how Turow continually comes up with all these complex twist and turns. It might be a little scary to be inside his head.
This was an entertaining read and I recommend it to all mystery lovers, especially those who like Legal thrillers, and plots that are twisted and impossible to guess at the outcome.
The only issue I had with the book was that toward the last quarter of the book, some of the things that took place seemed a bit too over the top and in current times, I don't know if this could really happen, but it's a story and I was thoroughly entertained by it, so I will give this one an A.