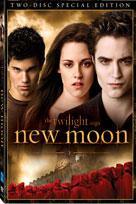 The Twilight Saga: New Moon (Image via RottenTomatoes.com)
Students in college have an entire new world to adjust to. You will be in a new place, away from all of your old friends, so you will need to make new friends. You may find that this is hard, but when you're at college, you will see that your college hosts a number of events to make socialization easier for you. They host highlighter parties, comedy nights and even movie nights. If you love to watch movies and you are wanting to make some new friends, this will be a great way for you to do it. You will get to mingle with other students who like movies, just as you do, and they always say, birds of a feather will flock together!
College movie nights are so much fun! They may have a theme or they may not. Some will be organized by the college and some may just be put together by clubs or groups of students. There are many different genres of movies that you can watch and some nights may even have a theme. If you like to watch comedies, there are many great movies that can be selected. You can watch Death Becomes Her, a movie about an actress who wants to stay forever young, or even Meet the Parents, which shows all the disasters of meeting your significant other's family.
If you would rather watch something scary, there are so many great choices that you can make! The Exorcist is a classic horror movie about a young girl who gets possessed by a demon and has to be exorcised by a Catholic priest. There are always the horror series, like Halloween or Friday the 13th with serial killers like Michael Myers and Jason Voorhees. Then, there are newer horror flicks, like Orphan and Paranormal Activity. Two of the latest horror releases, The Devil Inside and The Woman in Black may also be great choices.
One of the most popular movies with college students right now is the Twilight Saga. Twilight, New Moon, Eclipse and Breaking Dawn part 1 tell the story of Bella, a human girl who falls in love with Edward Cullen, a mysterious vampire. She also falls for her best friend Jacob Black and finds not only her heart but her whole world caught in a battle of good versus evil. Finally, another great movie if you enjoy romance is the ever popular A Walk to Remember.
No matter what theme you should choose for a college movie night or what movies you watch, you are sure to have a great time. College movie nights are a great way for you to better adjust to college and meet new people who may become your best friends. Even if you do not think you'll like the movies being played, head on out. You will find that you may actually like movies from a different genre than you are used to, and if all else fails, you will at least have met some new people!
About the Author
Perry S. is a writer for MyCriminalJusticeCareers.com. For the people that are interested in forensic science and want to learn the ins and outs of how to become a forensic scientist, this site is great.