Guest blog post by Leslie Nestor Miranda. Cici and I met Leslie and his lovely dog Lilly last year when we went on a press trip to San Luis Obispbo. Leslie is an outstanding photographer of the traveling kind. And he has worked for Wall Street Journal Online, Architectural Digest, Elle Decor Magazine and many others.  (Note: all of the photos below by Leslie Nestor Miranda). 
"I've been designed to capture time and moments with a camera.  I foresee the outcome to better understand and appreciate the present."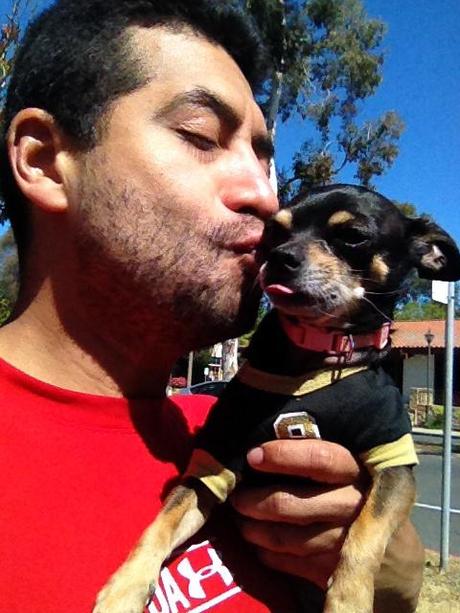 Many moons ago, I (CS), lived right on Normandie (around Normandie and 3rd). The neighborhood has changed a lot but I still remember the sign of this historic hotel. I wanted to live near my job for the City of Los Angeles (downtown) and the apartment I lived in there fit the bill. It was spacious, relatively inexpensive and located within minutes of downtown.
An Icon in Los Angeles
The historic beacon of the Wilshire Center/Koreatown neighborhood, the pet friendly Hotel Normandie, has been in continuous operation since 1926. It now has entered a multi-million dollar restoration period that will bring the 20th century landmark well into the 21st century.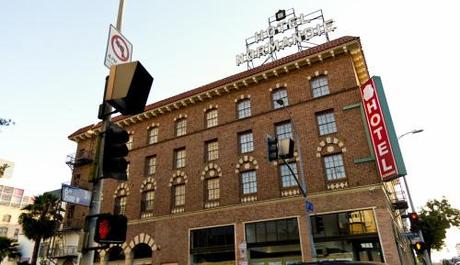 General Manager Luke Knowles loves to discuss the history of the hotel.  This brick building has established itself as an icon in Los Angeles. It is located on Normandie and 6th Street and designed and built by famed architects Walker and Eisen, who also designed such architectural treasures as the Beverly Wilshire Hotel in Beverly Hills and the Fine Arts Building in downtown Los Angeles.
The boutique hotel has seen over eight decades of personalities such as English author Malcolm Lowry, one of the hotels most famous residents, who worked on his masterpiece novel "Under the Volcano" while living there in the late 1930's.
New owner Jingbo Lou, a Pasadena architect and preservationist, and his partner Niall Kelly are restoring the 100-room Renaissance Revival exterior and its Spanish Revival interior, to its rightful glory.
They uncovered a grand fireplace that was covered for years but now  xxx  as you enter the lobby.  The terrazzo floor in the lobby and the hardwood floors in the guest rooms have also been restored.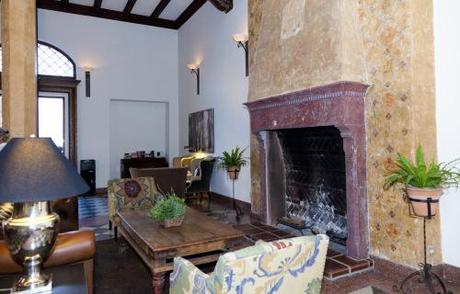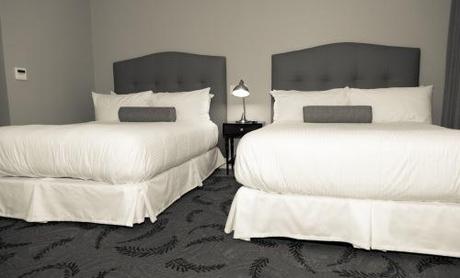 While L.A. has the nation's largest Korean population and Koreans make up the largest nationality in the neighborhood (22%,according to demographic analysis) most of the residents of Koreatown are Latino: 58%. But you can also find Bangladeshi, Brazilian, Vietnamese, Pakistani and South American residents, businesses and eateries in the area.  Koreatown is west of downtown and south of Hollywood and is considered part of the Mid-Wilshire district.
The neighborhood is mostly residential after Wilshire and 6th Street. There are lots of Korean BBQ restaurants, coffee shops on Wilshire, Asian markets on 6th Street and local Korean bars and karaoke.
This pet friendly hotel offers amenities for pets such as doggie beds, treats, and bowls.
Pets are not allowed in the breakfast or lounge area with the exception of certified service animals, there is a $50 non-refundable pet charge per stay (unless you change rooms).   All pets must be kept on a leash at all times when in common or public areas.
In July, the historic Cassell's Hamburgers featuring Prime Beef burgers will be reopening in the building's 6th Street corner.
Visit the website at http://www.hotelnormandiela.com  for special discounts and an option to purchase an Advanced Purchase sale.
Pet friendly dining in the area now includes:
Beer Belly: you can relax in front of the craft beer bar with your dog, leash in one hand, nice craft brew in the other. And while your pup probably won't be too interested in your pint, best keep an eye on those duck fat fries. 532 S. Western Ave., L.A.; (213) 387-2337.
Toe Bang
Chapman Plaza
3465 W 6th St, Ste 110 Los Angeles, CA 90020 Koreatown, Wilshire Center  (213) 387-4905
Wiches On Wilshire
3800 Wilshire Boulevard #110b, Los Angeles, CA 90010.  (213) 389-3656
Seoul Sausage
Winners of The Great Food Truck Race season 3, 
11313 Mississippi Ave. , Los Angeles, CA 90025
http://www.seoulsausage.com/
Haus is a popular Korean Cafe located on 6th and Serrano.  Pros: Free wifi, big food menu, great service, dog friendly.  3826 W 6th St, Los Angeles, CA 90020, (213) 388-5311
Dog parks, there are none in Koreatown
but Beverly Hills does not have one either (they are in the process of having one though)
the city's very first dog romping zone on a city-owned lot at the southeast corner of Foothill Road and Alden Drive
Some places that have parks and/or dog parks that you probably want to visit anyway include:
Silver Lake Dog Park
323.644.3946
The recreation center is located on Silver Lake Dr, while the dog park is located on Silver Lake Blvd. near the center and southern tip of the resevoir.
GRIFFITH PARK DOG PARK
Located at north end of the John Ferraro Soccer Field on North Zoo Drive, Los Angeles, CA 90027   Off-leash dog park.
 (323) 913-4688
Page Museum at the La Brea Tar Pits:
5801 Wilshire Blvd.Los Angeles, CA 90036(213) 763-3499
there is a park but not specifically a dog park
a nice place to hang out with your dog on a Saturday morning to have a picnic or maybe just a good romp in the grass, The La Brea Tar Pits are adjacent to the LACMA in Mid-Wilshire and its a big park. You can walk your dog through the park, play fetch or people watch.
Hancock Park
 5801 Wilshire Blvd., Los Angeles, CA 90036
 (323) 934-7243