Ichiro Suzuki is unbelievable.
He is no doubt the most underrated player in the MLB today.
He is no doubt the most underrated player in MLB history.
But most of all, he is no doubt the best player in MLB history.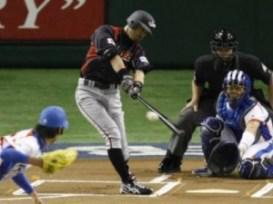 When Ichiro was in Japan, he played out of his mind, and adopted this abnormal hitting style.
I'm not saying this according to statistics or even championships won, I'm saying it based on his mad skills.
Ichiro Suzuki came into the MLB in 2001 from Japan, where he played for the Orix Blue Wave, and dominated other Japanese teams. He also adopted a very different and controversial hitting style.
In 2001, he decided he wanted to take his talents to America, and see how he would do against Major League pitching. Many MLB teams though, said that he is to wiry and will not fit the style of power hitting. They doubted Ichiro and didn't want him.
The Japanese owned Seattle Mariners decided to sign him in 2001 as a part of an effort to bring more attendance among Asian-Americans to their games.
In 2000, the year before the Mariners signed Ichiro, they were 91-71. In 2001, Ichiro's first year on the team, they were 116-46, tying the 1906 Chicago Cubs for an MLB record for most wins in a season.
In the same season, Ichiro became the second player in MLB history to win both Rookie of the Year and MVP in the same year (Fred Lynn, 1975). Not only was he the best rookie in the American League (AL), but he was the AL's best player! In that season, Ichiro proved all of the scouts who said that he could not hit American pitching wrong. He hit an astounding .350 with 242 hits.
Ichiro also electrified the league in 2 other ways: base running and fielding.
Related: CHEATERS NEVER WIN AND WINNERS NEVER CHEAT
In 2001, he recorded 56 stolen bases, more than he had gotten in any season in Japan. It's not just that statistic, though. Ichiro exhilarated fans with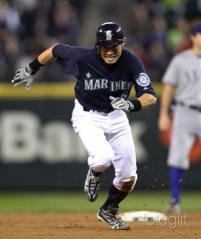 One of Suzuki
the fact that he would always get 1 more base than what was thought. A simple ground ball to the shortstop that would get anyone else out, Ichiro would get to 1st base safely. Running around the bases with wild speed is one of Suzuki's specialties.
Also, there is his fielding. In 2002, Ichiro posted a perfect 1.000 fielding percentage, a rare feat, no errors at all what so ever. Again, it wasn't just the statistic. It was how he would throw laser beams from right field to 3rd base with no bounce. How he would make diving catches and rob home runs, while making it look unbelievably easy.
Ichiro Suzuki is just plain special.
So far, in each year of his career, Ichiro has won the Golden Glove. He is a 10 time All-Star. He has both the AL Rookie of the Year and AL MVP awards under his belt. He is a 2 time AL Batting Champion. He is a 3 time Silver Slugger Award winner. He holds a single season MLB record for hits in a season (262, in 2004). He holds an AL record for consecutive stolen bases (45).
The list goes on and on… and on… and on.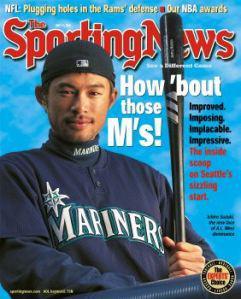 Yes! How
Ichiro Suzuki is just supernatural.
People may look at 2 reasons why he isn't the best player of all-time: his stats and his team's performance.
Let's start with the stats. Ichiro's stats are great, not best player of all-time great, but they are amazing. I mean, if 2,373 hits, 401 stolen bases, and a career batting average of .320 in the Majors isn't enough for you, I don't know what is. Now, as I said before, these stats aren't stats of the best player in MLB history. So right now you might be convinced that he's not the greatest in MLB history, but he still is.
We're forgetting that Ichiro played 7 years in Japan before coming to the MLB. In those 7 years, he bat .359 with 1242 hits and 196 stolen bases.
If we compare Ichiro's hit total with Pete Rose's (which is the most hits of all-time), we can see that in the MLB, Rose has 4,256 hits compared to Ichiro's 2,373.
Again, you are most likely thinking that Ichiro is not nearly as good as Pete Rose.
Think again.
If Ichiro started playing for the Mariners at age 22, which is when Rose started playing. Based on statical analysis done by ESPN, Ichiro would have averaged 200 hits per season during his first 5 years in the Majors, if he wasn't playing in Japan.
Related: A 103 Year Old Confusion
That would mean that now, at age 37, Ichiro would have had 3,575 hits. When Pete Rose was 37, he had 3,164 hits. Now, I don't know if Ichiro will finish his career as strong as Rose finished his, but to this point, Ichiro is better. If you had to pick one player in the world to beat Rose's record, this is the guy to pick.
Another reason why Ichiro Suzuki is the best player in MLB history.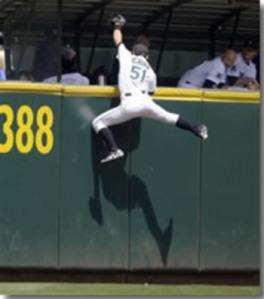 It
The second reason why people would disagree with me is that he has not led Seattle to any World Series Titles, nor have the Mariners done great during the Ichiro era.
Once again, think again.
In the 10 seasons before Ichiro came to Seattle, the Mariners had a winning percentage of .500. In the 10 seasons during Suzuki's reign they have a winning percentage of that improved by almost .200 from the previous 10 years. He has helped his team to improve. Also, as I said earlier, in his first season with Seattle, his impact was heard right away, as Seattle won an MLB record 116 games. A lack of postseason success may be the only blemish on
Ichiro's amazing profile.
Related: BASEBALL'S MOST UNDERRATED PLAYER
When Ichiro first came to the MLB, he brought a different style of play with him. He has been the face of the Mariners for the past 10 years. If you go to
google images right now and search "Seattle Mariners", in the first 17 results, there is only 1 player pictured: Ichiro Suzuki.
Suzuki is the best player in MLB history, and I wish more people would realize it. This is based on his pure skill more than anything.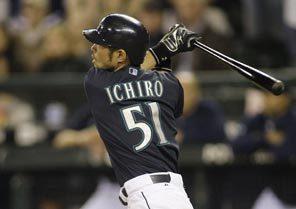 Ichiro Suzuki: The best player in MLB history.
If he were born in America, everyone would realize that there is no one better than Ichiro Suzuki.
It's just a shame that he wasn't.
By Sam Brief
<a href="http://polldaddy.com/poll/5457996/">View This Poll</a>