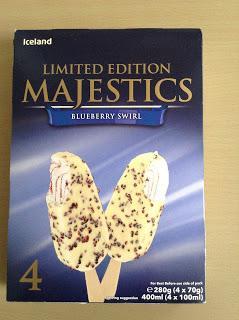 I'm not usually one to shop at Iceland, even though there's quite a few stores near to me, but when I started seeing pics of all the new fancy limited edition Ice Creams they're doing on Instagram I thought it about time I pay a visit. They've recently introduced the interesting sounding Banoffee Majestics, Limoncello, Amaretto, Liquorice & Blackcurrant varieties, plus some Bubblegum & Candy Floss Lollies. When I visited I decided to play it safe, since I've never tried Majestics before (they're basically a cheaper version of Magnum) and went for this Blueberry Swirl variety rather than try the whole range!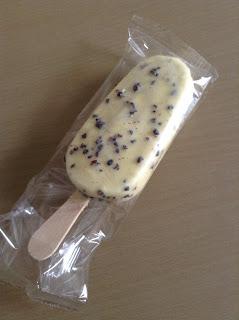 These cost £1.50 for 4x70g ice cream sticks, which are described as "White Chocolate flavoured ice cream Lollies with a blueberry flavor sauce swirl, coated in Belgian White chocolate and freeze dried blueberry pieces".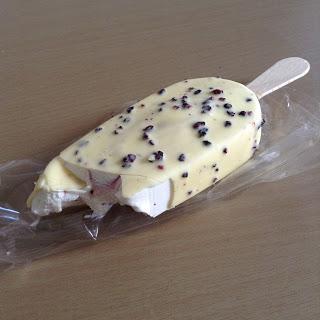 As fancy and unique as these sounded, I can't say they lived up to their promise. The White chocolate is pretty average, it's very sweet and milky and the sort of thing you'd expect from a supermarket brand. The blueberry pieces and sauce added a faint blueberry flavor that was pleasant, but it wasn't particularly strong and didn't really add that much flavor. The ice cream itself tasted like standard sweet ice cream, I couldn't tell that it was white chocolate flavoured as such.
Overall, these aren't bad ice creams but they're nothing compared to Magnums (though to be fair, what is?) and didn't really offer much in terms of flavor. I wish I'd bought the Banoffee variety instead!


7 out of 10.