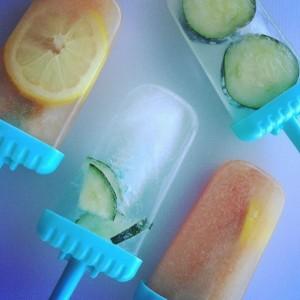 Iced Tea, Lemon and Cucumber Ice Pops
Ingredients:
1 lemon (sliced)
1/2 a cucumber (sliced or cubed)
iced tea mix
2 cups of water
Instructions:
1. Prepare the iced tea mix as directed on the package and place in the fridge to cool.
2. Bring 2 cups of water to a boil. Once the water is boiled, let it sit & cool.  By boiling the water before freezing it, you are reducing the cloudiness that occurs during the freezing process.
3. Thoroughly wash your lemon and cucumber, slice and place aside.
4. In your ice pop molds, add the lemon and cucumbers as desired.
5. Place the molds in your freezer, making sure the molds are standing up straight and not on a slant.  Allow at least 4 to 5 hours to completely freeze.
6. Once frozen, remove the ice pops from the freezer.  Wait 5-8 minutes before attempting to remove the ice pops from the mold. Do not attempt to pull the ice pop out of the mold immediately after removing from the freezer as they will not remove easily.  Do not wiggle the stick part of the base of the mold while trying to remove the ice pop as this causes cracking and breaking of the ice.
Note: Mix half water and half iced tea mix together when making the iced tea pops.  This reduces the sweetness of the tea mix and allows the lemon to show through the ice.