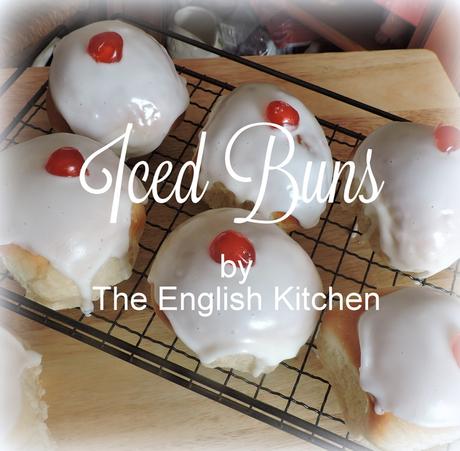 I was thinking of the lovely Easter Breads my Aunt Thelma used to bake and send over to us when I was a girl.  They were so sweet and light . . .  slathered in icing with candied cherries on top.   They were just gorgeous.   I remembered these beautiful Iced Buns in the cookery book I was recently sent,  Tea & Cake by Lisa Faulkner.  They have been on my list of things to bake and so today I did just that and they turned out just lovely!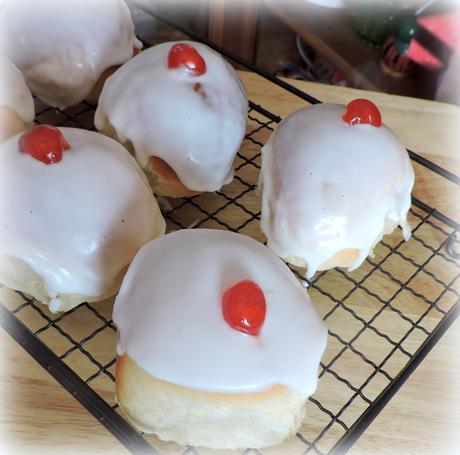 They were super easy to make too.   I often look at the iced buns in the shops and think they look really tasty.  I never buy them though because more often than not they are very disappointing.   I am not a yeast baker at heart.  I never quite get it right.
PINTEREST FAIL ALERT!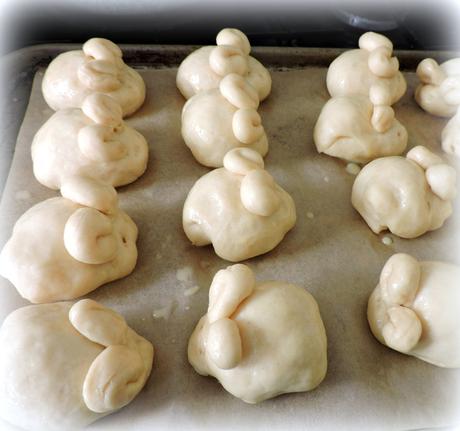 I saw these bunny buns on Pinterest a week or so ago.    They didn't look too bad sitting on the tray prior to rising and baking  . . .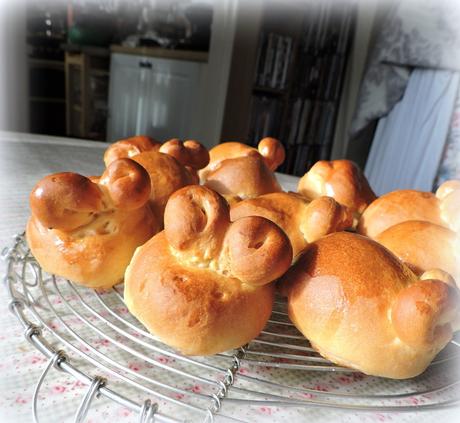 Once baked however, any resemblence to a cute little bunny was gone.  Blah.  The ears were hard and dry, but the body parts were okay.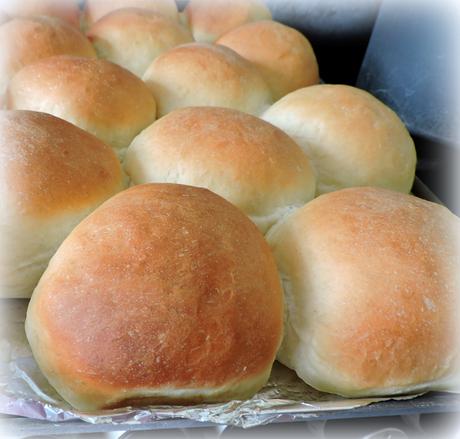 These buns worked perfectly!  Just look at how light and fluffy they are.   You would expect no less from a recipe by Paul Hollywood, who is a master bread baker here in the UK.  I love watching him in the Great British Bake Off, don't you?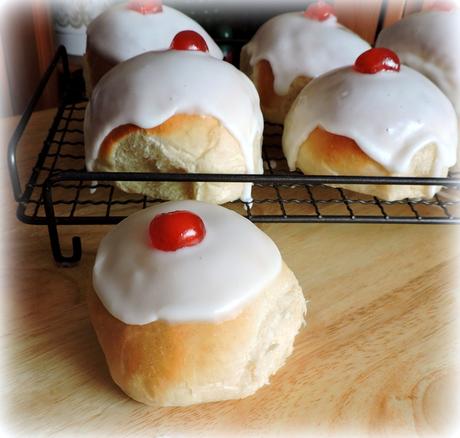 These were everything you would expect an Iced Bun to be.  Light.  Fluffy.   Soft inside.  Just the right amount of sweet icing . . .  and that cute little cherry on top, it's just so adorable.  They remind me so much of my Aunt Thelma's Easter Breads.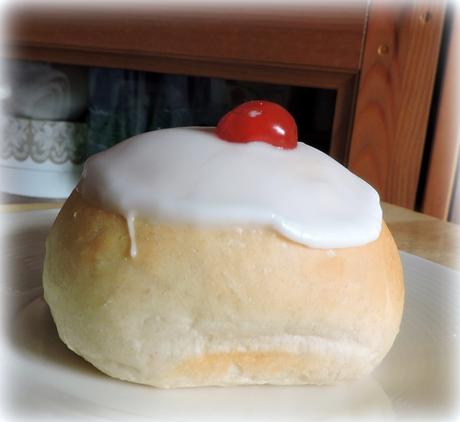 You will really have to bake a batch of these for yourself and see just what I am talking about.  I know the recipe makes quite a few, but  . . . that really isn't a problem.  I took six of them over to our elderly friend Doreen.   Each Todd and myself  have had one and a half, and our landlord who dropped by to fix the door had one.  (He ooohed and aaaahed over it.)  And  . . .  a few hours later there are only seven left.  I dare say they will be gone by the end of tomorrow. Even un-iced the buns are gorgeous.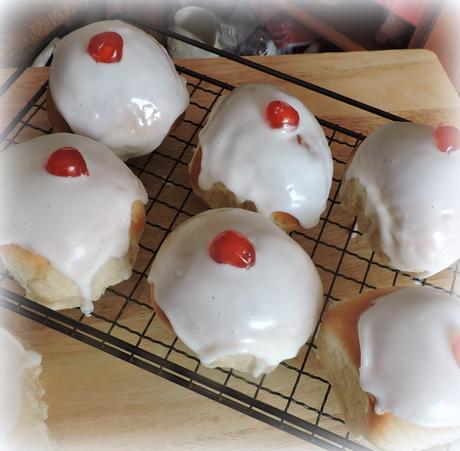 *Iced Buns*makes about 16Printable Recipe 
Soft and yeasty and delicious.  Topped with a glace icing and half a cherry.  Based on a recipe by Paul Hollywood, so you know it's good. 
40g of butter (3 TBS)50g caster sugar (4 TBS)150ml of milk (5 fluid ounces)140ml of water (4.5 fluid ounces)2 7g (1/4 ounce) packages of fast action dried yeast500g strong white flour (3 1/2 cups plus 2 TBS bread flour)2 tsp salt2 medium free range eggs 
For the glaze and decoration:200g sifted icing sugar (1 cup confectioners)water (about 2 1/2 TBS)7 glace cherries, halved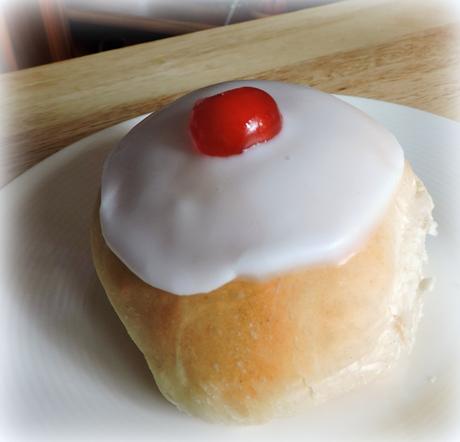 Heat the butter, sugar, milk and water in a saucepan just to blood temperature. (38*C/100*F)  Whisk iin the yeast.  
Measure the flour and salt into the bowl of a stand mixer fitted with a dough hook.   Add the milk mixture and the eggs.  Mix for about 4 minutes on low speed.  Increase the speed and mix for a further 6 minutes.  Turn dough out onto a lightly floured surface and knead a bit more.   Place the dough in a clean bowl, cover lightly with a clean tea towel and then place in a warm place for one hour to rise.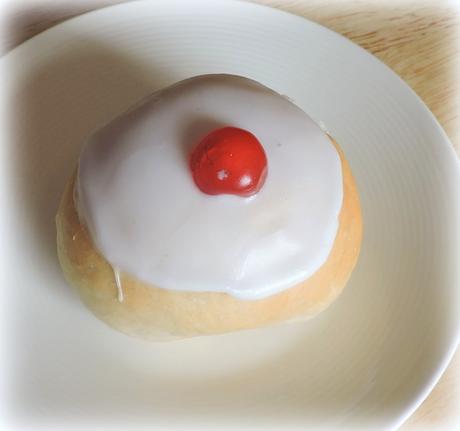 Butter a large baking tray. 
Divide the dough into 16 equal pieces.  Shape into round buns.  Place onto the buttered baking sheet, leaving space between them as they will double in size.  Return to a warm place, lightly covered, and let rise for about 45 minutes. 
Preheat the oven to 220*C/425*F/gas mark 7. 
Bake in the preheated oven for 7 minutess, then allow to cool completely.  They should be light and fluffy and not too dark. 
Once the buns are completely cooled, mix the icing sugar and water together to get a thick and sticky icing.   Dip the tops of the cooled buns into the icing and then place half a cherry on top.