ICC Launches Cricket for good and Team Swachh Campaign with BCCI and Unicef with Sachin Tendulkar as UNICEF Goodwill Ambassador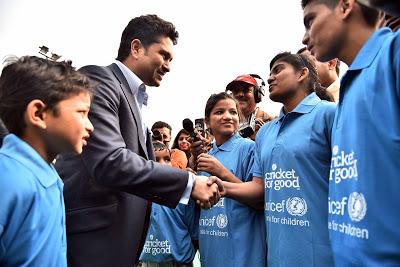 I was overwhelmed to see Sachin Tendulkar in person. He has a great aura. He talks so well. Each word he spoke reflected a crystal clear thought process. He speaks so fluently as if everything coming straight from the heart. He praised Prime Minister Narender Modi for his Swachh Bharat mission started in 2014. He has been quite active on-ground and off-ground working in the same cause. On the same lines, ICC launched Team Swachh campaign today along with Cricket for Good. This came in association with BCCI (Board of Control for Cricket in India) and Unicef. Sachin Tendulkar is Unicef Goodwill Ambassador.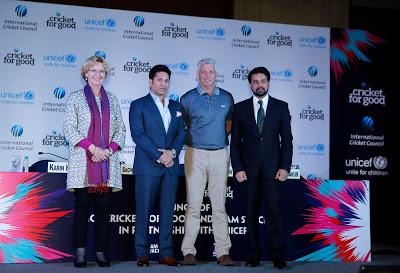 Two great cricket legendaries on one dais was a fantastic reason to cherish. Dave Richardson (David Richardson), ICC (International Cricket Council) CEO (Chief Executive) and Sachin Tendulkar were sitting side by side. Dave Richardson declared ICC's commitment to work with UNICEF on initiatives that will focus on improving the health, nutrition, education, sanitation and protection of children. Sachin Tendulkar, who is already engaged in such initiatives, emphasized on ending open defecation and achieving sanitation for each person. He said the drive will take a sincere team effort in which every team player will have to play an active role.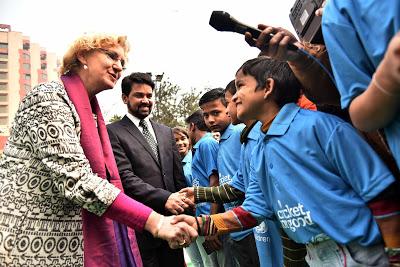 Karin Hulshof, UNICEF Regional Director for South Asia, expressed the thrill being felt at UNICEF while teaming up with ICC with a purpose of transforming the present and futures of children. She emphasized that every single unit dedicated to this noble cause has to be on the front foot. Only then the sincere effort will be able to create a big win for children. Anurag Thakur, BCCI Secretary, expressed his happiness in joining hands with ICC and UNICEF in taking forward the initiative of Swachh Bharat that was started by Indian Prime Minister Narendra Modi.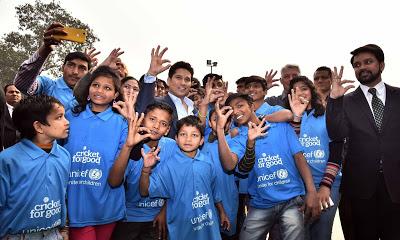 Cricket is a religion in India. Sachin Tendulkar is the God of cricket. ICC launched
Cricket for Good
, it's CSR initiative in association with UNICEF. Through the
Spirit of Cricket
, social change can be brought in a significant manner.