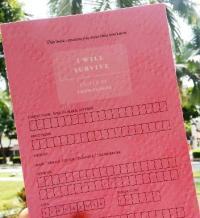 I WILL SURVIVE: THE BOOK
"I Will Survive: Personal gay, lesbian, bisexual & transgender stories in Singapore" is the title of a book I edited, and published by Math Paper Press in April 2013.
It all started 4 years ago when I heard that a young gay man I knew killed himself a few days before his own birthday. He had bipolar disorder, and was also having relationship problems.
I decided that I would stop feeling helpless and went about collecting personal stories of how people managed to overcome challenges in their life.
The result is a collection of real-life experiences of love, grace, faith, dignity and courage from 21 ordinary gay, lesbian, bisexual and transgender people in Singapore who have survived extraordinary circumstances.
FAMILY SERVICE CENTRES
Family Service Centres, commonly known as FSCs, are community-based social service agencies staffed by professional social workers and counsellors. They run a range of services, including counselling, information and referral, and community support programmes. There are approximately 40 FSCs spread out across Singapore, serving residents regardless of gender, age, ethnicity, ability and hopefully, sexual orientation too.
THE IMPACT
Presently in Singapore, Section 377A of the Penal Code criminalises consensual sex between adult men. A separate campaign has been launched to raise funds for a constitutional challenge to this law.
Based on a local survey done recently, levels of homophobia and transphobia are also worryingly high.
This means that on the one hand, while FSC professionals cannot be seen as endorsing homosexuality since it is illegal, they are also well-placed to provide help and support for the LGBT clients who approach them.
FUNDS NEEDED
As a social worker myself, I know the importance of social service professionals having the right skills to do their work, as well as sufficient awareness and exposure to their clients' issues and realities, in order to work with and empower them.
June is traditionally LGBT Pride Month worldwide, and in Singapore, we will be coming together to celebrate the freedom to love at Pink Dot on 29 June 2013.
To mark the occasion, I would like to raise funds to send a copy of the book "I Will Survive" to each of the FSCs, as well as the respective professional bodies for social workers, counsellors and psychologists in Singapore.
The crowd-sourced target of USD$1,000 (approximately SGD$1,200) will go towards paying for the purchase of the book from the publisher, as well as local postage and packing. This is the breakdown:
A copy of the book costs SGD$ 22.
A padded envelope costs SGD$ 1.40.
Local postage for the book costs SGD$ 1.50.
This adds up to SGD$ 24.90 (approximately USD$ 20) per book.
The currency used in this campaign is in USD because Indiegogo does not process SGD.
The total figure has been rounded up, taking into account the 4% fee that Indiegogo will be deducting from the amount raised. Here's the link to the crowd-sourcing campaign.
Any surplus money raised from the campaign will be donated to non-profit LGBT causes in Singapore.
OTHER WAYS YOU CAN HELP

If you're not able to donate to this campaign, it's OK too. You've already done a lot by reading so far, so perhaps you can also help by promoting this through the various social media share tools available.
Thank you so much for your support.