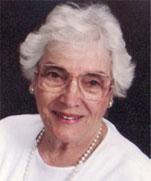 Have you ever been to a funeral where the person being mourned received a standing ovation?  I have.  A few weeks ago I was sitting in a filled-to-the-brim Catholic Church in White Plains, NY — not the kind of place, mind you, one normally associates with outbursts of unrestrained emotion — when everyone spontaneously stood up and started clapping during one of the eulogies.
We  couldn't help ourselves.  The dearly departed, Joan McGovern, wasn't just an inspiration; she was a force of nature.  A mother of thirteen children, Joan was a 65-year old realtor when her son Tommy died of AIDS in 1991.  Turning grief into action, she founded The Lord's Pantry, an organization that to date has prepared and delivered over two million meals to HIV/AIDS patients in NY. Although she lost her own mother at the age of ten, she became an uber-mom to anyone who needed one.
When I say I want to be Joan McGovern, I don't mean it literally, of course.  Cooking meals isn't exactly my thing.  I just want to be every bit as brave, every bit as loving, every bit as giving as she was.
(Want to know more?  Click here to read Joan's obit.)