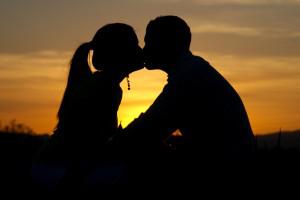 What is Love?
How do you know when It's real love? Can you really tell if someone is the one? What is the formula to measure a suitor by to be certain that it is more than physical attraction or smoke and mirrors.
I define true love and a person worthy of real love as a plus in one's life. This person adds value and happiness to you, even after the first stage of hearts and flowers pass and you really know who they are, what they want out of life, and they still have your admiration. There is nothing selfish about true love. You want nothing but the best for that person. You put their needs and happiness above your own. I only realized what true love was the day I held my  new-born child in my arms. I also knew how very much I was loved by my parents and God at the moment. True love puts self last and is filled with joy from the happiness of their beloved. Unlike romantic love our children don't have to earn or deserve this love.
Love that is real and will last is love and devotion that is deserved and earned. You can love someone who does not deserve that love and trust. All of us have seen relationships like that. Love is a feeling of devotion and attraction. To act upon this feeling is a choice that we all have. love that is real and worth it adds more joy and happiness than sorrow. Simple as that.
Love is work. To be in a loving and productive relationship will take work, effort, and investment of time. The pay off will be a relationship that is cherished and adds value to your life.  You want to be the best person you can be thanks to this love. You can know someone is truly in love with you when they live their life for you and your happiness too. No one is ever this self less all the time .  A good guide for measuring a relationship is am I happy with this person and do I make this person happy? Simple when you think about it that way.
1 Corinthians 13:4–8a
Love is patient, love is kind. It does not envy, it does not boast, it is not proud. It is not rude, it is not self-seeking, it is not easily angered, it keeps no record of wrongs. Love does not delight in evil but rejoices with the truth. It always protects, always trusts, always hopes, always perseveres. Love never fails
If You need help with your relationship or how to find the loving relationship you deserve I would be happy to work with you just sign this form amnd we can work to get you in that loving relationship you want and deserve.