After all was said and done, and after some additional due diligence on my part, I've decided to throw my support behind George Cicotte. I've voted Democrat for many years, but
Democrats don't fare well
in this district, and of all the Republican candidates on the ballot, Cicotte is by far the most reasonable, and, I feel the most knowledgeable about key issues affecting our state. This post summarizes the League of Women Voters 2014 WA-4 Candidate Forumheld at Columbia basin College on July 10th.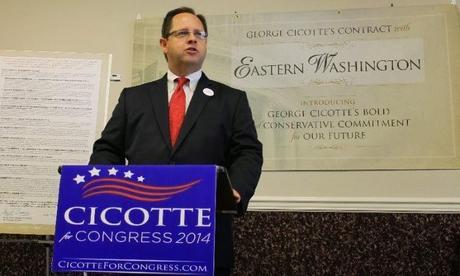 The candidate forum the night of July 10th, at CBC hosted by the
League of Women Voters
of Benton-Franklin counties was very well attended, and all twelve candidates for the 4th District congressional seat showed up. They were presented in phases, 4 at a time. Each were permitted an opening and closing statement. Questions for candidates (3 each) were presented randomly. The evening was thus interminable, but informative.
During the evening I talked individually with Dan Newhouse, Clint Didier, Josh Ramirez, George Cicotte, Gavin Seim (very briefly), and Richard Wright. Unfortunately, I didn't get to talk with Janea Holmquist, because she was surrounded by men taking 'selfies' with her.
The candidates are
:
Clint Didier: Former Washington Redskins player
Janea Holmquist Newbry: State Senator
Dan Newhouse: Former state legislator and Department of Agriculture director
Gavin Seim: Portraitist/photographer
George Cicotte: Attorney
Kevin Midbust: Fast food supervisor and "Opt out candidate"
Glen Stockwel: Businessman, who guarantees to create 4500 jobs in the region if elected
Gordon Allen Pross: Long-haired guy and 8-time candidate
Estakio Beltran: Former aide to Maria Cantwell
Tony Sandoval: From Yakima; active in Democratic politics 
Josh Ramirez: Hanford River Protection Project Management Specialist
Richard Wright: Businessman and former candidate for the 4th (2006)
The Sunnyside Daily Sun has a great "sound bites" piece on eight of the candidates, with photos and all.
My top picks (in alphabetical order ) for their performances at the forum were:
Dan Newhouse
Janea Holmquist
George Cicotte
Highlights
: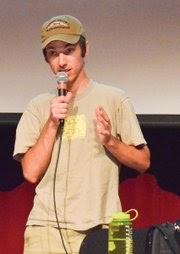 Midbust, at Sunnyside Event
Kevin Midbust said in his opening, "I'm 27 and single. The only reason I'm here in a suit and tie, dressed like a criminal, is because of the League of Women Voters."
Gordon Allen Pross, who has run for office 8 times, in addressing a question on campaign finance reform, said, "I've always funded my own elections. That's why I've never been elected."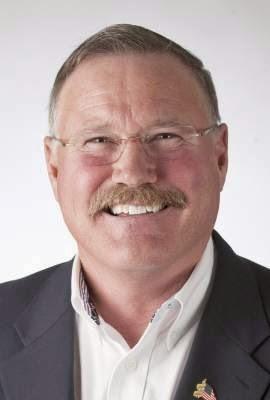 GUNS: Ironically, Clint Didier was randomly selected to give the first answer on universal background checks. He responded, "It's already illegal for convicted felons to own guns. Leave the rest of us alone!"
Dan Newhouse said while he supported the 2nd Amendment, he would support strengthening the background check system to prevent felons and the mentally ill from getting guns.
Estakio Beltran said they were "already enough laws and background checks," and what was needed was better treatment for the mentally ill. Tony Sandoval's response was incoherent.
EDUCATION: Didier made an odd statement about the
Common Core
. "Common Core is a direct result of our involvement with the United Nations," he said. "Ladies and gentlemen, I want the United States out of the UN and the UN out of the United States." Huh?
Read more here: http://www.tri-cityherald.com/2014/07/10/3059117/4th-district-candidates-make-their.html#storylink=cpy
CLIMATE CHANGE: The only question on this topic was postulated something like this, 'The Arctic Ice Cap is melting. Do you believe fossil fuel use contributes to global warming? Explain your position.' The question came up while Janea Holmquist, Josh Ramirez, Glen Stockwell, and Gorden Allen Pross were on stage.
Janea Holmquist neatly sidestepped the question, saying she believes in an "all the above" energy strategy, and stressed that the U.S. needs to achieve "energy independence." She stated that we are currently dependent on foreign sources of energy (actually, at 40%, our dependence on foreign oil is the lowest it's been since 1991). Holmquist said she supported the Keystone Pipeline, and "clean nuclear," whatever the hell that is.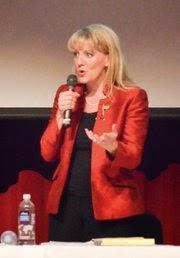 Josh Ramirez said he believed CO2 contributed to warming and
studies at PNNL
supported that conclusion (Ramirez works at Washington River Protection Solutions). He said that the US needed to add more renewables to energy sources.
Glen Stockwell said he disagreed that CO2 was changing the climate, "The climate has changed throughout history," he said. He recommended hydrogen as a fuel, and "burning salt water." He made the statement quoted in today's Tri-City Herald about Al Gore being told to keep his mouth shut (Al Gore is to conservatives what Ali is to Sunni Muslims).
George Cicotte has said on his web site that, "We, as a District, can demonstrate that nuclear energy presents a safe and reasonable alternative to high-priced oil and natural gasses.
"
Whatever Gorden Allen Pross said isn't worth repeating, even if I could.
Generally, whatever questions arose for Kevin Midbust, the 27 year-old, self-proclaimed ladies man, answered by saying "Get rid of the Fed," and waving what he said was a $100 bill. Questions addressed by Gavin Seim were answered by Seim throwing in the term 'tyranny," and waving a copy of the constitution. Questions fielded by Janea Holmquist were addressed with 'verve.' Clint Didier made his responses with a stern face and now and then a bit of table pounding that managed to show off his two Superbowl rings.
I talked with
Dan Newhouse
after the forum. I complimented him on his prior service to the community as head of WA State Ag, and with the legislature. I thanked him for being willing to serve again. I told him my name and that I was with Citizens' Climate Lobby (CCL). He'd heard about the carbon fee and dividend proposal. He couldn't recall how. I mentioned the Sunnyside Daily Sun. He said "Oh yeah!" He said he'd give the idea some thought. I also mentioned the UW study "Climate Impacts and Adaptation." He hadn't heard about it and asked me for a reference, which I gave him. I told him what the study said about future water demand and supply. He said we have a problem already. He sounded like a reasonable guy. However, I've heard since that he signed
Grover Norquist
's no tax pledge.
I talked with
George Cicotte.
I congratulated him on his "contract" (you can read it at his campaign web site). I talked with him about
climate change
and the caron fee and dividend approach to reducing GHG emissions. He told me that it might actually have a chance of being addressed in congress. I learned subsequently that Cicotte refused to sign the Norquist pledge despite being pressured to do so by Norquist himself. "Anyone who signs that pledge is representing Norquist, not the people of the 4th Legislative District." In his remarks duing the Q&A and in his closing he came across and speaking truthfully about what he thought could be achieved in Congress and refrained from saying something like "I'll repeal Obamacare" (Didier), just because he thought the conservative base wanted to hear it.
I talked with Josh Ramirez (he remembered me from the Tax Forum) and Richard Wright, whose campaign I worked on in 2006. Both feel strongly that someone needs to get elected who is willing to work across the aisle. They support addressing climate change.
I talked with Clint Didier. I talked about reducing GHG emissions and told him about CCL and the carbon fee and dividend. I emphasized it wasn't a tax, "No money goes to the government!" Didier said, "Huh uh."I talked to him a little about football, and my time at the Pentagon and following the Washington Redskins. "Oh boy, those were the days; Ronald Reagan and all that," Didier said, holding up his left hand with the two Superbowl rings on it.